Don't Be a Skeptic — These 8 Moneymaking Endeavors Actually Work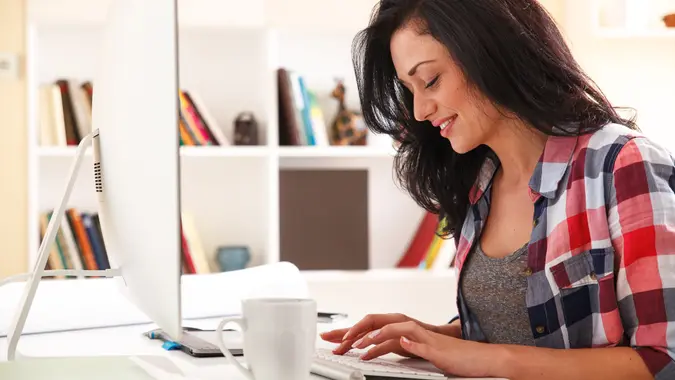 Solis Images / Shutterstock.com
When it comes to making money, there are lots of side hustles that can't deliver on the promise of a big payoff, and they sound a little sketchy too.
See: 11 Best Lucrative Side Hustle Ideas: Earn More
Discover: 20 Hot Jobs That Pay More Than $150,000
However, a lot of unlikely methods of making money are more effective than you think — if you're willing to try. Here are eight endeavors that come with some skepticism, but can also bring you some relatively quick cash.
Become a Blogger
Sitting down at your computer to blog may seem like an unlikely way to make money, but not according to Kamyar Shah, CEO of World Consulting Group. "Blogging is one of the best ways to make money online because you can do it from anywhere in the world with a laptop computer and an internet connection."
You're not going to make money by just writing alone, however. "You can monetize your blog by selling advertising space directly on it or sharing the profits with companies who sell products that are relevant to your blog's content," he said. "All of your earnings come from advertisers paying you to display their content on your blog pages or through affiliate fees. The earning potential is enormous because there's room for anyone who wants to take advantage of it."
Make Your Money Work Better for You
Check Out: 50 Cities Where You Need a Side Hustle To Get By
Peer-to-Peer Lending

While most side hustles that ask you to put your money upfront are likely a scam, there's one area where it works to your advantage. You can earn money on interest through peer-to-peer (P2P) lending, said Alex Mastin, CEO and founder of Homegrounds.
"Lending Club is the largest peer-to-peer lending site in the world. The process of getting started is super simple: sign up for an account, link up your bank account and/or credit cards, then choose from hundreds of different loans — personal loans, student loans, mortgages and more — and invest any amount of money you want, from $1 on up. Your interest rate is influenced by both your risk rating and your choice of investment portfolio."
Explore: 22 Side Gigs That Can Make You Richer Than a Full-Time Job
Run an Errand Service
If running errands for people seems less than glamorous, a demand for errand services has grown, according to Mathias Ahlgren, founder and owner of Website Rating.
"Many people out there would prefer not to be out and about as much as possible in the pandemic. There are also older adults and those with disabilities who would like assistance with their daily tasks. Why not start an errand service where you handle tasks like dropping a package off at the post office, picking up groceries, or picking up food orders for people?"
Make Your Money Work Better for You
By doing it yourself, locally, and not through an organization, you can also save on the fees a company would take from you.
Read: Best Side Hustles for People Over 50
Take Online Surveys
While you might not be able to quit your day job in this line of work, taking online surveys on some sites can earn you extra bucks.
"Many people look down their noses at online surveys or participating in market research panels. However, many of these companies pay out literally millions to their members every year," said Ben Taylor a business and IT consultant and founder of HomeWorkingClub.com.
Be alert for "scammy" companies, however, he warned. "It's crucial to do your research and to be discerning around which sites to use. Choosing the right ones can mean access to steady side income with no specialist skills required."
Sites like respondent.io and UserInterviews.com are good starting points.
More: 30 Best Jobs If You Want To Retire Early
Flip Clothes, Furniture or Cars

Here's a side hustle that's going to require a bit more skill and creativity. If you enjoy thrift shopping and vintage items, Amanda Sullivan, research analyst at CreditDonkey, recommends you "try to make money out of restoring and redesigning clothes, furniture, or cars." She adds, "You'll need a bit of capital to start this one out, but it's definitely worth the payoff because a lot of people are willing to pay top dollar for a unique piece."
Make Your Money Work Better for You
Take Care of Pets
"Pet care is a side hustle that many may look down on, but it rakes in real money," said Kathy Bennett, the founder and CEO of Bennett Packaging.
"Sites like Rover have turned pet sitting into a profitable side-gig and some individuals are even switching to do it on a full-time basis," Bennett said. "Activities like walking dogs, grooming, feeding, and even entertaining pets can bring in a lot of cash. Pet parents who can afford the services of carers are often of middle to high incomes and can afford to part with a pretty penny." 
Becky Neubauer, a financial coach and founder of TwentyFree, added, "The real money that can be made is by boarding pets in your own home. Instead of charging $25 per hour for walking a dog, you can charge a nightly rate for boarding that can be up to $60 per dog for only slightly more work than walking the dog."
Learn: How Much You Really Take Home From a $100K Salary in Every State
Start an Affiliate Website
If you don't mind supporting other companies' products or services, affiliate websites or marketing can bring you a lot of spare cash, said Billy Chan, a digital marketer and founder of drone affiliate site DroneLast.com. "The reason I built my affiliate website in 2021 was that I foresaw that people's buying habits would change forever. They welcome online shopping now more than ever. This is also the best time to set up your own online shops or affiliate websites and ride the wave of digital consumerism."
Find Out: Companies That Let You Work From Anywhere
Dropshipping
One side hustle that gets a lot of flack is the concept of dropshipping, according to Carter Seuthe, CEO of Credit Summit. "Dropshipping is where you start a business and don't keep stock, but essentially use the sales you get to buy the item for less than you're charging and have it shipped by the manufacturer."
This method is popular on eBay and Amazon where the seller has the order fulfilled by a third-party store, he said. "But once you have capital you can use Shopify and make your own site centered around a niche." You do need to offer a narrow selection of products in a niche that doesn't have a lot of competition, however. "This way you can run well-targeted ads and get sales from your target customers.
More From GOBankingRates
Make Your Money Work Better for You