More Americans Are Turning to Freelance Work Amid Struggle To Find Workers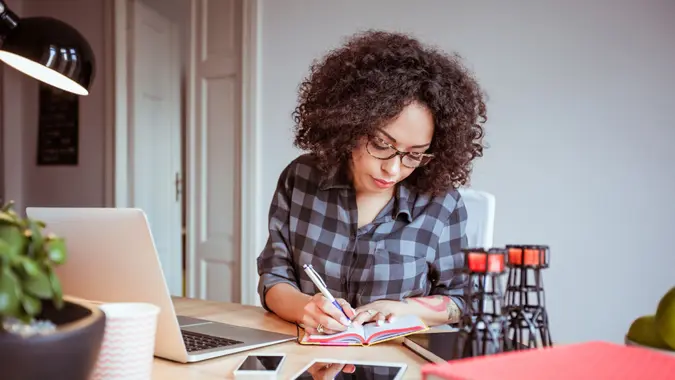 izusek / Getty Images
American workers turned to freelance opportunities in 2022 as job security and flexibility was being questioned like never before. Spurred by the seemingly unlimited growth and career offerings in freelancing, this work has grown steadily in popularity since the pandemic began.
See: 6 Lesser-Known Side Hustles To Earn Some Extra Cash
Find: 10 Things To Stop Buying in 2023
According to Upwork's most recent Freelance Forward survey, Americans have responded to these shifting trends toward independent work and have embraced the flexibility, job satisfaction and earning potential that freelancing provides.
A total of 60 million workers in the U.S. performed some freelance work in 2022, accounting for 39% of the workforce — and this work contributed $1.35 trillion to the economy. This is a 3% increase compared to the percentage of those who freelanced in 2021, and the largest annual percentage since tracking began in 2014. Freelancers contributed $50 billion more to the U.S. economy this year than in 2021.
Make Your Money Work Better for You
The study, conducted online between Sep. 21 and Oct. 7, 2022, surveyed 1,164 freelancers and 1,836 non-freelance workers and found the majority of freelancers reported they are more satisfied with all areas of work — like work-life balance, control of work conditions and freedom to do work that suits them — than their non-freelancing counterparts.
Freelancers revealed that they are able to give greater attention to their personal health and well-being, according to the survey. A full 73% of freelancer respondents claimed that freelancing gave them flexibility to address their personal, mental or physical health needs, an uptick of 6% from last year's results.
Further, 74% indicated that freelance work has given them greater control over their lives overall, 69% claimed they had a healthy work-life balance, and 57% noted that their general health had improved since they started freelancing. These percentages were up 6%, 5% and 3%, respectively, as compared to the 2021 survey responses.
Experts Suggest Freelancing More Than Just a Trend
Speaking to Forbes, Upwork's vice president of talent solutions, Margaret Lilani, addressed the move toward freelance work.
"We are watching this major shift happen in the workforce where highly skilled professionals are finally questioning aspects of the old, traditional ways of work," said Lilani. "It's as if people are looking at freelancers, who have more flexibility and control, and asking, 'why can't my work be like that too?'"
Make Your Money Work Better for You
Additionally, Lilani noted that "freelancers also say that the perceptions of freelancing are more positive than ever before." Per the study, 73% of freelancers polled said that their work is being recognized in a more positive light (up from 68% in 2021).
"Not only do they feel more optimistic about their opportunities and earning potential, but freelancers also say that the perceptions of freelancing are more positive than ever before," she said.
Whether freelancing will fall victim to increased competition and specification of skills remains to be seen, but current results point to freelancing continuing to be a tempting career path.
Take Our Poll: Do You Think You Will Be Able To Retire at Age 65?
More: The 8 Best Side Gigs for Gen Z
Younger generations are exploring freelance opportunities more than their older counterparts — and that bodes well for the future of freelancing. About 43% of all Gen Z professionals and 46% of millennials performed freelance work in 2022, while 35% and 27% of all Gen X professionals and baby boomers worked freelance jobs last year, respectively.
More From GOBankingRates
Make Your Money Work Better for You