More Employers Are Seeking Workers Age 50 & Older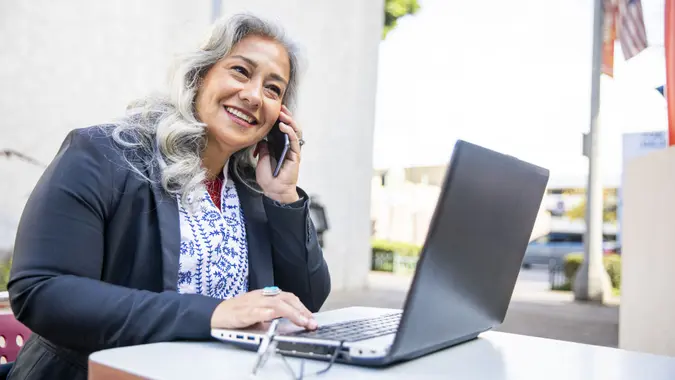 adamkaz / Getty Images
Could ageism in the workplace be getting a pink slip? According to some recent reports, more employers are putting out help wanted posts seeking workers aged 50 and above.
See: How 2023 Recession Will Differ From 2008 and How You Should Prepare Differently
Read: With a Recession Looming, Make These 3 Retirement Moves To Stay On Track
Find: Can I Draw Social Security at 62 and Still Work Full Time?
On Jan. 15, The Financial Times noted that "growing numbers of companies are changing their attitudes towards age and targeting over-50s for key roles." The outlet pointed to a 93-year-old, who is the most senior person on staff at U.K. fashion business David Nieper, and detailed that "his experience has been invaluable" per the company's managing director.
In fact, there are plenty of adults aged 50 and over currently employed and looking for work. In 2021, Forbes reported on a survey that found a third of workers currently plan to work past the average retirement age of 70 — particularly as costs of living have risen above retirement savings and Social Security benefits.
It seems now, more than ever — particularly given the current job market — there are many companies looking for workers aged 50 and above. Said companies are offering perks to attract and retain workers of this age, often offering flexible hours, comprehensive medical plans and a social work environment.
Make Your Money Work Better for You
U.S. News & World Report cited a 2021 AARP survey of HR professionals that said they "particularly value skills and experience" older employees can offer, pointing out the problem-solving capabilities and professionalism this generation brings to the job.
Some Fortune 500 companies are even creating specific campaigns to attract workers 50 and above. Microsoft, McDonald's, Humana and Marriott International are among the 1,000-plus businesses named as taking AARP's Employer Pledge Program, "agree[ing] to recruit across diverse age groups and consider all applications equally, regardless of age." To help with recruitment, AARP has created a jobs board that helps pair up eligible job seekers with those companies.
Take Our Poll: If Elon Musk Offered You a Job Paying You More Than You Make Today, Would You Work for Him?
More: Keywords in Job Ads Could Translate to Older Workers Need Not Apply
U.S. News & World Report further identified the top 10 job descriptions actively seeking more mature workers — among them are:
Customer service agents.
Companions for the sick and elderly.
Event attendants and ushers.
Grocery store cashiers and greeters.
Mortgage and loan underwriters.
Drivers.
Real estate agents.
Temp workers.
Tour guides.
Tutors.
Make Your Money Work Better for You
More From GOBankingRates
Make Your Money Work Better for You