Netflix Tagger: Is This Viral Job a Good Option for Passive Income?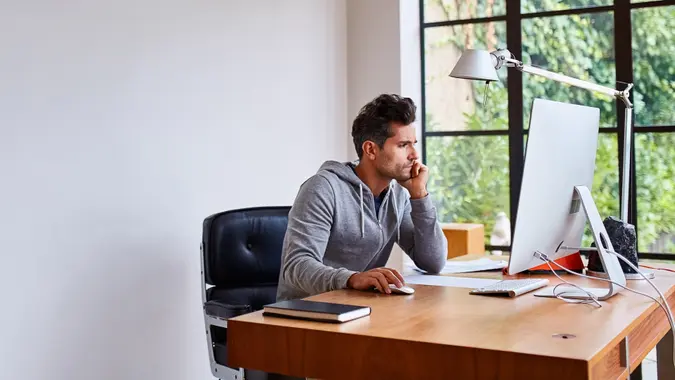 kupicoo / Getty Images
There are plenty of opportunities to make money from home today, from taking surveys to setting up a blog and sharing affiliate marketing links. But you may have seen one work-from-home option that looks like a dream come true: Get paid to watch Netflix and "tag" content.
But what exactly does "tagging" content mean? Is the streaming company really paying people to watch shows all day? And what credentials are required to qualify for the position? Are Netflix tagger jobs real, or are they a scam? Keep reading to learn more.
What Does a Netflix Tagger Do?
A Netflix tagger does more than just stream the best shows for hours a day. A tagger is responsible for providing relevant tags for each show related to the content and the category. They will also rate the show, research key scenes and enhance title-level metadata for Netflix Original Series.
This information helps the Netflix AI algorithms serve up relevant suggestions to viewers and also to categorize shows in their appropriate genres. Netflix tagging is an active job and not a passive income stream. You will put in time, hard work and knowledge for every dollar you earn.
Requirements for Netflix Taggers
You may see the job of a Netflix tagger posted in viral videos on TikTok. But, the fact is, you may not qualify for this crucial role with the streaming company.
Prior job postings for a Netflix tagger required "deep knowledge, five-plus years experience and education in the film and/or television industry," according to Distractify.
The job postings say the role requires people able to work in a "high-volume, high-quality, deadline-driven environment." Based on this information, the role sounds like it's one-part analyst, one-part writer, with a little bit of marketing expertise thrown in.
Make Your Money Work Better for You
Plus, the prior job ad also requested that the person be proficient in not just English, but a second language, as well.
Another prior job listing for a kids' content Netflix tagger, requested people with specific experience in children's education or entertainment. This role would categorize movies, TV shows and specials based on age, theme, interests, genres and more.
How Much Do Netflix Taggers Make?
With all these requirements and experience required, you are probably wondering how much a Netflix tagger makes. According to Gitnux, taggers can make $55,000 to $70,000 per year. Distractify puts the salary at roughly $25 to $30 an hour, which would be $62,400 per year, falling in line with the Gitnux estimate for a full-time tagger.  
Is Netflix Hiring for Taggers Right Now?

Netflix does not have any tagger positions open as of June 26. If you are interested in being a Netflix tagger, make sure you check for new job postings often.

If you see a post on Indeed, ZipRecruiter or other job listing sites, cross-reference the official Netflix Jobs page to see if it is real.
How To Spot a Job Scam
The job of a Netflix tagger may sound so good that you may think it's a scam. Unfortunately, most of the job listings for Netflix taggers are scams. Scammers create fake listings to steal your personal information, like your full name, birthdate, address and Social Security number.
Make Your Money Work Better for You
Keep in mind, a legitimate company should not ask for your Social Security number or bank account information until after you've been hired. At that point, you will need to fill out a W-4 form or a W-9 form with your Social Security or Tax ID number in order to get paid. Once you've been hired you may also have to fill out a direct deposit form with your bank number, account number and routing number. But this should only happen once you've been hired.
Additionally, many of the fraudulent Netflix tagger listings claim there is no experience required. That's absolutely not true, as Netflix typically seeks people with screenwriting or film and television experience. A college degree in film or media may not be required, but it is preferred.
Good To Know

Fraudulent job listings tend to have a sense of urgency for people to apply immediately. Real Netflix tagger job listings will be professionally written and won't convey a sense of urgency. They also will not contain language like "opportunities are limited." The role of Netflix tagger is already a highly sought after role. Netflix does not have to beg people to apply.
How To Become a Tagger for Netflix
Becoming a tagger for Netflix isn't easy, as the company doesn't seem to be hiring for the role right now. Keep an eye on the Netflix job board and also set up alerts for positions at Netflix on Indeed and other job search sites. If you have the proper credentials, you should apply as soon as a job becomes available.
Make Your Money Work Better for You
As with any job, you can network and make connections with other Netflix employees. If you already know someone who works for the company, you might be able to use that connection to get your resume in front of the HR department. If you have experience in film, TV or entertainment, you might consider other positions at Netflix, as well.
Bottom Line
Becoming a Netflix tagger isn't easy and many of the jobs advertised are scams. But, with diligence, networking and patience, you might get lucky and land this coveted role.
FAQ
Here are the answers to some of the most frequently asked questions regarding Netflix taggers.
How do I become a tagger for Netflix?

You can become a tagger for Netflix by waiting for a legitimate job opening on the Netflix Jobs site and sending in your resume. If you have the proper credentials, experience and education, you might be invited to interview for the role.

Does Netflix pay for taggers?

Netflix has, traditionally, paid for people to "tag" content with metadata to help with categorization.

Do you need a degree to be a Netflix tagger?

When Netflix has posted jobs for taggers, the company has asked for people with a degree in film, media, TV or entertainment and at least five years of industry experience.

What does Netflix call taggers?

Netflix also calls taggers "editorial analysts." You may see a job posting for an editorial analyst that matches the job duties of a tagger.
Information is accurate as of June 26, 2023. 
Editorial Note: This content is not provided by any entity covered in this article. Any opinions, analyses, reviews, ratings or recommendations expressed in this article are those of the author alone and have not been reviewed, approved or otherwise endorsed by any entity named in this article.
Our in-house research team and on-site financial experts work together to create content that's accurate, impartial, and up to date. We fact-check every single statistic, quote and fact using trusted primary resources to make sure the information we provide is correct. You can learn more about GOBankingRates' processes and standards in our editorial policy.