Other Than Losing Your Job, How Does a Layoff Hurt You?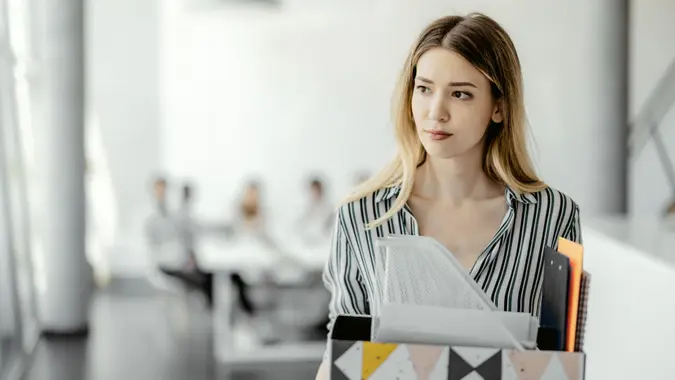 PixelsEffect / Getty Images
We're not exaggerating when we say a layoff can be deadly. Recent research spearheaded by Stanford Graduate School of Business Professor Jeffrey Pfeffer found that layoffs wreak havoc on one's behavioral and physical health and even increase mortality and morbidity. "Layoffs literally kill people," Pfeffer said.
Tips: 10 Genius Things Dave Ramsey Says To Do With Your Money
See: With a Recession Looming, Make These 3 Retirement Moves To Stay On Track
It's not just the loss of the job and the sense of identity and purpose that come with the layoff that's so painful, it's all the financial fallout that comes along with it. One really needs to be prepared and have their financial ducks in a row because there's just so much at stake when your boss decides to pull the plug. 
Here's a glimpse at what one has to lose when one loses their job all of a sudden. 
Loss of Income 
The most immediate and obvious consequence of a layoff is the loss of income. It's massive and it's devastating. 
"People don't realize it, but their income is the engine that runs their whole wealth building machine, including retirement contributions, college funding and emergency funds," said Rachel Burk, financial advisor, financial planning specialist at Offit Advisors. "Setting aside time to plan what happens next to the rest of your 'engine' is important. Should we stop retirement contributions? Should my spouse start contributing more so we stay on track? Should we reduce our vacation fund by half and put the money in an IRA? Asking the right questions about the whole plan keeps you focused and makes sure all of your goals are still being looked after, even if the progress has changed."
Make Your Money Work Better for You
Take Our Poll: Do You Have a Second Job or Backup Plan in Case You Are Laid Off?
Loss of Healthcare
In 2021, roughly 49% of the U.S. population's healthcare was covered by their employer, and the average annual premium for employer-sponsored health insurance was approximately $7,739 for an individual and $22,221 for a family, according to eHealth. All of this soon disappears when one loses their job. 
"A layoff means losing employer-sponsored coverage which can result in insurmountable expenses if an unexpected medical emergency were to occur," said Whitney D. Walter, MBA, a professional development expert and the founder and CEO of Harness Your Power. "Though there are options to obtain coverage outside of your former employer, such as utilizing COBRA or enrolling through the Marketplace, these tend to be more costly than insurance provided by employers who receive group discounts."
Loss of Vesting Opportunities 
"If you have stock options or grants, you may lose vesting opportunities," Burk said. "Be sure to speak to HR to see if you can exercise these options. It may feel weird to be buying stock in the company that laid you off with your cell in one hand while you are holding the cardboard box with all your personal stuff from your job in the other, but financially, it may be the smart move."  
Loss of Savings, Including Retirement Funds  
An emergency fund is there for emergencies, and that's what a layoff often qualifies as. 
Make Your Money Work Better for You
"Even if you have a sizable emergency savings account, using these funds means that when you are gainfully employed again you will likely be starting from ground zero establishing funds for future emergencies," Walter said. "If you don't have emergency savings, you may be forced to withdraw from retirement savings such as Roth accounts, traditional IRAs or 401Ks. Sadly, this may require you to delay your future retirement date or establish new, lower goals for your expected retirement lifestyle."
Potential Loss of a Good Credit Score  
Even with severance, getting laid off throws a wrench in your income (unless you get a new job right away that pays equal to or more than what you were making before). This can lead to missed or late credit card payments, which can quickly harm your credit score.  
"The moment you miss your payments, it easily decreases your buying power and lowers your credit score," said Chris Thomson, CFA and contributing author at Management.org. "Aside from the pain of losing your job, you will also feel the pain of your lowered credit score. This pain is sometimes worse than just being laid off."
Make Your Money Work Better for You
The effects of a damaged credit score can be severe and long-lasting. 
"The impact of job loss on an individual's credit score can hinder the ability to secure future loans or credit, thus compromising long-term financial stability," said Andrew Lokenauth, founder of Fluent in Finance. 
Potential Harm to Mental Health
We spend much of our waking days working. Thus a job isn't just a way to make money, it's a way to live. When we lose a job, we lose a huge chunk of our identity. This can take a huge toll on our mental health. 
"The emotional stress that comes with being laid off is a frequently overlooked side effect," said Christa Reed, a career expert and the head of job market search at JobSearcher. "Our jobs are so much more than just a source of income; they represent the pinnacle of our education and careers. For some, it's their entire personality or life goal. People work so hard to be where they are. And being let go shatters their confidence in themselves. They start to question what they've been doing for years. In severe cases, it can lead to long-term depression as well." 
And depression, like any other serious illness, can absolutely hurt one's ability to earn money.
More From GOBankingRates
Make Your Money Work Better for You