How To Prepare for a Layoff and Negotiate Severance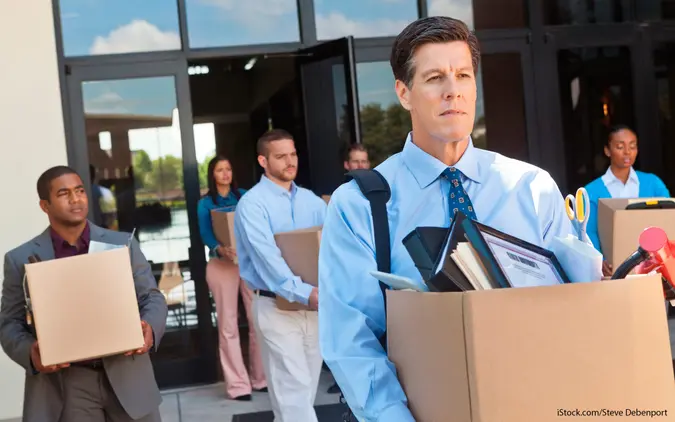 The economy is unpredictable right now, and layoffs are happening like crazy. On Jan. 18, Microsoft announced it would cut 10,000 jobs to trim costs. This was not long after Amazon announced it would eliminate as many as 18,000 roles and Meta announced it would dissolve 11,000 jobs.
In rocky times like these, workers need to be ready for the worst-case scenario: being laid off. At the same time, they also must be ready to negotiate their severance. 
GOBankingRates consulted career experts to hone strategies of exactly what employees need to do to prepare for layoffs and severance talks. 
Preparing for Layoffs 
Build your skills
"Seek out professional-development opportunities in the form of webinars, networking events, online courses and so forth that will bolster your qualifications and strengthen your areas of expertise," said Amanda Augustine, a career expert for TopResume. "Not only will this boost your candidacy, should you need to find another job, but you'll also be able to bring this knowledge back to your organization, which makes you even more valuable. It's hard to lay off someone who's considered the 'go-to' person in your industry or line of work."
Explore Your Options
"As you're developing your job goals, be sure to explore various job boards, monitor recruiter activity on LinkedIn and keep an eye on layoff trackers to understand which fields are still hiring and which roles are currently available and best suited for your skill set and preferences," Augustine said. "You may need to adjust your goals by looking for work in a different industry or seeking remote opportunities if your local area isn't faring well."
Make Your Money Work Better for You
Update Your Resume 
"Update your resume and add an executive summary at the top to highlight your top skills and experiences that make you stand out from other candidates," said Vicki Salemi, Monster career expert. "Include the most recent achievements — quantify them as best you can — polish it, proofread it and have it ready."
Clean Up Your Digital Footprint
"In today's job market, a strong resume isn't enough to land you the job," Augustine said. "It's important to tell a consistent version of your career story online, on paper and in person — or via video conference. Make sure your personal accounts remain private and your public accounts are updated to align with your new resume and current goals.
"I recommend changing your account name to 'FirstName MiddleName' or something to that effect so prospective employers won't associate your personal accounts with your professional brand. When updating your LinkedIn profile, adjust your account settings so your edits aren't broadcasted to your network — there's no reason to raise any flags with your boss while you still have a job."
Prepare Your Finances 
"If you think that a layoff is imminent, the most important thing to do is prepare your finances," said Ben Michael, VP of operations at Michael & Associates. "Try to make sure you have enough funds to cover basic living expenses for at least three months so that you don't have to worry about money while on the job hunt. Also assess how much you may need for health insurance; many employers provide coverage, so it's important to be aware of what would happen if you're no longer able to claim benefits through work."
Make Your Money Work Better for You
Tie Up Loose Ends
"If there's anything personal on your work computer such as a resume, immediately remove it," Salemi said. "Gather email addresses of clients and contacts that you want to stay in touch with. Gather your personal belongings." 
Get a Career Coach and Accountability Partners
"You may need an experienced, insightful cheerleader to help you with your search, as well as peers to stay positive and talk about your job search and progress," Salemi said. "Even when you don't have an interview lined up, you may be researching companies, applying online, networking, gaining new skills — all of this is progress. You're moving forward toward your next employment opportunity."
The Severance Conversation 
If you do get laid off, the severance conversation is the next step. Here's what you'll want to do there.  
Find Out the Amount
"Find out how much you'll get and when you'll be paid," Salemi said. "Also, you may want to change your 401(k) deduction because it may be deducted from your last payout if you really need the cash, you may want to speak to your financial advisor as to what percentage you should decrease it to."
Check Your Contract 
"Check your employment contract and company policies to see if there is any verbiage that relates to severance pay, and also review your state laws or federal laws that apply to severance packages," said Dr. Wanita Mercer, founder and CEO of Lead My Heart Executive Coaching and Consulting.
Understand the Terms of Your Severance Package
"Before you begin negotiating, make sure you understand the terms of the severance package being offered, including the length of the payout, any benefits that will continue and any restrictions on future employment," Mercer said. "If you need help understanding the severance or have questions, contact your organization's HR, EAP or legal counsel, your union representative or an attorney."
Make Your Money Work Better for You
Negotiate
"Understand your professional value and the contributions you have made to the company," Mercer said. "Reflect on your accomplishments and develop a well-prepared and persuasive argument, then be prepared to discuss them during the negotiation."
Be Reasonable
"Research your industry's standards regarding severance packages and be realistic about what you are asking for," Mercer said. "Remember the goal is to reach an agreement that is fair and beneficial for both parties."
Don't Rush
"Take the time to review the severance agreement and make sure you understand all the terms and conditions before signing," Mercer said. "Be sure to request more time if you need it."
More From GOBankingRates