5 Phrases To Avoid When Interviewing for Six-Figure Job (and What To Say Instead)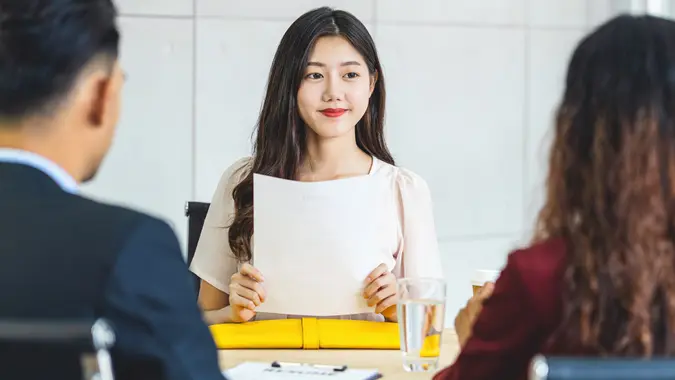 Tzido / iStock.com
Job interviews are an essential part of the employee selection process. Interviewers want to know why hiring you would benefit the company and how you compare to other candidates. Every little thing you say helps them determine whether you're the right fit for the job.
Explore: Is Quitting the Key to Success? Why Hundreds of Millionaires Say Yes
Find: Lost Your Job? 5 Benefits You Could Be Entitled To If You've Been Let Go
Job hopping is also on the rise this year. According to a report from Monster.com, 96% of workers are looking for a new position in 2023. With more people searching for a new job, standing out in an interview is more important than ever.
Natalie Fisher, a career coach who has helped hundreds of people land six-figure jobs, gave her tips on CNBC's Make It on what to say (and not to say) during a job interview. Here are five interview phrases to avoid while job hunting:
1. "I'm an excellent communicator."
Instead, give an example of how you've been noticed in the past for getting team members to communicate more efficiently. Broad declarations aren't enough to back up your skills. Specific examples reassure the hiring manager that you have the experience or ability to perform the job.
Make Your Money Work Better for You
2. "I have strong organization skills."
Instead, say: "In a performance review, my manager pointed out that I am particularly good at [X skill]."
Take notes or save a copy of your supervisor's comments after each performance review. This allows you to refer to specific details for future job interviews.
3. "I'm good in a crisis."
The recruiter or hiring manager may wonder how you would handle a stressful situation. Instead of giving a blanket statement, give an example of how a colleague depended on you during a crisis. 
4. "People feel comfortable around me."
According to Fisher, hiring managers want candidates who will have a positive impact on company culture. Don't just say that people feel comfortable around you. How exactly have your collaboration skills helped your team?
See: Starting Salaries for Gen Z Women Are $6,200 Less Than Male Counterparts
Learn: 5 Things To Do When You Switch From a Full-Time Job to Freelance Work
5. "I have great networking skills."
Instead, say: "I have a few close friends that have stayed with me throughout life." This is especially useful for a role where relationships are important, said Fisher. Use examples to explain how your networking skills are essential to your personal and professional lives.
Make Your Money Work Better for You
More From GOBankingRates
Make Your Money Work Better for You