10 Best Remote Transcription Jobs That Pay Well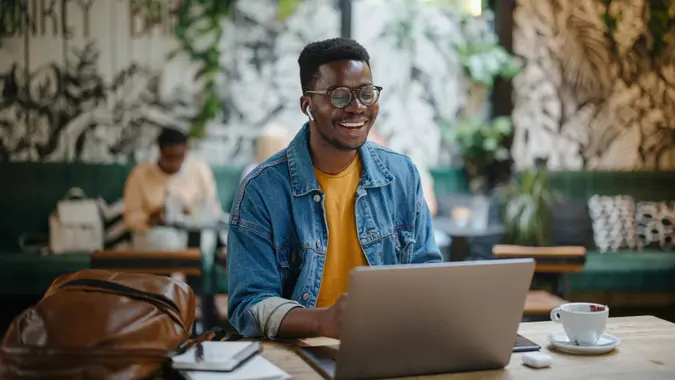 Anchiy / Getty Images
Working from home is only convenient if you don't need a lot setup, expensive equipment or even years of experience in a field you are considering. Whether you're looking for a side gig or a full-time job change, it's good to know what options are out there for working remotely. Here are 10 remote transcription job opportunities that'll pay you nicely.
What Is a Transcription Job?
General transcription jobs, specifically remote transcription positions, typically involve transcribing audio and video files into a written document or electronic document in a variety of fields. If you have proficient and accurate typing, proofreading or translating skills, you don't need years of experience to be successful in this position. 
10 Best Remote Transcription Jobs
If you are ready to set your own hours and work from the comfort of your own home, here are 10 great remote transcription jobs you should consider.
Medical transcriptionist 
Foreign language transcriber 
Quality assurance transcription
Content editor
Dictation transcript editor
Insurance investigation transcript editor
Subtitler editor
Virtual medical scribes
Transcription specialist
Data entry
1. Medical Transcriptionist 
Average annual salary: $30,100 to $43,503
Working from home lends itself well to medical transcription. It does help if you are familiar with some medical terminology, but it's not necessarily a requirement. A medical transcriptionist converts audio files or voice recordings from doctors, surgeons or other healthcare workers into formal reports for filing purposes.
2. Foreign Language Transcriber 
Average annual salary: $59,759
If you are bilingual or speak multiple languages transcribing things to and from the English language could earn you a decent living. Many companies hire language translators and transcriptionists to convert information as well as create documents in languages needed for their workers or customer base. 
Make Your Money Work Better for You
3. Quality Assurance Transcription 
Average annual salary: $61,402
A quality assurance, or QA, transcriptionist will take a physician's dictation and review and cross-check the information while transcribing. They are trained and expected to maintain confidentiality in accordance with the Health Insurance Portability and Accountability Act as well as other medical practices, protocols and standards.
4. Content Editor 
Average annual salary: $63,350
Content editing meets remote transcription work when you are able to do it in a bilingual or multi-language capacity. Many content editor positions are being sought after with specific languages to work with to both edit and transcribe the material. 
5. Dictation Transcript Editor 
Average annual salary: $52,368
If you are working for a transcription service or company chances are you not only work with transcribers but also editors. Dictation transcript editors essentially proofread and edit what has already been transcribed and make sure it's ready to go into the report or take the next steps in the filing that are needed.
6. Insurance Investigation Transcript Editor 
Average annual salary: $64,710
As an insurance investigation transcript editor, you would work closely with the fields of criminal justice, law enforcement, legal, corporate finance and insurance companies. This job usually requires remote collaboration, excellent listening skills and the ability to transcribe a situation that was depicted to you into a claim. 
7. Subtitler Editor
Average annual salary: $86,495
Subtitling is great transcription work, especially for movie lovers. For this type of remote transcription job, you would transcribe all dialogue, sound effects and music from a video file such as a film or television show into written lines.
8. Virtual Medical Scribes 
Average annual salary: $27,720 to $37,795
A virtual medical scribe not only takes down a medical professional's words but also notes their actions during medical procedures such as surgeries or other interactions with patients. Though you don't necessarily need a college degree, many companies or medical facilities where you would work require certification.
Make Your Money Work Better for You
9. Transcription Specialist 
Average annual salary: $46,526
The next level of remote transcribing work could mean becoming a transcription specialist. This means you have more experience with transcribing software as well as more years under your belt in the field. With that in mind, if you are an experienced transcriptionist you could easily freelance your skills at a higher rate of pay. 
10. Data Entry
Average annual salary: $57,529
Data entry transcriptions generally just copy information from one form to another, like transcribing a handwritten document that needs to be digitized or data points that need to be entered into a spreadsheet. It's pretty straightforward work available in a variety of fields 
Final Take To GO 
Being able to work remotely as a transcriptionist can be a great side hustle or lucrative career. There is a variety of fields and options out there which require little experience or equipment set up so you would be able to start right away. 
FAQ
Here are some answers to frequently asked questions about remote transcription jobs.
How much do remote transcriptionists make?

The pay for remote transcriptionists varies on many factors such as company, location and what field you are transcribing in. For example, medical transcriptionists make $31,100 according to the Bureau of Labor Statistics whereas ZipRecruitor pegs it at closer to $43,503 for the national average.

How do I become a remote transcriptionist?

There are many ways to become a remote transcriptionist, but one of the more successful routes is to use platforms such as Flexjobs where you can specifically filter for remote transcription work and see what companies are hiring as well as apply for the job right through the platform.

How long does it take to transcribe one hour of audio?

Though transcription can vary in both the level of effort and time it takes to complete a task, on average it is estimated that a one-hour audio file likely will take around four hours to complete.

Is audio transcription a good side hustle?

Yes, audio transcription can be a good side hustle as there are many opportunities for part-time transcription gigs such as the following:

Medical transcriptionist
Foreign language transcriber
Quality assurance transcription
Content editor
Dictation transcript editor
Insurance investigation transcript editor
Subtitler and translator
Make Your Money Work Better for You