Retired But Want To Work? Try These 10 Low-Stress Jobs for Seniors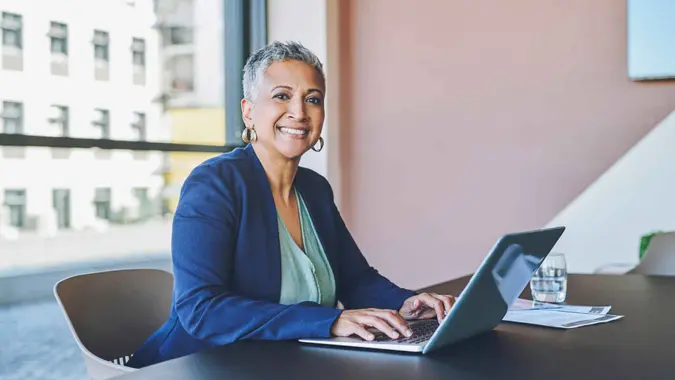 Charday Penn / iStock.com
For those of us who don't have to work after retirement, there are multiple reasons to do so anyway — especially if the work feels less like "work."
For starters, who couldn't use a little extra money? Or a lot of extra money? Inflation has many retirees stretching their budgets further than planned, making that new paycheck every couple of weeks all the more enticing.
You may also have more years ahead of you than you figured, as lifespans tick up. If you don't need to keep working for financial reasons, this may be your best chance to try something you've always wanted to try. You're in a great position to find work on your own terms. There's no pressure to land something quickly, no pressure to go for what pays most, no pressure to accept or continue a gig that you don't enjoy.
Or perhaps you're finding yourself in a position where you do have to bring in more money post-retirement. Whatever the reasons, the number of full-time U.S workers over 65 has increased steadily since 2000, according to the Bureau of Labor Statistics. That year, the number stood at about 1.4 million. In 2022 and the first half of 2023, it hit 5.3 million.
Part of the reason for this is that there are just more seniors, as the baby boomer generation ages. But the percentage of workers over 65 also has increased over the last decade. According to the BLS, 17.4% of seniors were on the job back in January 2013. Those numbers rose to 20.1% in late 2019 and early 2020, before dropping to about 16% during the height of the pandemic. Since then, the numbers have risen steadily and are now nearly 19% again.
Make Your Money Work Better for You
"We're seeing more and more older people not only needing to work, but wanting to work," said Carly Roszkowski, VP of financial resilience programming at AARP. She added that 75-plus is actually the only workforce age group expected to grow this decade.
Whatever your financial situation, there are numerous options for seniors looking to re-enter the workforce but not re-enter a high-stress lifestyle. Beyond low stress, you also can prioritize things like flexible working hours and a sense of purpose.
"Flexible work hours are now sort of a job requirement for older workers," Roszkowski said. "They want work that is meaningful. In our research, more than 90% want work that means something, giving back, doing good. They believe they still have a lot to accomplish in their later years."
The type of work you seek will of course vary depending on your financial situation, skills and interests. Here are just a few ideas. You can search the internet and find ideas and opportunities in all of these areas. Just don't forget that the people running the websites are also trying to make a living, and be cautious about what you sign up for.
Become an Online Tutor
People of all ages all over the world could use a hand with a range of subjects. If you're drawn to education and helping others, online tutoring is an option — even if you don't have any teaching experience. Plus, you can tutor from the comfort of your own home. Tutor.com is one of numerous organizations that would love to help you get started.
Make Your Money Work Better for You
Help Take Care of Animals
There are plenty of options for seniors who enjoy being around animals. How about a gig as a dog walker in your neighborhood? Or maybe you could pet-sit for neighbors (or others around town) when they're on vacation? Many pet owners prefer keeping their beloved critters in their own homes, rather than boarding them. You might also try working in an animal shelter.
Use Your Skills With Words
Even in the budding age of artificial intelligence, there's still a need for people who can write and edit. There's also no shortage of different writing tasks out there. Check out websites like freelancer.com or iWriter, and you may find people looking for help with writing web content, editing a book, polishing up a family history, turning a phrase or two to help market their business, and more. It may take some time to build your portfolio and establish yourself; but, if you love to write, it may be worth exploring.
Work in a …
Fill in the blank. What is it that you enjoy doing or being around? If you're crafty, you could look for a gig in your favorite craft shop. If you're handy, maybe in a hardware or home improvement store. Like to golf? There may be jobs available at a local course.
Put Out a Product
If you have a knack for creating or nurturing things, give some thought to how you might turn it into a business. Maybe it involves making jewelry. Or growing and selling plants. Or creating and selling pieces of art, or candles, or really good hot sauce. You get the idea.
Make Your Money Work Better for You
Speak Up: Try Voiceovers
Those voices you hear on the radio, TV, in audiobooks and educational videos, etc., have to come from somewhere. Plus, you might be surprised how lucrative those gigs can be — often not requiring a ton of hours and doable in your own home. Like freelance writing, the voiceover business may require some upfront work. A decent microphone and a room that can at least pass for a studio also helps. Websites such as Voices.com have more information.
Be Around Books — Lots of 'Em
Love to read? Enjoy the feel of a good book in your hands? Working in a library or independent bookstore could be a quiet, low-stress option. And if you're already reading a lot of books, why not try to earn some money reviewing them? Check out sites like OnlineBookClub.org and The US Review of Books.
Flip Some Furniture
If you enjoy hunting for faded furniture in places like garage sales and then refurbishing it into something special, why not turn it into a lucrative gig? To become a furniture flipper, you'll need the right tools and workspace. With a little sweat equity and without spending much money, you could start turning discarded tables, chairs, dressers and more into sought-after pieces.
Be a Tour Guide
Retirees who are passionate about where they live may enjoy this one. Imagine meeting new people while guiding them through local tourist attractions, national parks, wineries, haunted houses … pretty much everywhere has stories to tell. Check out job sites like CoolWorks, or just ask around at places of interest near you.
Make Your Money Work Better for You
Check Into Focus Groups and Paid Surveys
Yes, there are lots of people and companies out there that will pay you for your attention and opinions. It's called attitudinal research, and it helps companies reach their customers more effectively, among other uses. You may not get rich, but there is money to be made. Surveyjunkie.com, for example, markets itself as a way to supplement your income, rather than a full-time employer, giving an example of earning $40 a month for completing three simple surveys each day. More lucrative attitudinal research jobs are also out there.