Salaries for Workers With Graduate Degrees Are Stagnant — 6 Careers Allow You To Pay Off Your Loans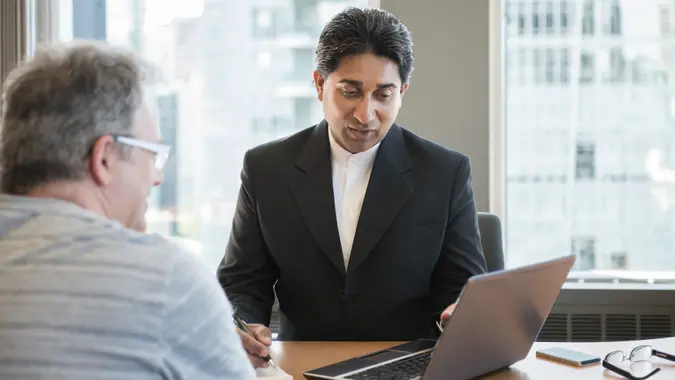 PamelaJoeMcFarlane / Getty Images
According to an August 2023 report from the U.S. Department of Education, the average debt taken out by graduate borrowers reached over $66,000 in 2016, with around 11% owing over $80,000. But alongside carrying potentially large debts, graduate degree holders have also enjoyed higher median wages than those with less education. However, the report found that the net returns of earning a graduate degree over the last two decades just haven't kept up with the high borrowing levels.
Whether you have a graduate degree or are considering earning one, it's worth looking into lucrative jobs that make paying off your loans much more realistic. Based on the recent job growth and salary data from the U.S. Bureau of Labor Statistics, here are six graduate-degree careers that pay at least $100,000 per year.
1. Data Scientist
Average Salary (May 2022): $115,240
Expected Job Growth (2021-2031): 36%
Offering both a high salary and excellent employment growth, a data scientist career is ideal if you enjoy digging into data, finding patterns and making visualizations. It's also a good choice if you're interested in working in the artificial intelligence field. Having a graduate degree in a field such as computer science, math or business, along with data analysis skills, could land you a role.
2. Human Resources Manager
Average Salary (May 2022): $145,750
Expected Job Growth (2021-2031): 7%
If you have a business-related master's degree and some relevant experience, you could land a human resources manager position with a high salary. You may enjoy this career if you want to help a company manage its staffing, employee development and benefits programs. If you prefer, you can seek specialized positions in payroll, employee relations or recruiting management.
Make Your Money Work Better for You
3. Lawyer
Average Salary (May 2022): $163,770
Expected Job Growth (2021-2031): 10%
Lawyers do everything from performing research and offering legal advice to speaking in court and writing documents. This career has many specialization options, too, including family, tax, environmental and personal injury law. It does involve a long educational path though — you'll usually earn an accredited Juris Doctor degree and pass the bar exam to get your license.
4. Nurse Practitioner
Average Salary (May 2022): $124,680
Expected Job Growth (2021-2031): 40%
An especially popular move for registered nurses, becoming a nurse practitioner comes with a nice salary jump and excellent career prospects. These medical professionals can handle advanced care tasks such as diagnosing patients and giving prescriptions. This job requires a master's degree in nursing and an advanced practice nursing license, and you usually get certified in a certain healthcare area or patient group.
5. Software Developer
Average Salary (May 2022): $132,930
Expected Job Growth (2021-2031): 25%
If you want to build things rather than analyze data, a software developer career offers opportunities to design mobile apps, websites, desktop programs and even systems software. Getting into this in-demand tech career is possible with a technology-related degree and knowledge of programming languages and software design principles. If you have an unrelated master's degree, you might consider apprenticeships or short-term training programs.
6. Top Executive
Average Salary (May 2022): $129,050
Expected Job Growth (2021-2031): 6%
If you're very experienced in your line of work and want to guide a business from the top, a top executive job may suit you. Options include starting your own business, becoming a CEO, seeking a general manager role or even directing an educational or government institution. A master's degree in business, public administration or a specific industry can provide the educational background for such roles.
Make Your Money Work Better for You
More From GOBankingRates