Save Your Raises For A Bigger Nest Egg
Take a look at how much you can save over your career if you put your raises into savings each year.
Compare the difference if you bank (save) all, 2/3, or 1/3 of your annual raises and see how much you will have in savings at different stages of your life.
*All eggs are to scale according to saving size
All Information is Based on:
Starting Age: 25
Average Starting Salary of College Graduate: $45,000
Savings Interest Rate: 2%
Annual Increase: 3%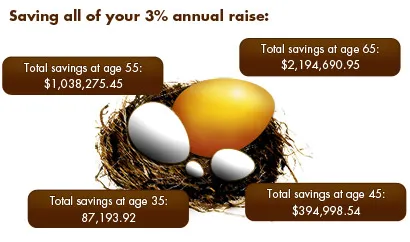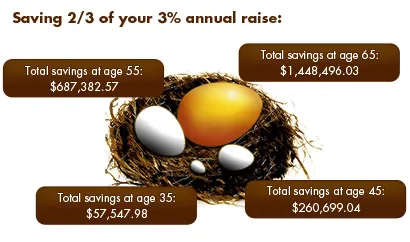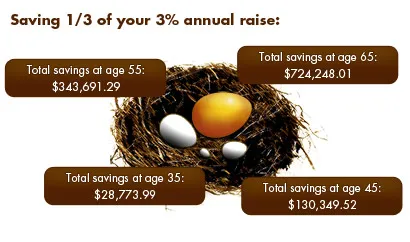 About the Calculation: Calculated based on monthly deposits with daily compounded interest. Does not take into account inflation. Starting salary assuming a bachelor's degree, but may fall higher or lower for different fields and education. 3% is about the average raise given by companies for cost of living increases, but your actual raises may be higher or lower than that number. You'll want to strive for higher to account for higher expenses as you age.