Searching for a New Job? Let AI Handle the Cover Letter With This 4-Step Guide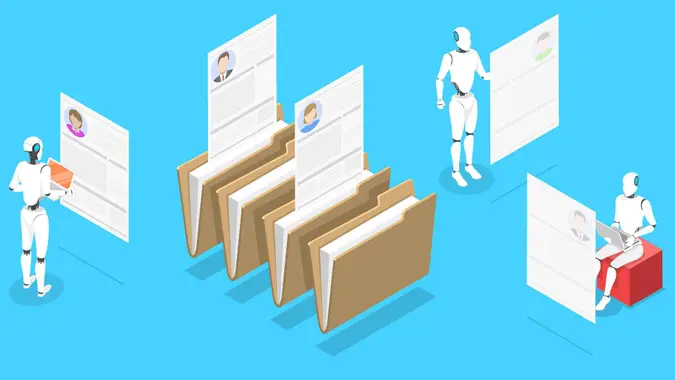 TarikVision / Getty Images/iStockphoto
Much has been said about the rapid surge of artificial intelligence and one of its most obvious drawbacks — the potential toll it will be taking on jobs. Yet, AI can also help many workers be more efficient, freeing up more time to generate more money. Given the current situation, if you're looking for a new job, you might want to let AI handle your cover letter.
A recent FlexJobs survey found that 17% of job seekers have already used ChatGPT on their resume, while another 33% are considering using AI. Only 29% are unsure of doing so. And if you want to stand out amid competition, a great cover letter can boost your chances.
"Using different AI tools can be incredibly beneficial when writing a cover letter, especially when attempting to tailor your cover letter to a specific job," said Keith Spencer, career expert at FlexJobs. "For instance, you can use AI tools to analyze job descriptions to help identify a company's top needs or priorities related to the role, then leverage that information to determine the types of stories you want to tell or examples you want to provide in your cover letter to show that you are a strong fit for that particular position."
Spencer added that you can also provide AI tools with your resume or a summary description of your experience, then ask it to identify the top 3-5 aspects of your background that will be most relevant to that specific audience, based on the job description you previously provided. Doing so could allow you to narrow the focus of your writing.
Make Your Money Work Better for You
"While AI can be extremely helpful in writing a cover letter, it is important to note that you should use AI tools to support your own writing rather than having it write the entirety of your cover letter for you, as AI will lack your style and tone of writing and using the exact text that it provides can potentially constitute plagiarism," he added.
FlexJobs Tips on AI-Crafted Cover Letters
To help prospective employees, FlexJobs released a guide on how to make the most of AI to craft cover letters.
Choose an AI cover letter generator
According to FlexJobs, there are several options. For job search-specific options, tools such as MyPerfectResume, can help you create a cover letter and a resume. Or, you can use a more generic AI software, such as the free version of ChatGPT.
Decide between job search-specific AI vs. ChatGPT and other AI writers
FlexJobs noted that there has been a rapid surge in AI tools designed specifically for job searchers.
"They focus on resumes and cover letters and guide you on best practices and industry-specific standards. But you might find that they lack a creative element that you can find in more generic AI writing tools," FlexJobs added.
Meanwhile, from the free ChatGPT interface to more premium options, such as Jasper, AI writing software can adapt to a wide range of writing tasks, the guide added.
Consider a few tips for writing a cover letter with AI assistance, as well as how to avoid common mistakes
Make sure you take time to polish the AI-generated draft, as otherwise it might "lack the richness and depth achieved with a bit of time and care."
Make Your Money Work Better for You
There are also a few mistakes to be mindful of when using AI to generate a cover letter. For instance, don't rely entirely on the content, as FlexJobs noted "AI-generated content is a starting point, not the final product."
In addition, remember to proofread and make sure the letter is customized.
Provide AI cover letter prompts
According to FlexJobs, it's vital to clearly state the objective of the content you want the AI to generate.
"Many users find that telling the AI to 'act as [profession]' provides excellent context," according to the guide.
Then, specify the desired format, such as "cover letter,"  or "introduction paragraph" or "conclusion paragraph."
You will also need to prompt the tone of the content, the desired length of the letter, key points, as well as your target audience.
More From GOBankingRates