7 Things You Need To Know About Unemployment Benefits in 2023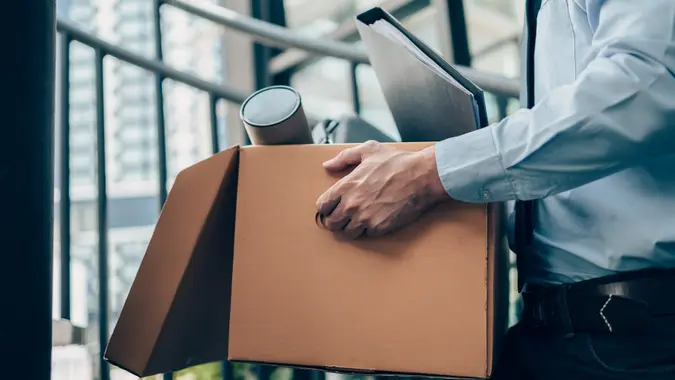 Charnchai / iStock.com
Big tech companies — Google, Microsoft, Amazon and more — have announced job cuts this year in the face of uncertain economic conditions. Layoffs typically come during periods of slow growth, but being laid off can wreak havoc on a person's life.
Food Stamps: What is the Highest Income Level for SNAP Payments in February?
Find: With a Recession Looming, Make These 3 Retirement Moves To Stay On Track
Fortunately, the unemployment insurance program helps workers who have lost their jobs by replacing a portion of their paycheck until they get back on their feet. According to CNBC, here's what workers need to know about unemployment benefits.
Am I Eligible for Unemployment Benefits?
To qualify for benefits, you must have been unemployed through no fault of your own. In some states, the Department of Labor (DOL) indicates you have to have separated from your last job due to a lack of available work. For example, Michele Evermore — a senior fellow at The Century Foundation — told CNBC that if you were laid off because of downsizing, you might qualify for unemployment benefits. Evermore pointed out that it still doesn't hurt to apply even if you're unsure if you qualify.
Make Your Money Work Better for You
You must also meet your state's work and wage requirements. Check here for more details on your state's unemployment program.
When and Where Can I Apply?
The DOL suggested it generally takes two to three weeks after you file your claim to receive your first benefit check, so it's best to file as soon as possible. Some states have a one-week waiting period before they begin paying benefits, Evermore explained to CNBC, but there's no wait to apply.
You can apply with your state's unemployment office online, or over the phone.
Are Unemployment Benefits Taxable?
Benefits are subject to federal taxes and most states tax them as well, per Evermore. States will typically give the option to have taxes withheld from payments.
"I'd always take that option," Evermore said to CNBC. "You could be in for a long spell of unemployment and then get hit with a big tax bill."
What Is the Average Benefit Amount?
In the third quarter of 2022, the average weekly unemployment benefit was $385, CNBC reported. Weekly benefit amounts and weeks of entitlement are based on the wages you were paid and the amount of time you worked during your base period, according to the DOL.
Make Your Money Work Better for You
How Long Do Unemployment Benefits Last?
Unemployment benefits generally last 26 weeks, but this depends on your state. For example, CNBC noted that Missouri recently reduced benefit duration and some workers only receive payments for eight weeks.
I Was Recently Unemployed: Can I Qualify Again?
Workers are eligible for unemployment benefits for a certain number of weeks per benefit year, CNBC reported. You could qualify again depending on how much time has passed since your last period of unemployment — and how many weeks you had previously received benefits.
Take Our Poll: Do You Have a Second Job or Backup Plan in Case You Are Laid Off?
More: Debt Ceiling: 6 Million Jobs, 7% Unemployment Rate Are on the Line If Government Defaults
Will Severance Affect Unemployment?
Some states will reduce unemployment benefits during the period you receive severance pay. But in some cases, Evermore said, your severance package will not impact your benefits.
More From GOBankingRates
Make Your Money Work Better for You