This TikToker Is Helping Gen Z Get Hired: Here Are Her Top 5 Tips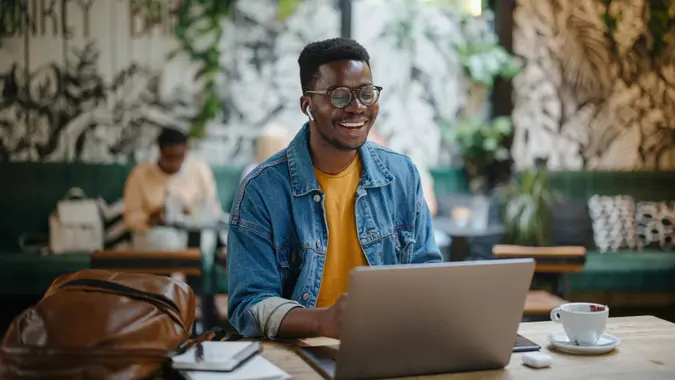 Anchiy / Getty Images
Whether they are still in college or freshly graduated, Gen Z has a lot to learn as they enter the job market. They may feel lost as they begin their job search, unsure of what the next steps are and how to get the job they want. That's where this TikToker comes in.
Jade Walters, or @theninthsemester on TikTok, is a former TikTok employee who has dedicated herself full time to content creation aimed at Gen Z. Walters' goal is to help young adults land their dream job or internship. Here are her top tips to help Gen Z get hired.
Utilize Hiring Apps
Apps like WayUp or Handshake are useful tools that will give any Gen Z job seeker access to a vast amount of resources. Signing up is easy and free, and once on these sites, you can easily filter through positions based on college major and figure out what jobs you might be a good fit for.
"Get matched with hundreds of jobs that are based on your career interests [using these sites]," Walters wrote in a LinkedIn post.
Show Your Passions on Your Resume
"Don't be afraid to highlight your passions in your resume, whether it's your blog, small business, YouTube channel [or] podcast," Walters said on LinkedIn. "[Ask yourself] … who are you outside of your resume?"
Make Your Money Work Better for You
Walters herself was able to secure a position at TikTok after a video of hers went viral on the platform. Do not fear unorthodox ways to promote yourself if you have creative passions. Employers may be looking for that fresh, creative Gen Z candidate — but you would never know unless you put yourself out there. Highlight your accomplishments outside of your career achievements and it will take you a long way.
Use LinkedIn Effectively
"With platforms like LinkedIn, you honestly don't have to spend any money to 'invest'," Walters said in her post. "Treat your LinkedIn like your personal, professional blog. Keep your profile up to date, share your career journey through post updates and grow your virtual network by connecting with classmates, colleagues, other LinkedIn creators and recruiters."
LinkedIn is a social network. By using LinkedIn, you can easily find job opportunities that may otherwise be difficult to find by using the app's job search function. LinkedIn will sometimes allow you to apply to positions directly from their platform, streamlining the application process.
Keeping your profile up to date and posting frequently helps make your profile look more legitimate and attracts potential employers.
Follow Recruiters
"I strongly recommend following recruiters on [LinkedIn] to learn about internships and entry-level jobs as soon as they go live," Walters wrote on LinkedIn. "I usually find [recruiters] on Linkedin by searching '[early career recruiter/university recruiter/campus recruiter + insert company].'"
Start building your network early. For those of Gen Z that are still in college, it may be a good time to reach out to campus recruiters if there is a job at a large, prestigious company you may be interested in. These recruiters will post job opportunities immediately. That way, you can be an early applicant and increase your chances of getting the job you want.
Make Your Money Work Better for You
Focus on Productivity
"Ensure that you're scheduling your days out to be as successful and productive as possible," Walters said in her post.
You may have heard it said that searching for a job is a full-time job in itself. Gen Z's recent graduates may struggle to find entry-level positions, and rising juniors and seniors may find it difficult to squeeze in internship applications in between studying. However, if you prioritize sending out applications, it will net positive results in the long run.
Whether your efforts result in a job or not is just one component of the process. Being productive and having a successful day applying to jobs is validating and motivating. Though it may take time to find an internship or full-time role, fear not. Focus on putting yourself out there and increasing productivity to find success.
More From GOBankingRates