Top 10 Recession-Proof Jobs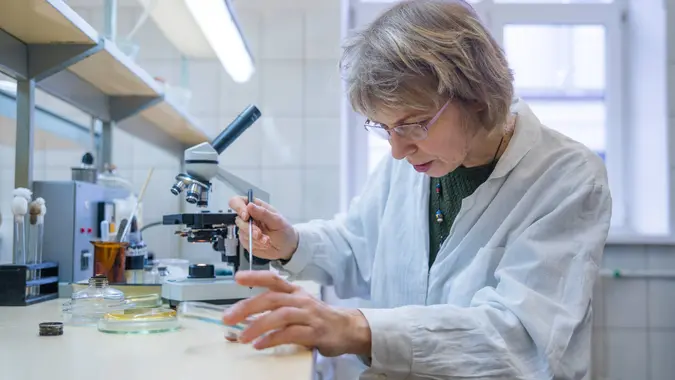 Alex Potemkin / iStock.com
With an uncertain economic landscape, inflation that is still running hot and fear of a recession, it's no surprise that 31% of American workers express concern about their employers potentially planning budget cuts or layoffs, according to a Dec. 14 Workforce Confidence survey by LinkedIn. But against this backdrop, there are reasons to be optimistic, as some jobs are recession-proof, according to a study.
"Overall, this year's shocks will re-open economic wounds that were only partially healed post-pandemic. In short, the worst is yet to come and, for many people, 2023 will feel like a recession," the International Monetary Fund noted in a recent report.
Yet not all is gloom and doom for American workers. Although, as GOBankingRates has reported previously, some jobs are particularly vulnerable to cuts during a recession, there are also so-called "recession-proof" jobs that are likely to keep you employed regardless of what the economy does. A Payscale report describes them as those where "employers are spending more to fill these roles due to labor scarcity and increased competition."
"The jobs on the list tell a story, with a mix of essential service jobs and office jobs, where the opportunity to continue working remote is also part of what is driving the market," according to the report.
Payscale compiled a list of the most recession-proof jobs by wage growth. Here are the top 10, along with median employee-reported annual pay and expected job growth:
Make Your Money Work Better for You
1. Waiter/Waitress
Median pay: $19,900
Salary growth: 30%
2. Private Banker
Median pay: $93,000
Salary growth: 25%
3. Media Director
Median pay: $108,000
Salary growth: 23%
4. Police, Fire or Ambulance Dispatcher
Median pay: $44,500
Salary growth: 19%
5. Sales Consultant
Median pay: $56,800
Salary growth: 18%
6. Microbiologist
Median pay: $59,900
Salary growth: 16%
7. Marketing and Business Development Director
Median pay: $119,000
Salary growth: 16%
8. Dock Worker
Median pay: $41,100
Salary growth: 15%
9. Electrocardiogram Technician
Median pay: $40,400
Salary growth: 15%
10. Installation Technician
Median pay: $46,800
Salary growth: 15%
More From GOBankingRates