Want a Raise This Year? Act Now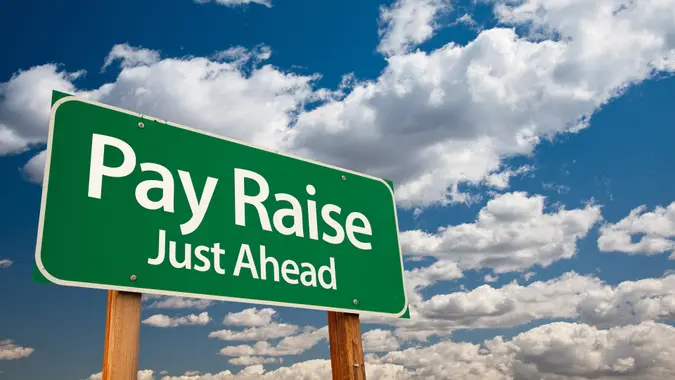 Feverpitched / Getty Images/iStockphoto
With the possibility of a recession still looming over 2023, experts are advising worthy workers to request their raises now as there could be a limited window to receive that bump in pay. More lucrative salaries are an antidote for high inflation, however, the window for this could be gone by summer, according to CNBC.
See: 10 Things To Stop Buying in 2023
Find: With a Recession Looming, Make These 3 Retirement Moves To Stay On Track
Social Security: No Matter Your Age, Do Not Claim Benefits Until You Reach This Milestone
In a few months, people may not need to earn more money to stay in front of inflation, so if wage growth becomes higher than expected inflation rates, then businesses may be less generous when it comes to increasing salaries.
Overall wage growth for hourly earnings has risen nearly five percent in the last year. Just last month, 223,000 jobs were added in December 2022
Make Your Money Work Better for You
Since the unemployment rate is currently under 4%, it is possible that those numbers can shift later on in the year, meaning employees could benefit from asking for higher pay before anything changes in the economy.
One way to obtain higher pay is to be unafraid to move around and switch jobs, with those who switch jobs experiencing a 7.7% wage increase, as opposed to those who stayed put hovering at around 5.5%, Daniel Zhao, lead economist at Glassdoor told CNBC.
For those who want to stay at their current job, Julia Pollak, chief economist at ZipRecruiter notes that employers will be bound by new pay transparency laws in California, Colorado, New York City and Washington that would reveal the pay scale offered for any advertised jobs. Job seekers elsewhere can use the information provided by these locales to glean how much they should be earning in their own communities. 
If an employee discovers that they are worth more at another business, bringing these numbers to their current place of business could lead to a match or increase in pay.   
Take Our Poll: How Do You Think the Economy Will Perform in 2023?
Since employees are still more likely to quit a job that they are dissatisfied with now than they have been in the past, employers may agree to the raise just to avoid losing any more good people. However, if an employer refuses to budge, then the employee may need to be prepared to leave if they are not given what they want. 
Make Your Money Work Better for You
Savvy employees may also consider non-financial bonuses that may make their professional lives better such as more job flexibility or more telecommuting options.
More From GOBankingRates
Make Your Money Work Better for You