5 (Really Good) Reasons You Should Quit Your Job Now Despite Economic Uncertainty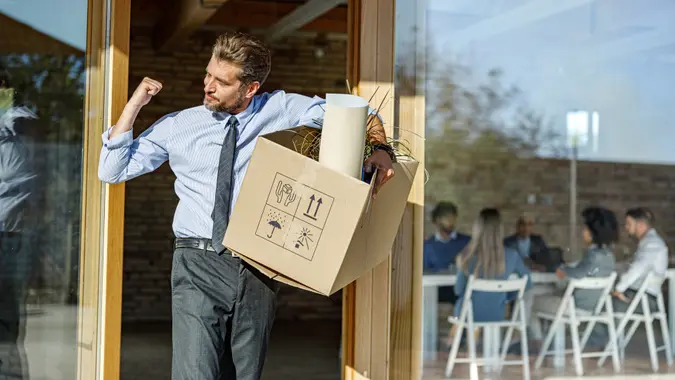 skynesher / Getty Images
People leave jobs for a variety of reasons, the most common being compensation and growth. But that's not always the case. Some workers may feel taken for granted or want more flexibility with their schedules. Some may just be bored or not like their coworkers, and other times it's the business itself. Each job has its own pros and cons and knowing when it's time to leave can be hard, especially when finances are tight and the economy is rough.
See: What Perks Actually Succeed at Luring Employees Back to the Office (and Which Fail Miserably)?
Find: With a Recession Looming, Take These 3 Retirement Moves To Stay On Track
Businesses face equally challenging economic times with high quit rates that impact the bottom line from hiring and training costs to overall reputation. However, there are non-monetary ways to boost morale and keep integral team members from communication changes to perks.
Make Your Money Work Better for You
Whether employee dissatisfaction comes from within or it's something that a company can address, here are five reasons for an employee to move on and some potential solutions for businesses to retain them.
Boring or Unchallenging Work 
Some jobs aren't meant to last forever and unfortunately, there aren't always advancement opportunities. When this happens it's time to move on.
Before making a decision, ask about special projects or advanced training opportunities. Doing this could quell the boredom long enough that you are able to create more job satisfaction.
If a business finds that a number of employees are losing interest, then it may be time for them to change things up.
The Pay for Similar Work Is Better Elsewhere
If an employee can get paid more for similar work somewhere else, then what is the financial incentive to stay? If you've asked for and been denied a raise or perks that would keep you with our current company then it's time to consider a change.
On the flip side, if the state of the economy doesn't allow your business to pay more, offering much more in regard to flexibility or perks could help maintain good employees. Pay attention to the pay ranges for specific jobs and take notice of terrific employees to strive to make things more appealing for them. No matter your profit margin, employees should never feel like they are being ripped off or undervalued.
Make Your Money Work Better for You
Poor Relationships Between Supervisors and Direct Reports
Managers and employees do not always get along, but if a manager's direct reports are quitting with some frequency, it may be that people are leaving because of them. While personality conflicts will happen from time to time, it is important to recognize patterns and to be willing to change behaviors and practices if it appears that employees are consistently not happy.  
At the end of the day, if an employee is too uncomfortable, making a job change is warranted.
The Mission and the Roles within the Organization Are Vague
If your place of work cannot or will not guide you to be a more productive, dialed-in team member then it is a good time to move on. The goal of a business should be clear to everyone. For most organizations, it is about providing a good customer experience. Staff should know what is special about the business and how everyone fits into the big picture. Workers and businesses both benefit from one-on-one direction that aligns employees with company goals.
Make Your Money Work Better for You
No Work-Life Balance
Some business leaders forget that most people have or want lives outside of work. Post-pandemic, the biggest perk employees are seeking is a better work-life balance. They do not want to work impossible hours and remain tethered to their devices.
While this can't always be helped, when a business offers flexible options, the acknowledgment can go a long way to improving job satisfaction. If you can demonstrate that you value employees' time both in and out of the office, you will build loyalty and increase job satisfaction.
Take Our Poll: Do You Think You Will Be Able To Retire at Age 65?
Having a successful career means something different to everyone, but sometimes the company you work for is no longer a place for that to happen and it's time to move on.
More From GOBankingRates
Make Your Money Work Better for You