15 Ways to Feel More Energized at Work

9 min Read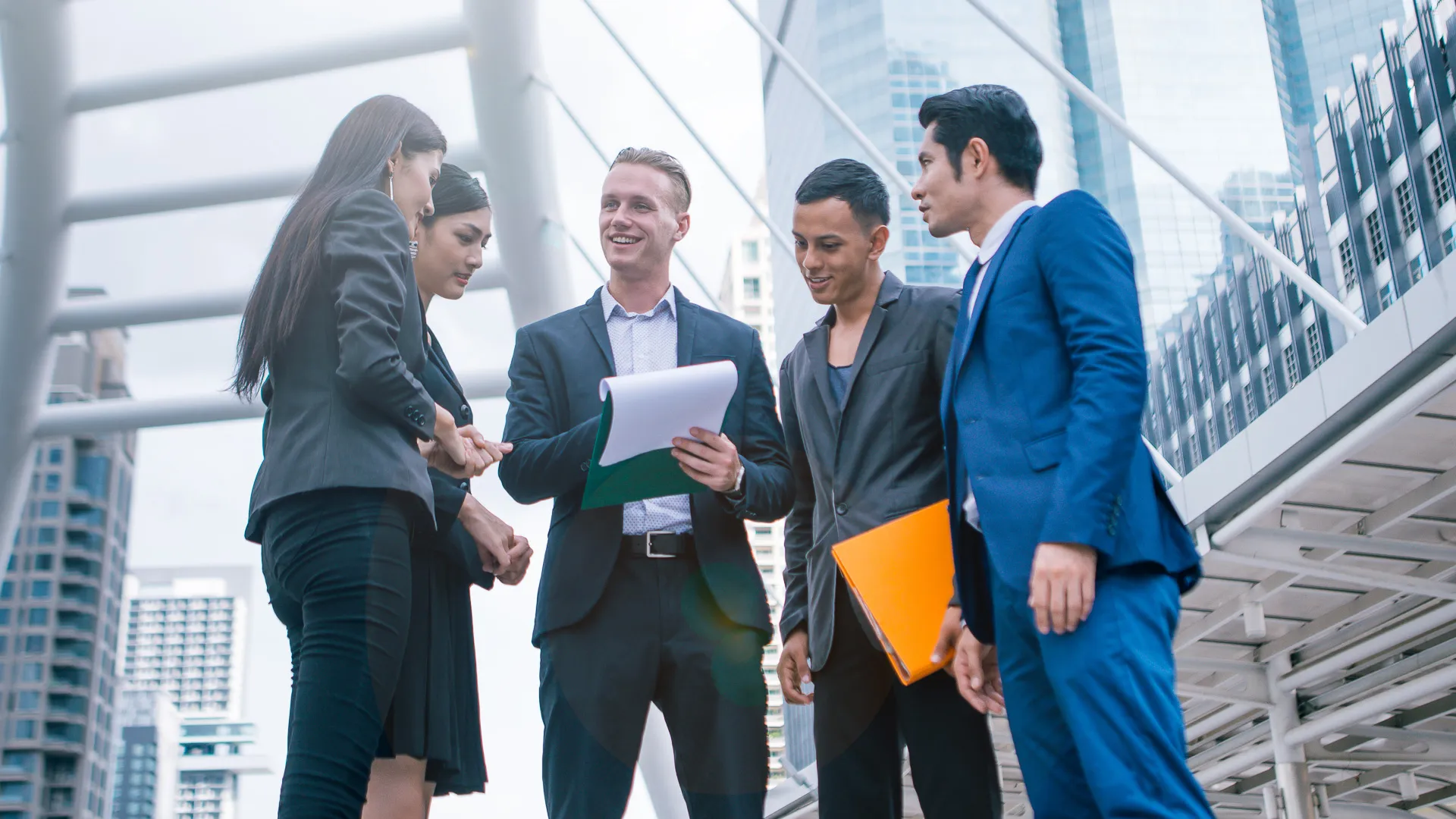 The afternoon energy slump is a common experience. You might feel it on a Tuesday afternoon when you have a presentation to cap off your day, or in the homestretch on a Friday when you're struggling to make it through the last few hours of your work week.
Fortunately, starting your day off right and incorporating healthy behaviors throughout the week can defend against energy crashes and make you a more productive employee. GOBankingRates spoke to various experts in the health and wellness field to determine the best ways to feel more energized at work. Check out these 15 ways to have more energy and be more successful at work.
Make Your Money Work Better for You
Start Your Day With Lemon Water
"Before you eat breakfast or have your first cup of coffee, begin with a 16-ounce mug of warm lemon water," said life coach Tanya Otterstein-Liehs. "This will help flush out any toxins that have left you feeling lethargic, and beginning your morning with fluid will help you hydrate again. After all, you've just gone six to eight hours without drinking anything."
In addition to the hydrating effects of the water, the lemon provides a natural fuel and energy burst, said Sergio Rojas, a certified strength and conditioning specialist.
Don't Skip Breakfast
"Your body has been in a state of rest, relaxation and recharging for several hours, so it needs fuel in the form of carbohydrates and protein to get going in the morning," said Lynne Wadsworth, board-certified holistic health coach.
For an energy-boosting breakfast, Wadsworth recommends eating oatmeal with almonds and blueberries or a hard-boiled egg and a brown rice cake with almond butter and jelly.
Take Your Vitamins
"Multivitamins are always a great substitution for nutrients you might be lacking," said Dr. Christopher Calapai, osteopathic physician and board-certified family medicine practitioner. Calapai said the best vitamins for energy are B12, vitamin C, magnesium and folic acid. "These are great supplements that can help beat extreme fatigue," said Calapai.
Carolyn Dean, MD, ND, also recommends taking magnesium to improve energy levels. "If you want to boost your metabolism and feel energized at work, take an absorbable form of magnesium," she said.
Schedule Exercise Into Your Day
When it comes to exhaustion, people usually don't think of working out as the cure, but one University of Georgia study found that regularly engaging in low-intensity exercise can significantly decrease fatigue.
"Too often we believe that a quick workout will leave us worn out — especially when we are already feeling fatigued," Tim Puetz, researcher and lead author of the study, said in a press release. "However, we have shown that regular exercise can actually go a long way in increasing feelings of energy — particularly in sedentary individuals."
It also doesn't matter when you get your exercise in, as long as you do it.
"Whether it's first thing or over your lunch break, people who exercise during the day have better energy, but also have better creativity, critical thinking and problem solving," said Michelle Cederberg, certified exercise physiologist. "A 15-minute walk or run will increase circulation and boost endorphins."
Lose Weight for Less: 10 Cheap Fitness Apps to Replace Your Gym Membership
Make Your Money Work Better for You
Sit Up Straight at Your Desk
Boost your energy at work by making sure you maintain good posture while sitting in your desk chair.
"Sitting hunched over compresses your internal organs, including your lungs," said Amanda Sterczyk, ACSM certified personal trainer. "When you can't take in a deep breath, your body isn't able to pump oxygen and blood to your brain and every other part of your body. A hunched-over body contributes to 'foggy brain,' which impacts your energy level."
Practice Mindful Breathing
"Take 30 seconds to connect to your breath," said Amber-Lee Lyons, business coach, meditation expert and founder of the Chakra Girl Collective.
"When your head is down and you're frantically working, the breath gets shallow, which creates anxiety and panic in the mind and body and drains your energy," she said. "Breathe in for four counts and out for five. Imagine yourself on a tropical island sipping a margarita for bonus points."
Rojas recommends doing diaphragmatic breathing — a deep breathing method that encourages you to move breath in and out of the diaphragm. "It oxygenates the system, so we have an increase in energy and alertness," he said.
Get Up and Move Regularly
"When your muscles aren't moving, the mitochondria in your muscle cells aren't producing energy," said Sterczyk. "Mitochondria are often called the powerhouses or power plants of the cells. Your muscle cells contain 95 percent of the mitochondria in your body."
Some easy ways to incorporate movement into your workday are taking a walk during your lunch break and stretching regularly throughout the day.
"Getting up from your desk every hour and stretching for one to five minutes will leave you feeling happier and with fewer body aches and stiffness," said Otterstein-Liehs.
Make Your Money Work Better for You
Chat With Your Co-Workers
Although it's easy to get sucked into your work and not interact with co-workers, Cederberg said this could hurt your energy levels.
"We get energy from social interactions with people we like," she said. "Our bodies actually release oxytocin when we do this, and we feel more relaxed and content as a result." If you're wondering how to save energy, consider spending more time with your colleagues.
"Throughout your workday, give yourself permission to interact with co-workers in a less formal and more fun way," she said. "Even five minutes of talking about last night's hockey game can provide a boost in energy that will help you get through the day."
Learn From the Experts: How These 11 Highly Successful People Stay Happy and Healthy
Have Standing or Walking Meetings
"Sitting for long periods of time decreases brain thought processes and leaves you feeling lethargic and exhausted," said Otterstein-Liehs. "By standing or having walking meetings at work, this increases blood flow."
You can add physical activity to other aspects of your work day as well. "Stand up while making phone calls, walk across the office to deliver a message instead of sending an email, walk to the lunch room to eat your lunch — don't do it at your desk — and get a stand-up desk so you can alternate between sitting and standing throughout the day," said Cederberg.
Go Outside Twice a Day
"Spend 10 minutes outside at least two times per day," said Rojas. "Spending time outdoors creates a positive hormone response, which helps to increase energy."
Increasing your exposure to sunlight is a great way to be happier without spending a dollar.
"Being inside means less sunlight, and you might begin to lack vitamin D, which increases melatonin and fatigue," said Calapai. "Get outdoors in natural daylight as much as possible. Try to take even just a brief lunchtime walk, and make sure your work environment is as light and airy as possible."
Make Your Money Work Better for You
Take a Power Nap
If you want to know how to stay awake at work, the answer might seem counterintuitive: Use a break to quickly catch a few Z's.
"Power naps allow our bodies and minds to reset and restore, and energize you," said Rojas. "5 to 20-minute naps show the best results."
According to the National Sleep Foundation, short naps provide "improved alertness and performance without leaving you feeling groggy or interfering with nighttime sleep." And while napping at work used to be frowned upon, some of the top companies now provide dedicated employee napping areas, including Ben & Jerry's, Zappos, Nike and Google. Clearly, staying awake at work is overrated.
Great Places to Work: 30 Coolest Job Perks From Google and Other Top Companies
Meditate
Meditation is another way to boost your work energy during break time and is also a free way to relieve stress. A 2017 University of Waterloo study found that practicing mindful meditation for just 25 minutes per day can boost energy levels.
"Meditation rejuvenates your cells even more than sleep," said Lyons. "There is no better way to spike your energy than a few moments of stillness."
Don't Overeat at Lunch
"If you buy lunch, don't eat the entire portion," said Talia Koren, founder of online meal-prep resource Workweek Lunch. "Most of the time, the portions we get at fast casual places like Chipotle, Hale and Hearty or Panera are way too large. Our bodies have to use up a ton of energy when digesting all that food, so if you eat smaller portions and save the rest for later, you're likely to avoid hitting that 2 p.m. post-lunch slump."
Ideally, pack a properly portioned, energy-boosting lunch. Your lunch should include a complex carbohydrate, protein and a bit of healthy fat.
Unhealthy Hobbies: 10 Expensive Vices That Will Destroy Your Health and Your Wallet
Make Your Money Work Better for You
Be Aware of What You Drink During the Day
Drinking coffee all day might not be the best way to stay awake at work.
"Try to avoid overdoing the caffeine," said Wadsworth. "While you might think the caffeine will energize you, it is an 'empty' type of energy."
In addition to keeping your coffee drinking in check, Wadsworth recommends staying away from the Diet Cokes and energy drinks in the break room. "Sugary drinks like sodas and energy drinks will actually leave you feeling more sluggish," she said. "Try limiting the amount of soda and energy drinks you consume while at work."
Opt for water instead — and drink lots of it.
Bring Your Own Snacks
Packaged office snacks can lead to energy crashes, so it's better to bring your own.
"You want to be sure to stay away from excess fats and sugars, which are in candy bars and most packaged food," said Wadsworth. "The fatty foods will make you feel lethargic, and the sugars will provide an initial spike, but then you'll feel the afternoon slump as you come down from the sugar high."
Koren recommends bringing fruit or raw vegetables and hummus to have as a snack when hunger strikes. "You can still snack when you need it, but instead of experiencing a crash, your energy levels will remain stable," she said.
About the Author