34 Ways To Make Money Online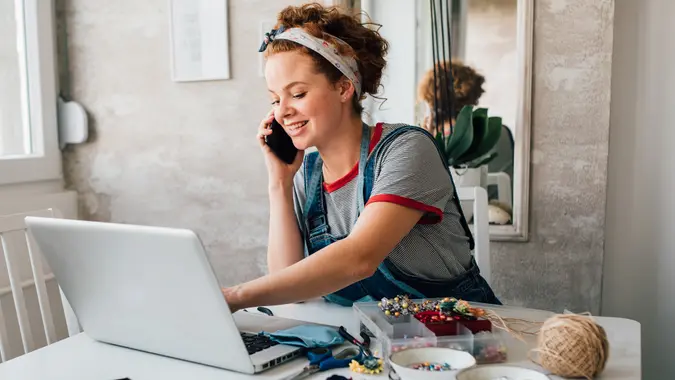 RgStudio / iStock.com
Who can't use extra money? Fortunately, with all the digital tools available today, earning some cash either on the side or as a full-time job is easier than ever. But how to make money online?
Read: What To Do if You Owe Back Taxes to the IRS
34 Online Money-Making Side Hustles To Try
You can put the skills of your full-time job to use to pick up a freelance gig. You can use your smartphone to clear up your finances and increase your available cash flow. Or, you can explore your hobbies and passions and make some money doing it. Jobs you can perform, and the money you can earn, are limited only by your creativity.
Interested in learning more? Read on to discover 34 ways to make money online.
1. Share Your Opinions
Leaving a review on Yelp won't turn into cash or rewards, but plenty of websites exist that will pay for your opinions. The pay might come in the form of gift cards that you can redeem for products, such as Starbucks, but it is compensation nonetheless.
You can write product reviews for software and related services on G2, take a poll on Harris Poll or write reviews for a variety of products from bread to electronics at sites such as ReviewStream.com.
Or, complete surveys on a site like Branded Surveys. Before signing on with any site, it pays to do research to learn just what your compensation will be, check for any reviews about its credibility and see if the company has complaints with the Better Business Bureau.
Make Your Money Work Better for You
2. Do Small Jobs
People in your community need small jobs done every day around the house and turn to sites such as Taskrabbit to get them done. If you're a pro at putting together Ikea furniture or clearing clogged toilets, someone is looking for you.
3. Manage Social Media
Do you speak Instagram and Tik Tok? How about X? Plenty of people who run small businesses don't, and they could use help crafting and maintaining their digital footprints.
Social media managers create content, both verbal and visual, to help companies get the word out about their products and services. They also recommend social media strategies.
With online communications, you can work from home with clients based anywhere. ZipRecruiter reports the pay for a freelance social media marketing manager is $64,374 per year.
4. Clean Out Your Closet
Next time you clean out your closet, don't just bundle the old clothes you no longer wear or the handbags and shoes you don't use for charity. Look through them with a critical eye — ask a friend to join you — to determine whether there's value on the resale market. That designer bag might fetch big money on websites such as The Real Real or Poshmark.
Your stuff doesn't have to be top-of-the-line, name-brand merchandise to have a market. Do you have a never-worn sweatshirt from your local high school? A buyer on Facebook Marketplace or a community website likely will grab that. The amount you bring in will depend on a variety of factors, including whether the site you use to sell charges commission.
Make Your Money Work Better for You
5. Schedule Appointments
Your impeccable phone manners will help you in a position scheduling appointments. A scheduler often works in health care, but you could work for any business that takes appointments, such as car repair. You also might make calls to set appointments with prospective clients. ZipRecruiter reports this job category pays an average of $38,531 per year, and there are no formal education requirements.
6. Make Music
If you're musically inclined, apply to become a member of Songfinch, which allows artists to write and produce music, on demand, for clients who want a personalized song for their wedding, a birthday or other event. The company charges $199 per song but doesn't publicize what the cut is for the artist who writes and records it.
7. Offer Tutoring
Maybe you're not a songwriter. Instead, you have experience teaching English as a Second Language courses, or you're a whiz at math — and there might be a struggling student who can use your help. Apply with a tutoring service such as Cambly or Tutor.com or let the counselors at your local high school know about your expertise, experience and availability. Your work with students can be done online. The BLS reports the median pay is $36,680 per year.
8. Be a Consultant
Maybe you're retired from full-time work but want something in your field on a part-time or occasional basis. Or, you're just tired of the commute or your job and want a bit more freedom. Use the expertise you've amassed during your years on the job to become a consultant.
Make Your Money Work Better for You
The BLS reports that management analysts — another phrase for business consultants — earn a median salary of $95,290 per year on a full-time basis. In some fields, a minimum of a bachelor's degree is required. No matter what the field, you'll need considerable work experience.
9. Translate Other Languages to English
Our diverse society means many people in our community speak something other than English as their first language. And that has increased the need for translators and interpreters, with the field expected to expand by 4% between 2022 and 2032. People working in the field often have a bachelor's degree, but they also need proficiency in English and the language they seek to translate. The BLS said translators and interpreters have median earnings of $53,640 per year.
10. Rent Out a Room
If you've got a spare bedroom and bathroom in your home, consider renting it out through a service such as Airbnb or VRBO. This opportunity requires you to be comfortable having strangers down the hall or in the basement. If you are, you could be really supplementing your cash flow. Your profit depends on the rental rates in your community as well as how often your room is occupied.
11. Rent Out Storage Space
Maybe the idea of sharing your indoor space with a stranger doesn't appeal to you. How about sharing your outdoor space with a stranger's stuff? Visit Neighbor to learn about setting aside space in your shed or garage and more to store items for those who need some extra room. You can rent out attic and basement space, too.
Make Your Money Work Better for You
12. Monetize Your Blog …
Readers love blogs they can relate to, whether the topic is parenting, travel, sports or something else. If you already have a blog and it gets decent foot traffic, you could be monetizing it. Sell ads on your own or sign up for a service like AdSense, which will send advertisements your way. While your blog is free for readers now, you can create a subscription service and provide exclusive content for subscribers.
13. … Or Your Vlog
The blog's video version is the vlog, and you can monetize it, too, via YouTube ads. With either a blog or vlog, you can sell merchandise and create sponsored posts to bring in income.
14. Use Savings Apps
Register for a browser extension such as Capital One Shopping or Rakuten to save money on purchases you planned to make anyway. If you sign up for the site, Capital One Shopping will search for discounts and let you know if you've found the best price. It also has agreements with some retailers to offer cash back on what you buy. That will go into your account, and you can redeem those savings for gift cards to well-known stores. Rakuten works much in the same way, but you can get cash back via PayPal or mailed to you as a check, known as the "Big Fat Check."
15. Move Your Money to a Savings Account
Whether you have $100 or $100,000 in your savings account, you undoubtedly want it to receive maximum interest. And if you have your money in a traditional bank, you probably can do better on your interest rates, which pay as little as 0.01% APY. Instead, look for a high-yield savings account through an online bank. Ally currently offers a APY, the rate at Synchrony is and it's at FNBO Direct.
16. Cancel Subscriptions
Remember the old phrase, a penny saved is a penny earned? Spend a day going through your online bank and credit card statements to figure out just how much you are paying — or wasting — on subscriptions you don't use. That promotion for a free month on a streaming service seemed like a great deal. That was, until the month expired, you started paying for it and never watched another show. Put that money back in your pocket.
Make Your Money Work Better for You
17. Review Your Car Insurance
When you're done looking at those subscriptions, drop an email to your agent to inquire about how to save money on your car insurance. If you drive what many would call a "junker," you might be over insured when it comes to protecting your investment in your car. Insurer Progressive said dropping your collision or comprehensive coverage if your car isn't worth much could make financial sense. If it's only worth $1,500 and your deductible is $1,000, it isn't worth paying the premium for the small amount you'd receive in an insurance claim.
18. Reduce Your Credit Card Debt
As you're completing all of these financial tasks, bite the bullet and review your credit card accounts . Think of all the money you will save — which will turn into money earned — if you pay off your cards. You might be paying 20% interest, or more, on those accounts. If you have balances on more than one card, create a strategy to pay them off one by one.
19. Get Rid of Junk Mail
The Small Business Knowledge Center will pay you to collect your direct mail marketing materials — that's what is usually called junk mail — and send it off to the center for a market research study. And how much junk mail do you get in your email? Forward that, too. You won't get rich, but you'll earn pocket money for minimal effort. The center's website says participants will earn as much as $20 every six to 10 weeks.
20. Transcribe Medical Recordings
Thanks to the internet, doctors' offices and hospitals can transmit medical records for transcription into reports. These are voice recordings that need to be converted into documents, and that can be accomplished from home. By getting a certificate in the field, you'll learn the medical terms and basics that you need to know to succeed. The Bureau of Labor Statistics puts the annual median earnings at $34,730 per year. Improvements in technology are expected to lead to a 4% drop in the number of jobs between 2022 and 2032.
Make Your Money Work Better for You
21. Sell Photos Online
If your friends say "wow" when they look at your vacation photos, consider selling them, either in an online store or through existing sites such as Getty Images, Etsy or Shutterstock. With your own store, like on Etsy, you set the prices. You'll receive a commission when someone uses your photo through most sites.
22. Get Crafty
You can sell much more than photos on Etsy, and the only limit is your creativity. Shoppers look for everything from custom sweatshirts to holiday décor to jewelry on sites such as Etsy. And so much more. Your woodworking hobby, for example, could translate into big money.
23. Freelance as a Writer
Writers can make money these days without a full-time job at a newspaper or media company. With the need for good written content for websites, blogs and other outlets higher than ever, excellent writers can find freelance opportunities online through sites such as FlexJobs, Upwork and Fiverr.
24. Freelance as a Graphic Designer
Put your skills to work by designing logos or other artwork for small businesses or startups. You can find those gigs on Upwork and Fiverr, or share some of your creations on social media to find clients.
25. Freelance as a Website Creator
It's easier than ever now to create websites through templates — no coding required! — but that doesn't mean everyone has the time or desire to do it. Every credible business needs a website and can use your expertise in getting one up and running. If you also have those writing, photography and graphic design skills, you can build a full-service website creation business.
26. Edit Audio and Video
Today's business websites and social media pages also need audio and video components. It's one thing to pull out the iPhone and shoot some video. It's another thing to edit it, enhance the sound quality and put it to music. Businesses need you if this is your skill, and jobs can be found on the site as writing positions — FlexJobs, Upwork and Fiverr.
27. Produce Podcasts
Along the same line, so many everyday people — not just celebrities, athletes or news personalities — have podcasts today. Those famous podcast hosts have editors and producers to polish up the finished product. Use your experience editing audio and video to create podcasts for clients.
28. Lead a Class
The pandemic showed most people that we don't need to sit in a classroom to learn Spanish or work out with a bunch of people around. Create course content that students can subscribe to and learn on their time schedule. If you're a yoga teacher, create workouts that clients can access on demand. If you have done this work before, tap into past clients for direct marketing. You also can use social media or influencer marketing to spread word of your class. Or, take an online course yourself to determine the best way to produce, price and market your class.
29. Become an HR Consultant
Small or startup businesses might not need — nor be able to afford — a full-time human resources person. If you have experience in the field, you can help from your home. An HR consultant can help new businesses establish workplace procedures and policies or recruit employees. Zip Recruiter estimates an HR consultant earns an average of $35,000 per year.
30. Be an Online Juror
Well, a mock juror at least. Attorneys often like to test their case in front of an online focus juror to assess the case's strength. If this interests you, start at eJury.com or OnlineVerdict. The latter says the typical pay is between $30 and $350.
31. Create an App
Turn your idea for an app into the real thing with help from sites such as Apphive and Appy Pie. With these platforms, you don't need to know anything about writing code. When your app is ready to go, you can sell it via the App Store or Google Play store.
32. Test Websites
Websites aren't of any value to a company if they don't function the way they're supposed to, and businesses will hire people like you to check them out. You can get started at sites that include User Testing or Userfeel. With Userfeel, the typical test takes 20 minutes to complete and you'll earn $10.
33. Hold an Online Garage Sale
Facebook Marketplace is one option, but your community also could have a Facebook garage sale page. What you no longer need, like your jogging stroller, could be just what new parents are looking for.
34. Become a Travel Advisor
The full-service travel agency pretty much is a thing of the past, but that doesn't mean people don't need help booking their travel and accommodations. Share what you know about the best places to visit in the world with your online clients through sites such as Fora or learn how to start your own business through a site like Avoya.
Rates are subject to change; unless otherwise noted, rates are updated periodically. All other information on accounts is accurate as of Nov. 27, 2023.