15 Well-Paying Jobs That Don't Require a Degree or Physical Labor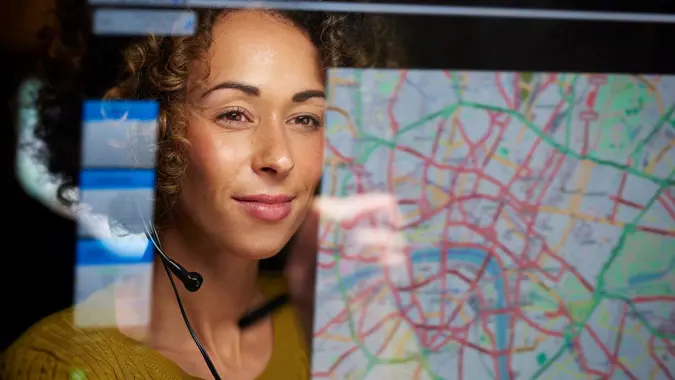 sturti / Getty Images
Traditionally, a college degree has been considered the golden ticket to a well-paying job. There are fields that can be lucrative without a degree – like the construction trades, or working in a unionized auto factory – but these jobs are also physically demanding, and can take a toll on your body over the years. 
The good news is that the landscape of employment is ever-changing, and many employers are even making an effort to put less focus on a degree requirement – breaking the "paper ceiling" so to speak. Many decent or even high-paying opportunities are available to those who haven't pursued higher education.
Bank Teller
Annual mean wage: $36,800 
A bank teller is responsible for assisting customers with their financial transactions. This job often requires excellent communication skills, attention to detail and a knack for math. While the salary may not look that attractive, keep in mind that tellers are considered entry-level and big banks will offer the opportunity for advancement over time.
Customer Service Representative
Annual mean wage: $41,190 
Customer service representatives serve as the bridge between a company and its clients. Strong interpersonal and problem-solving skills are essential. Many companies off-shored these types of roles, but you might be surprised at how many places out there have kept customer service in-house, and still offer competitive salaries and benefits.
Make Your Money Work Better for You
Court, Municipal or License Clerk
Annual mean wage: $46,280
Court, municipal, and license clerks play crucial roles in the efficient functioning of government agencies and the legal system. These professionals are responsible for maintaining records, assisting the public, and ensuring the proper processing of various documents and licenses. Since these roles are almost always for a government agency, they tend to offer good benefits and job security.
Dispatcher
Annual mean wage: $48,350 
Dispatchers coordinate and manage the schedules of various service personnel, such as truck drivers, police, or emergency responders. Their organizational and communication abilities make them valuable in ensuring efficient operations.
Truck Driver
Annual mean wage: $53,090
No one would claim that being a truck driver is easy work, but it's not necessarily physically strenuous, and the barriers to entry are fairly low. With the demand for goods transportation on the rise, truck drivers can earn a substantial income, especially long-haul drivers.
Water and Wastewater Operator
Annual mean wage: $55,690
Water and wastewater operators play a critical role in ensuring access to clean water and proper wastewater treatment. In this field, you'll mostly be working for a municipality rather than a private employer, which often means better-than-usual benefits along with decent pay.
Licensed Practical Nurse (LPN)
Annual mean wage: $55,860 
Licensed Practical Nurses provide basic nursing care under the supervision of registered nurses or physicians. LPNs do have to complete a state-approved educational program to get licensed, but these typically take a year or less. After completing a practical nursing program and obtaining a license, LPNs can earn competitive salaries while working in a wide variety of healthcare settings – hospitals, physician's offices, care facilities, and even private homes.
Make Your Money Work Better for You
Mail Carrier or Clerk
Annual mean wage: $56,240 
Working as a mail carrier for the postal service offers job security and reasonable compensation. The job involves delivering mail and packages, often with the flexibility of working in different roles within the postal service. Don't like delivering the mail? You can also work as a mail sorter or processing machine operator, or work as a clerk in a USPS post office.
Hearing Aid Specialist
Annual mean wage: $62,480
Hearing aid specialists administer and assess hearing loss tests and fit patients with hearing aids. This profession does require specialized training and licensing. While earning an associate degree is one path to becoming a hearing specialist, apprenticeships are also common. Many specialists go on to become audiologists, significantly increasing their earning power.
Real Estate Agent
Annual mean wage: $65,850
Real estate agents assist individuals in buying, selling, and renting properties. While a degree is not required, agents must complete state-specific real estate courses and obtain a license. Successful agents can earn substantial commissions, so if you find you have a talent for the job you could earn far more than the average.
Flight Attendant
Annual mean wage: $67,020
Flight attendants ensure the safety and comfort of airline passengers during flights. They typically undergo extensive training, but a degree is not mandatory. The job obviously offers opportunities for travel, making it an attractive choice if you don't mind the somewhat nomadic lifestyle.
Building Inspector
Annual mean wage: $70,130
Building inspectors examine buildings to ensure they comply with local and national building codes. The role demands attention to detail and knowledge of construction standards, so if you are working in a very physical construction trade job, becoming an inspector might be a great way to use your experience to transition to something less strenuous.
Make Your Money Work Better for You
Executive Assistant
Annual mean wage: $71,060
Executive assistants provide administrative support to high-level managers and executives. They need excellent organizational and communication skills. With experience, they can advance into supporting C-level executives and earning significantly more.
Lodging Manager
Annual mean wage: $73,230
Lodging managers oversee the operations of hotels, motels, and other accommodations. Their responsibilities include managing staff, ensuring guest satisfaction, and maintaining the property. Without a degree, you might need to start at the front desk or as a night auditor and work your way up, but it's not at all uncommon to do so.
Sales Representative
Annual mean wage: $77,390
Sales representatives promote and sell products or services to customers. Strong communication and persuasion skills are vital for success in this role, and many companies offer commission-based pay structures that can be quite lucrative. It's also worth noting that because the products are generally more complicated, sales reps for technical and scientific products make as much as 40% more on average.
You Can Make It Without a Degree or Hard Labor
While some of these jobs require specific training, certifications, or licenses, they all demonstrate that a successful and rewarding career is possible without a traditional college degree. The evolving job market reflects an increasing emphasis on skills and experience, making these opportunities accessible to a broader range of individuals. So, if you're looking for a career that doesn't require a degree or physically demanding work, explore these options to find the right fit for you.
More From GOBankingRates
Make Your Money Work Better for You
Editor's Note: All salary data is from the U.S. Bureau of Labor Statistics.