5 Winning Traits CEOs Want in Employees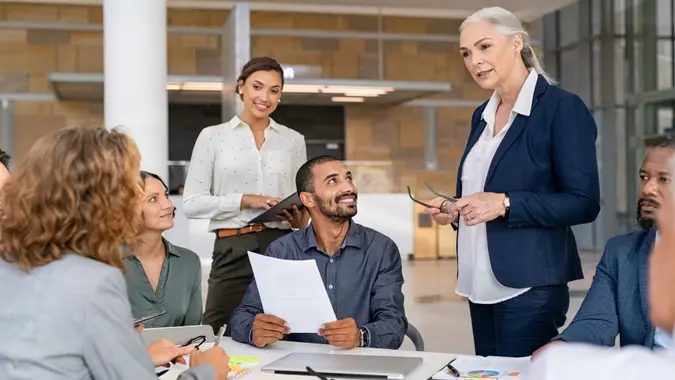 The December jobs report showed that unemployment fell from 3.6% to 3.5% last month, the lowest jobless rate on record in more than half a century. With so few people looking for work and 11 million open positions, most hiring managers are simply hoping to flesh out their staffs with anyone who can get the job done.
See the List: GOBankingRates' Best Banks of 2023
Check Out: With a Recession Looming, Make These 3 Retirement Moves To Stay On Track
Discover: How Much Americans Have in Their Savings Accounts in 2023
With that kind of dynamic in place, just about any competent candidate will do in most cases. But if you want to stand out to CEOs as a recruit who's worth pulling out all the stops to woo, competence alone won't suffice. 
GOBankingRates asked career coaches, CEOs and other industry experts what it takes to catch the eye of top company brass. These are the can't-lose traits they said will take successful candidates the farthest in 2023. 
Make Your Money Work Better for You
The Foresight To Anticipate Problems and Opportunities in Advance
Several experts said CEOs always value problem solvers but that they place an even higher premium on those with the intuition to forecast trouble before it ever arrives.
Take Our Poll: Do You Have a Second Job or Backup Plan in Case You Are Laid Off?
"Employees should be able to plan ahead and anticipate major problems that they might come across," said Sharon Dylan, career coach and co-founder of Management.org. "This is a very important skill that almost all employees should have in order to make it in the competitive business world."
According to Dylan, foresight is a coveted trait because when employees can anticipate customers' needs and spot emerging trends, their companies can become pioneering drivers of those trends while the competition plays catch-up.
"Aside from trends," Dylan said, "an employee who can catch the minute details and foresee any upcoming problems and issues will be able to provide solutions swiftly, leading to solving the problem way before it causes a mess in the company."
An Air of Confidence and Credibility That Says You Belong There
Bosses often receive resumes that portray candidates as true professionals, only to find out during an interview that the human being behind the paper is anything but. 
Make Your Money Work Better for You
"The most important winning trait that CEOs look for in employees is professionalism," said Christa Reed, a career expert and head of job market search at Job Searcher. "How they conduct themselves in a business environment. This pertains to everything from body language to dressing.
"The C-suite level is usually reached by individuals who have achieved career milestones, possess strong leadership abilities and have developed a professional image. Your level of professionalism is assessed from the initial point of contact with a potential employer, including how you present yourself, the attire worn during the interview and how you handle difficult questions. This applies throughout the entire process."
Frank Openness About Your Situation and Intentions
In the era of gigs, side hustles and remote work, CEOs are learning that even the most promising candidates are prone to flaking out in favor of second jobs that their primary employers didn't even know they had. So moving into 2023, bosses are putting a premium on clarity and openness from the outset. 
Make Your Money Work Better for You
"I find that transparency has become a highly sought-after trait, especially in remote environments where it's more common for employees to work more than one job," said LaVonne James, founder of Get a Better Job. "A CEO wants employees who are loyal to their company, but it's difficult to know up front if an employee has another job, so now recruiters are demanding transparency from applicants.
"Would an applicant tell an employee they have another job they intend to work? Most job seekers would not, which is why transparency is so highly valued. CEOs and hiring managers want to make hiring decisions with all the facts in place, and when an applicant is not forthcoming, the employer is at a disadvantage." 
An Unquenchable Thirst for Learning
Recruiters seek out talent in part for what they already know but also for what they'll be able to absorb as they progress into the position.
"CEOs are looking to hire people who are willing to, and love to, learn," said Colleen DelVecchio, owner and chief coach at Maxady. "With technology and business changing rapidly, employees need to be able to master new skills quickly. Employees must show up to the workplace understanding how they best learn new material and tasks.
"CEOs are looking to hire employees who are willing to make mistakes and quickly learn from them. With businesses changing rapidly, they need leaders who are able to see a problem and pivot to a solution.
"For job seekers, when you go on an interview, expect to be asked about a time something didn't go right and how you handled it. Your approach to the solution is what is going to make you stand out as an ideal candidate." 
A Good, Old-Fashioned Can-Do Attitude
Finally, there's the winningest trait of all — and it happens to be one that predates the Great Resignation, the pandemic and even the digital age. 
"The positive attitude of an employee is the most important winning trait that CEOs look for in employees," said Doug Mitchell, president and CEO of Argenta Field Solutions, which recruits talent and serves entrepreneurs. "A positive attitude toward work and co-workers will compensate and lead to hard work even if the employee still lacks skills and knowledge from the beginning.
"Skills and knowledge can be taught over time, but changing one's attitude, especially the bad ones, can take a lifetime. That said, a positive attitude right from the beginning will be his or her first step in climbing the ladder to success."
More From GOBankingRates
Make Your Money Work Better for You