9 Work Habits That Will Cost You Your Next Raise
Avoid these career mistakes and you'll be on your way to get a raise.
Guillem / Shutterstock.com
You show up to work, greet your colleagues, go to meetings, bury yourself in your cubicle and get your assignments done. You do what's required of you, so, surely, that means your boss should recognize you with a raise.
The truth is, even though you think you're a good worker, your boss might think differently. You might have bad habits in the workplace that your boss notices more than what you're doing right. Those behaviors could be killing your chance to get a raise. Even worse, they might cost you your job.
"People really sabotage themselves at work," said Kathi Elster, an executive coach and author of "Working With You Is Killing Me." But if you can recognize your bad behaviors and stop them, you might be able to reverse the damage.
Here are bad work habits you need to break if you want to climb the career ladder rather than be given the boot.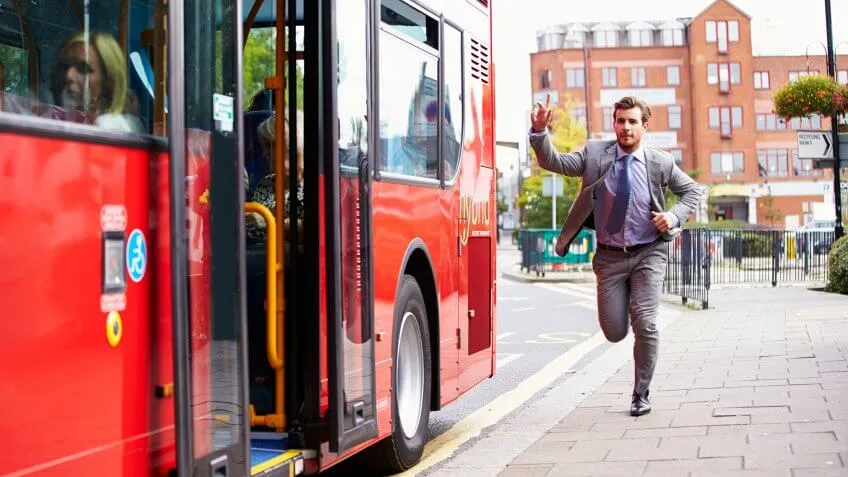 Monkey Business / Shutterstock.com
1. You're Always Late
You might be patting yourself on the back because you show up at the office every day. But look around. Have your colleagues already been hard at work for an hour or more by the time you get there?
"The whole lateness issue is a big problem," Elster said. "Business is deadline-driven. People who can't respect that don't do well."
One reason people are late is because they are time optimists. "They think they can do more than they actually can in a time frame," Elster said. For example, they know how long it takes to get to work, budget that amount of time to get there but then assume they can fit in a stop at the coffee shop or the dry cleaner along the way. The cure: Set your clock ahead and get realistic about how much time things take, Elster said.
Additionally, she said, your late arrival can impact your colleagues. "It can hold other people up," she said. "It's rude. It's unprofessional."
If you often miss deadlines because of time management lapses, you can fix the problem by getting started on projects as soon as they are assigned.
"Young employees often underestimate how time-consuming a project will be, so they do not get started as soon as they should," said Timothy Wiedman, a retired associate professor of management and human resources at Doane University in Crete, Neb. "Projects are often more complicated than they initially appear to be, and unexpected problems or other work-related emergencies can often arise. So do not let procrastination damage a promising career."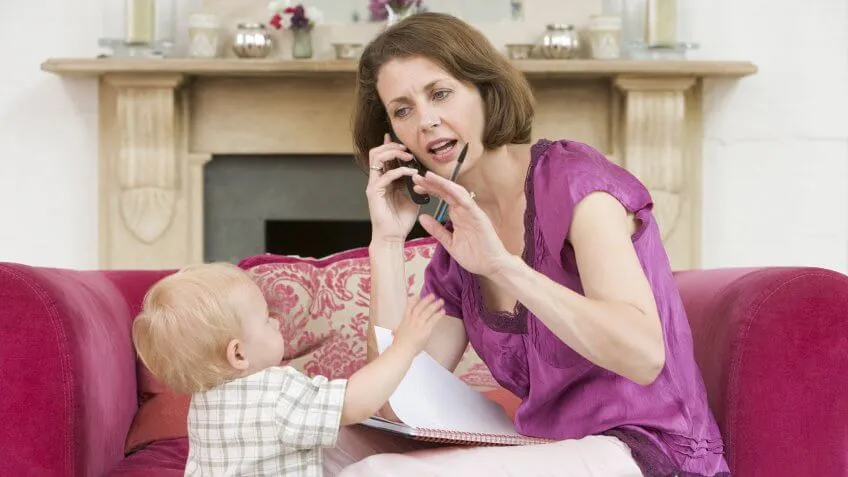 Monkey Business / Shutterstock.com
2. You Have Poor Work-Life Balance
You're expected to have a life outside of work. In fact, today's bosses often encourage you to have a strong work-life balance.
But, it might appear that you're prioritizing your personal life when you're supposed to be working if you frequently take long lunches, call friends during the work day, leave early to go to your kids' activities or regularly come in hungover from late nights of partying.
"If it's clear your personal life is more important than your work life, that gets noticed," said Elster. "You're not going to get promoted. You're certainly not going to get a raise."
Some behaviors that suggest your personal life takes precedence will simply have to be stopped — such as the long lunches. With others, you might be able to work something out with your company to achieve the work-life balance you need. For example, you might need to negotiate a different work schedule so you can leave on time to pick up your kids from school.
"Once it's negotiated and the parameters are clear, that's fine," Elster said.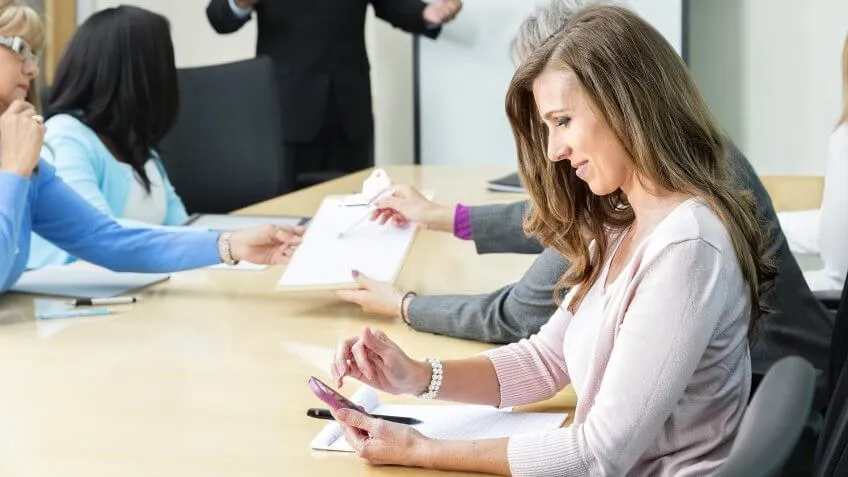 TerryJ / iStock.com
3. You Spend Too Much Time on Your Cellphone or Social Networks
Cellphones and social media are here to stay. They are ingrained in our lives, and we rely on sending texts to stay in touch with friends and family. We love to share photos via Instagram and Snapchat and to look at those of our friends.
According to a Pew Research Center survey, 34 percent of people say they use social media while at work for a mental break from the work day. Additionally, 27 percent say they connect with friends and family while at work via one of the digital platforms.
Bosses notice your usage, though. A 2016 CareerBuilder survey found that 19 percent of employers believe workers are productive less than five hours a day instead of eight. Employees' cellphones are the cause of that drop in productivity, according to 55 percent of the survey respondents.
Don't Miss: 7 Ways Smart People Lose Their Jobs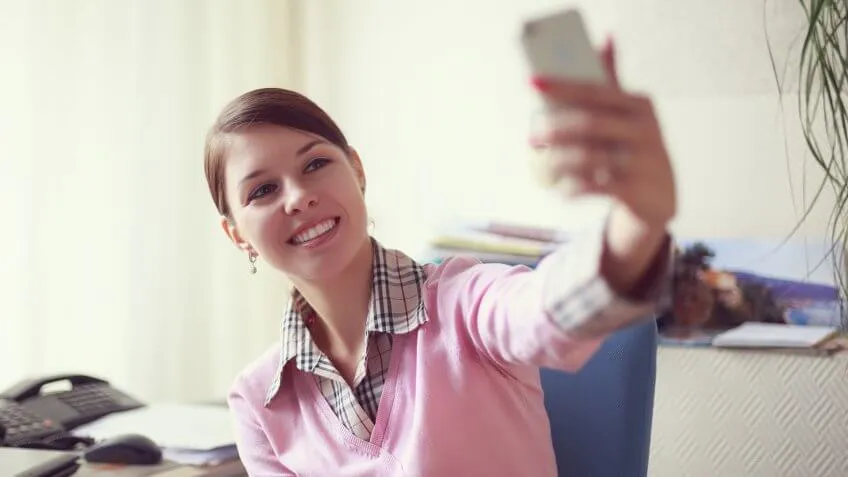 Shell114 / Shutterstock.com
4. You Share Too Much on Social Networks
Think your employer doesn't care what you're posting on Facebook, Instagram or Twitter? Think again. It's important to understand that what you post on social media can hurt your career.
"Recruiters and hiring managers routinely search social-networking sites for background information," said Marc Cenedella, CEO of professional careers site Ladders.
Embarrassing photos or inappropriate comments you've posted could be held against you. "You could very well be committing mortal sins online that could impact your current — and future — job," he said.
Before posting anything, ask yourself whether you'd be embarrassed if your boss saw it, Elster said. If so, refrain from sharing it. And never complain about work or your boss on social media, she said. Remember that long ago you might have accepted a friend request from the boss on Facebook. And even if you didn't, it could take just one quick hit of the "share" button for the boss to see your posts.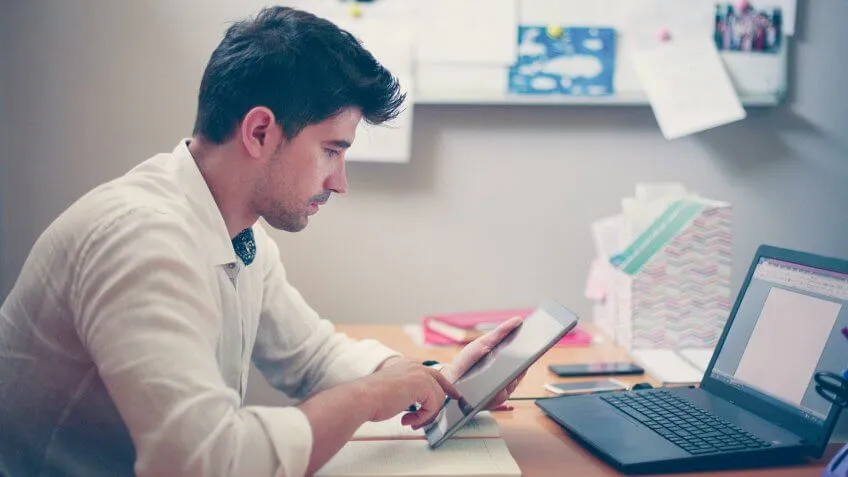 Liderina / Shutterstock.com
5. You Communicate Like You're Texting
When your supervisor emails you to find out how the project you're working on is coming along, do you respond something like "ABT2 B done?" If so, you need to break that habit fast.
"While text lingo and Twitter-speak may save you some characters in your personal life, it could really damage your reputation at work," Cenedella said. "It's hard to take someone seriously who spells the word 'srsly.'"
Writing in shorthand could make you appear less educated or even disrespectful. "In most offices, there is a professional etiquette when it comes to writing letters to clients or interoffice communication," he said. Adhere to it and ditch the text lingo if you want to be seen as a professional worthy of a raise.
Check Out: 7 Sentences Successful People Never Say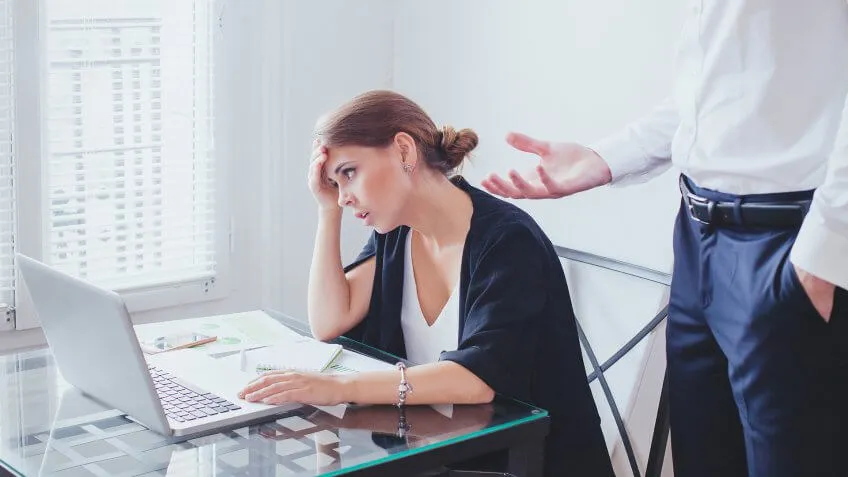 Ditty_about_summer / Shutterstock.com
6. You Can't Accept Criticism or Admit Mistakes
Not admitting your mistakes is one of the the biggest career mistakes you can make. You might have all of the talent in the world, but you're hurting your prospects at work if you can't take feedback without getting defensive or blaming someone else.
"This is the No. 1 behavior that annoys managers the most," said Michael D. DeVine, CEO of DeVine Consulting, which helps companies with talent selection.
When you're defensive, it suggests you're not willing to listen to others, fix problems or take responsibility for mistakes. If you're a manager, it sends a bad message to the people you supervise. "If somebody cannot look at themselves in the mirror, then how can they possibly hold their own employees accountable?" asked DeVine.
If you want to keep your job, be willing to accept input from others. And if you make a mistake, admit it.
"Then, after admitting the error, ask what you can do to make things right," Wiedman said. "Volunteer to take responsibility for fixing any problems that you have created."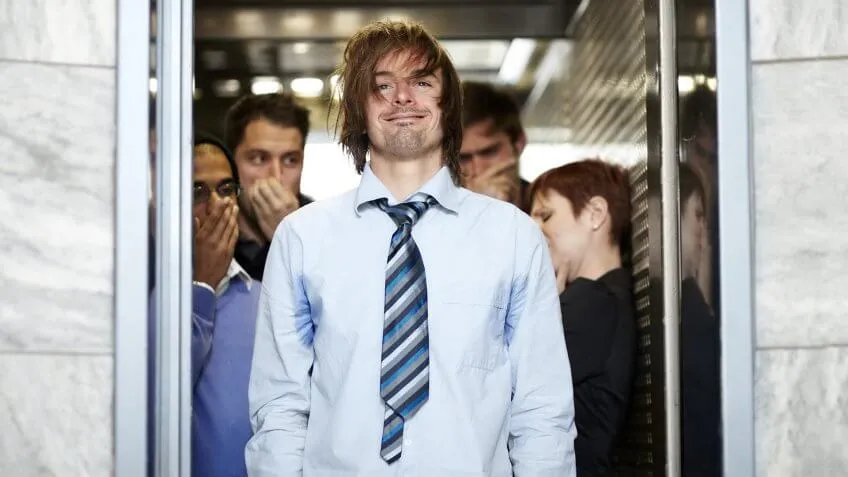 PeopleImages / iStock.com
7. You Don't Try to Look — or Smell — the Part
Maybe you're in the habit of going to the gym before work. Afterward, you head into the office without showering, where your poor colleagues are forced to smell your body odor all day.
OK, so maybe you're not that guy. But Elster said she has seen this happen — and it reeks of unprofessionalism.
"You have to look the part and smell the part," she said. That's why good grooming is key. Even if your workplace is casual, make sure you come in bathed and wearing clean clothes, she said. If you don't, you'll likely get sidelined. "You're not going to be invited to meetings," Elster said. And you might not be told why because appearance is a touchy subject, she said.
If you want a promotion, you might even need to make adjustments to your appearance. "As you go up the ladder, you want to look the part," Elster said. So if you want to move up, dress for the role you want.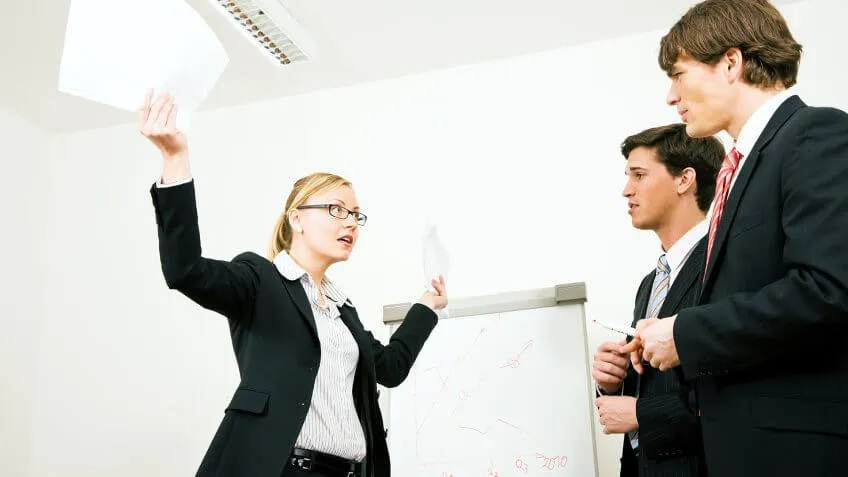 Kzenon / Shutterstock.com
8. You Have a Bad Attitude
We all have bad days from time to time. But if you're always in a bad mood, your employer will notice.
"You could be a quick, bright employee with fast turnaround times and high-quality work," said Sean Fitzpatrick, president of TalentMap, which conducts surveys to measure employee engagement. "But if you constantly bring down the morale of your office or communicate poorly with your coworkers, it is likely that you will be moved down the list when there is opportunity for advancement."
He explained that bringing a toxic attitude into the office can ultimately hurt your chances of succeeding. "No matter the quality of your work, it is very likely you will never be chosen to move up the ladder or lead your team," he said.
Companies want people who improve the morale of others in the office. "Happy, motivated employees lead to better work and a stronger company," Fitzpatrick said. So leave the attitude at home.
More Reasons: How Using the Word 'I' at Work Could Cost You Your Next Raise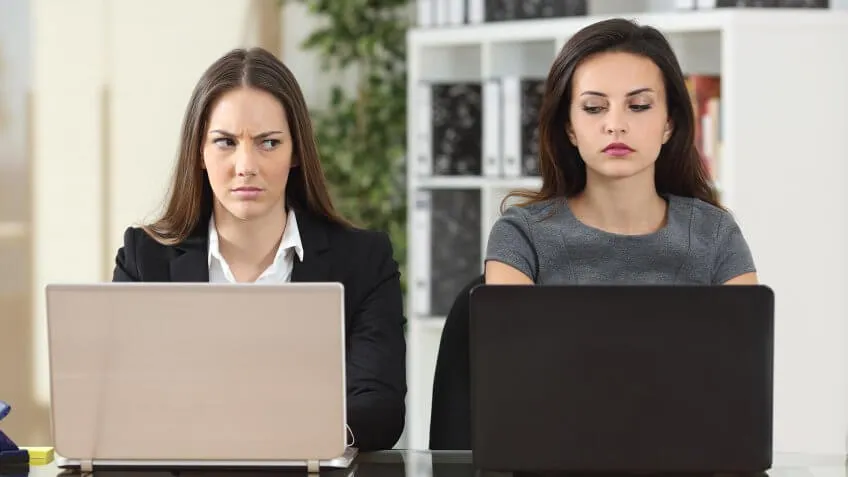 Antonio Guillem / Shutterstock.com
9. You Don't Try to Be Liked
You don't have to go out of your way to be the most popular person in your company, but you need to make an effort to be likable.
"The reality is that too many people are very talented and everybody realizes that," said DeVine. "But if they are not a likable person, then they will never get promoted."
For example, DeVine said his consulting firm worked with a company that was torn between two candidates for a promotion to a team leadership position. One was a more skilled and a better project manager. But when the other managers were asked their opinion of him, DeVine said the most telling responses were, "He is great and all at his job, but after five minutes with him, I want to bang my head on the table," or "If I can't stand the guy, how can we expect his employees to stand him?"
When it comes down to it, employers want to hire people they like, DeVine said.