$100 Bills That Are Worth More Than a Standard Benjamin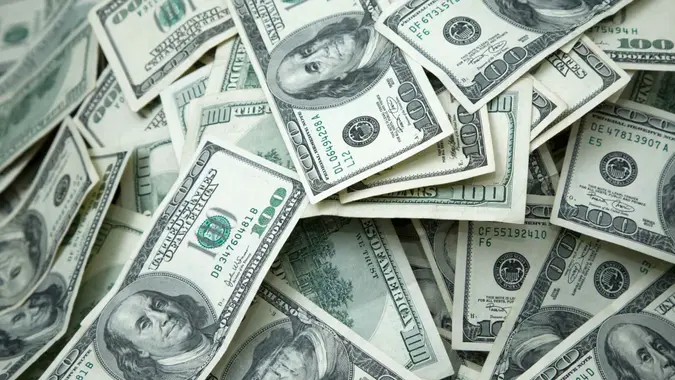 Kativ / Getty Images
In 1969, the federal government retired the $500, $1,000, $5,000 and $10,000 bills, leaving $100 as the largest denomination of currency in circulation. However, the C-note had more than a century of history under its belt before that.
The first national banknotes were issued in 1862 as part of a Civil War funding effort, and later that year, they became legal tender known as greenbacks. That initial run included $100 notes featuring a portrait of Gen. Winfield Scott. 
In 1914, the government issued the first Federal Reserve notes, including $100 bills emblazoned with a portrait of the Founding Father whose name is now synonymous with big bucks — Benjamin Franklin. They coexisted with the previous Treasury notes to become the official currency of the United States.
Fast-forward nearly 110 years, and some Benjamins are worth a whole lot more than a hundred bucks.
1863 $100 Gold Certificate
This special C-note was among the first in a series known as gold certificates — and they're not just called that because they were printed with black ink on gold-tinted paper. The phrase "One Hundred Dollars in Gold Coin" appears on the back. 
Originally issued in 1863, there are only three known examples in existence. Two are in the Smithsonian, which leaves just one in private hands.
On April 26, 2013, the unique and highly graded non-Benjamin Benjamin sold for $2,115,000 at a Heritage Auctions sale.
Make Your Money Work Better for You
1882 $100 Gold Certificate
Also part of the gold certificate series, an 1882 example featuring a portrait of Thomas Hart Benton became one of the most expensive historical currency notes when it fetched $253,000 at auction in 1998. On Jan. 10, 2014, it commanded more than three times that amount at Heritage Auctions.
Like the 1863 example, it's one of only three that are known to exist. One of the other two known copies is damaged and secured at the Federal Reserve Bank of New York. The other had been held at the Federal Reserve Bank of San Francisco until it sold for $750,000 at Heritage Auctions on Oct. 26, 2022.
1878 $100 Silver Certificate
The first silver certificates emerged after the original gold notes, and Series 1878 is so prized that not a single one was publicly displayed for 30 years leading up to 2019 and none were listed for auction for 40 years.
But that year, an example graded Very Fine 35 sold for more than half a million dollars at a Heritage auction. It's the finest known example. 
It's one of only five that are believed to be in existence. The whereabouts of two are unknown, even in government collections. The other two are not in private hands. One is secured in the Federal Reserve Bank of San Francisco. The other is in the American Numismatic Association Museum.
1890 $100 'Watermelon' Treasury Note 
The so-called Watermelon series of $100 Treasury notes gets its name because the zeros on the reverse resemble the summertime fruit. Favorites among collectors, there are only 35 known examples. The government holds eight in secure locations and many others have not been on public display for many years, making those in collectors' hands among the rarest and most valuable currency notes in existence.
Make Your Money Work Better for You
In 2005, Heritage auctioned off the finest known privately held example for $356,500. In 2023, a different one sold for $264,000. In 2001, a Watermelon changed hands for $209,000.
Be on the Lookout for Fancy Serial Numbers
Most of the $100 bills that sell for five figures, six figures or more are vintage currency from the pre-1914 era when bills became Benjamins. But plenty of C-notes from the modern era can also be worth big money — and they usually derive their value from their serial numbers.
For example, a seller on eBay is currently offering an uncirculated 2017 $100 bill for $999.99. Because its serial number is a palindrome — 44799744 — it's considered "fancy."
As far back as at least 2013, publications like the Philadelphia Inquirer and Boston Globe were reporting that $100s with fancy serial numbers could command up to $15,000.
That kind of prize is reserved only for the fanciest of serial numbers, like 00000001. But solids, like 88888888, are also highly prized, as are sequentially numbered "ladders," like 87654321.
Other coveted fancy serial numbers include:
Repeaters (36643664)
Super repeaters (36363636)
Binary bills (43433433)
Radars (47399374)
Super radars (93333339)
Double quads (22225555)
More From GOBankingRates