I Tried 3 Apps That Pay Real Money: Here's What I Found Out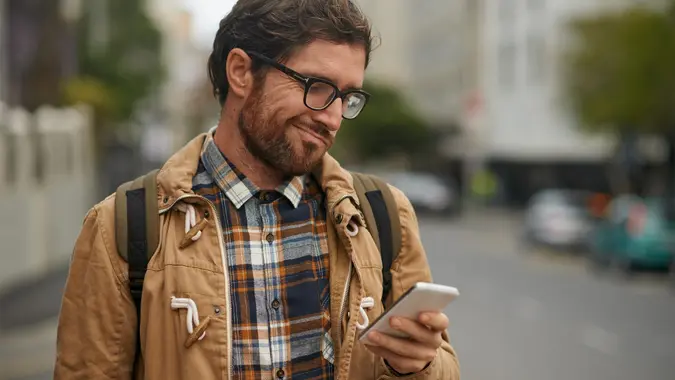 jeffbergen / iStock.com
Making money by playing games sounds too good to be true. But, if you believe the internet, people are doing it all over America.
Social media is filled with influencers claiming to have earned hundreds of dollars or more on money-making apps that turn online fun into a bona fide side gig. But if that's a real option, why would anyone choose a different way to make money on the side?
GOBankingRates spoke with several people who couldn't resist finding out for themselves if the promise of pocketing cash by downloading an app was real. Here's what they learned.
You Can Win Money With Solitaire Cash, but You Have To Pay To Play
If you play solitaire to pass the time, Solitaire Cash promises the chance to cash in on your hobby by using its app to play cards with yourself. The big catch is that the only way to earn money is to play against other competitors in tournaments that you have to pay to enter, so you can actually wind up losing money.
However, Aiden Louangrath, a Medium contributor and founder of the personal improvement site POCProsperity, has had a positive experience with the app, which he calls "one of the best money-making apps out there."
"I've been playing it for three years now because it has no ads, which is a big deal for me," said Louangrath. "The app also keeps things consistent, which I appreciate as a long-time player. It's legit and worth it if you enjoy playing the game."
Make Your Money Work Better for You
But Louangrath cautions that it's not for those looking to make money quickly. "I cashed out around $90 in my first few months of playing," he said. "But remember, I was playing every day."
Blackout Bingo Technically Pays, but Rewards Are Tiny and Frustrating To Earn
Like Solitaire Cash, Blackout Bingo advertises the opportunity to win cash by playing games. Here, too, players have to deposit money to win money — and even then, the payouts are so slow and small that you'd have to play for years to win the equivalent of $100.
Alex Alexakis, founder of digital marketing company PixelChefs, had a "bad experience" after downloading the app and playing it for a few days.
"I enjoyed the game at first, as it was a simple and relaxing way to pass the time," said Alexakis. "However, I soon realized that the game was rigged and unfair. The game matched me with opponents who were either bots or paid players who always won or tied with me. The game also gave me cards that were impossible to win with or had duplicate numbers. It deducted points from me for no reason or for losing or tying with the opponents. I felt cheated and frustrated by the game and deleted the app."
Field Agent: Complete 'Missions' for Cash and Free Stuff
If making money by playing games sounds enticing, how about cashing in by shopping for free? Field Agent offers users exactly that chance by assigning "missions" to purchase specific products, take pictures of displays or ask employees questions. You'll be reimbursed for whatever you spend and paid a bounty when you complete your mission.
Make Your Money Work Better for You
"This was an app I used as a side hustle to pay off my debt," said Taylor Hayes, founder of the personal development site Imperfect Taylor. "Basically, this app gives you a list of mystery shopping opportunities wherever you are located, and will pay you a sum of money for completing a task."
SideHustleNation says users can earn $10-$20 per hour during missions, a much better rate than any play-for-pay game app, and reviewers generally report positive experiences with easy-to-follow instructions and fast payouts.
"It's fun, gets you out of the house, and if you had to buy something as part of your task, you'll be reimbursed 100%, meaning you'll walk away with a free item and get your payout on top of that," said Hayes. "You can cash out straight to your bank account once you hit a balance of $5."
Most Apps Confirm: There's No Such Thing as Money for Nothing
Field Agent is one of the highest-rated mystery shopping apps, but it's more of a true side hustle because you provide a service in exchange for payment. When it comes to making money simply by using an app or playing a game, it's best to proceed with a healthy dose of skepticism.
"The apps are legit in the sense that they do pay cash or gift cards for playing games or completing tasks," said Alexakis. "However, there are many catches and drawbacks that make them not worth the effort. The payout is very low and slow. The apps pay only a few cents or points for playing games or completing tasks that can take several minutes or hours. The games or tasks are boring and repetitive. They are very similar or identical to each other, which can make them tedious and monotonous, and there's no skill or challenge involved in games, which can make them dull and uninteresting.
Make Your Money Work Better for You
Also, many of these apps are intrusive, annoying and designed to harvest data. "The apps require a lot of permissions and access to personal information, such as location, contacts, photos, etc.," said Alexakis. "The apps also send a lot of notifications and messages that spam and nag the users."
Paul Walker, author of "A Money Book Anyone Can Read," is more blunt in his assessment.
"Money-making apps are a colossal waste of time," he said. "They are in fact a clever marketing ploy to get you to use their apps so they can flood your phone with ads. Or you can get points or discounts towards products that you don't need or want or can find cheaper by looking for sales. Instead of trying to save money on things people don't need, save money on the things you do need, like insurance, rent, groceries, phone, etc."
More From GOBankingRates