I Found a Rare Coin Worth $700 in Loose Change — Here's What I Did Next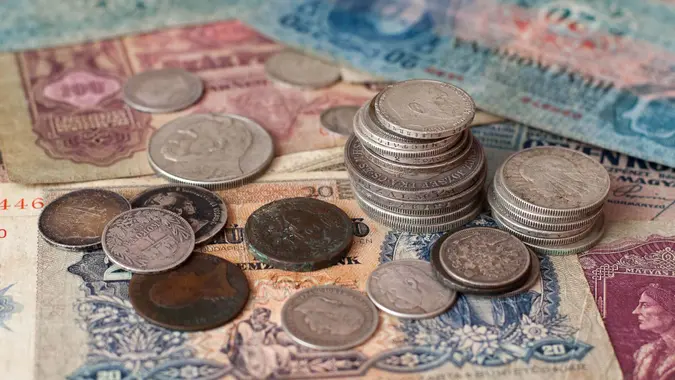 siaivo / iStock.com
When was the last time you checked for some coins underneath your couch cushions? How about in your car's little pockets? What about your pants pockets? You might not think you'll find much, but don't be so quick to dismiss the dimes, nickels and pennies in your life.
Rare coins are all around the world and you never know when you might have one in your possession that could be worth lots of money, sometimes even millions of dollars.
So what should you do if you are shifting through a box of older coins you don't recognize, but something strikes you that it might be valuable. GOBankingRates reached out to some people who have experience in this field to get their own personal accounts of what they did after finding a much sought after rare coin.
Search and Discover
"I discovered an Indian cent in my grandfather's jar of coins shortly after he passed away," recalls Tim Connon, founder of ParamountQuote Insurance Advisors. "The coin is worth $700 and above from what I understand. I have not sold it yet but I am thinking of selling it at some point in the future."
Connon is taking his time, considering all the possibilities, and making sure there is thorough research done to assess where and how to evaluate the coin. And of course, there's also the internet to help.
"The 2 best resources that I know of in order to sell a coin this rare are taking it to a local coin shop which many can find near them online," says Connon. "The other resource is eBay, where you can post the coins and set up bidding to get people willing to bid extremely high on such a rare coin."
Make Your Money Work Better for You
The Dos and Don'ts
There are a few steps that seem to be suggested across numerous coin finders and rare coin experts. First of all, upon finding a rare coin, do not clean it or attempt to "brush it up." This could devalue the coin even as it appears to bring it back to life.
"I believe it's always exciting to find a rare coin in loose change," shares Adam Willson, co-founder of Findnewcustomers.net. "When I found one worth more than $500, I knew I had to take the right steps to ensure I got the best possible price."
The next step is to figure out how much it might be worth by getting it appraised by an expert in your area — or several — just to compare and contrast the information you are given.
"The first thing I did was to have the coin appraised by a professional," says Willson. "This gave me an idea of its true worth and gave me the confidence to know that I was getting a fair price when I eventually sold it."
Willson, just like Connon, mentions that taking your time to investigate all possible outlets for assessment is the best way to sell rare coins. Many appraisal specialists also handle purchasing, if you wish to sell the coin, or know buyers who might be interested. Taking the coin to several appraisers and buyers will help you evaluate what it's worth. 
"If you're looking to sell a rare coin, I would suggest researching the best way to do it," Willson advises. "Depending on the value of the coin, an auction house may be the best option. You should also take the time to get it appraised by a professional so you know you're getting the right price."
Make Your Money Work Better for You
Eventually, Willson turned to an auction house to make sure that he was getting the most information and value from his rare coin find.
"I found that an auction house was the best option for me as it gave me the opportunity to showcase my coin to a much wider audience and get the highest possible price."
More From GOBankingRates