Grant Cardone: Scaling Your Profits to $1 Million Comes Down to 2 Simple Things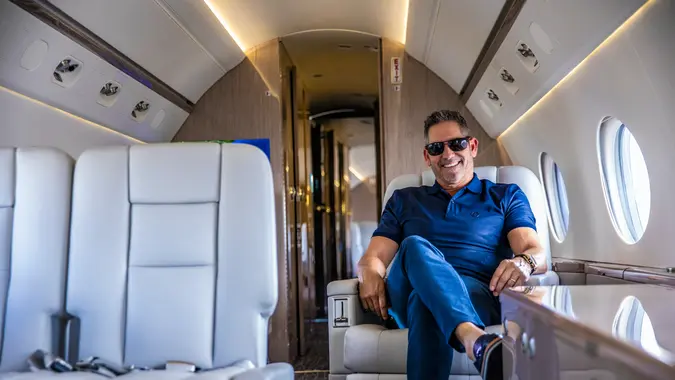 ©Grant Cardone
As a business owner, it can be difficult to break even, let alone scale your profits exponentially.
But Grant Cardone, serial entrepreneur and author of "The 10x Rule," believes that scaling your business to $1 million — and beyond — really comes down to just two things.
Here's Cardone's advice for anyone looking to scale their profits.
No. 1: You Have To Really Want It
Cardone believes you'll never be able to scale your business to achieve high levels of financial success unless you really want to.
"They have to want to do it," he told GOBankingRates. "I can't make anybody want to do it. All you have to do, if you want to become a millionaire, if you want $10 million a year or $100 million or you want to become a billionaire, they'll all tell you this, every person that has ever done money right: It all comes down to you wanting to."
No. 2: You Have To Do the Math
Ambition alone isn't enough to achieve your financial goals — you also have to do the math to figure out exactly how to get there.
"If a business owner or manager wants to know how they can scale their business 10 times or 100 times, if you want to take your business from $200,000 to $2 million, $2 million to $20 million or $20 million to $200 million, it's math," Cardone said. "I don't care if you're selling soap, you're selling insurance, cars, plumbing, you're doing massages — whatever it is you're selling, whatever service you're providing, [you need to figure out the] math."
Make Your Money Work Better for You
Cardone recently developed the 10X Profit Planner to help small business owners and team leaders determine the exact actions to take each day to get them closer to their profit goals.
"Plug in any number — $100,000, $1 million, $10 million — and the 10X Profit Planner is basically going to lay out your path," Cardone said. "It's very simple. You just put in your desired income, what you're currently earning — either because you sell something or you provide a service or somebody pays you — and then it's going to start doing the math for you: how many customers [you need], how many products you need to sell, etc., and then provide you with some solutions. You've just got to plan for the profit [you want], and you'll hit your number."
More From GOBankingRates