I Use ChatGPT for My Job: Here's How It Is Making Me More Money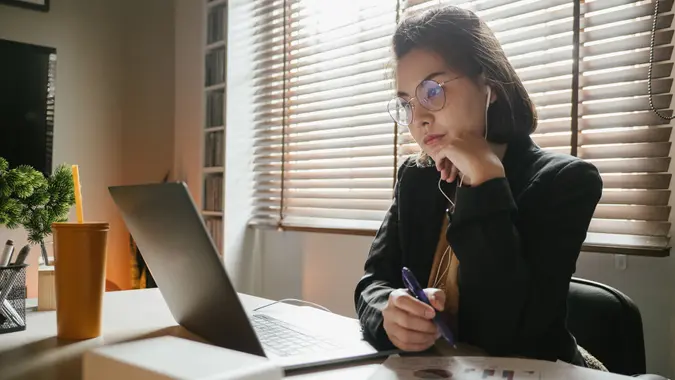 staticnak1983 / Getty Images
Artificial intelligence's rapid evolution and adoption — notably that of OpenAI's ChatGPT — has triggered a lot of talk about the potential detrimental effects on the workforce and whether it will replace workers.
Just earlier this month for example, a new report from Challenger, Gray & Christmas found that nearly 4,000 jobs were lost due to AI in May — the first time AI was cited as a reason for layoffs in the report.
Yet, since ChatGPT's release last November, some workers have instead used the AI tool to their advantage, finding along the way that it is helping them make more money, faster.
This is proof that AI can be used as a tool, not a complete replacement for jobs, said Inder Phull, CEO and co-founder of interactive music ecosystem Pixelynx.
"It's more about having an aid to guide your decisions and reduce time spent on mundane tasks rather than eliminating people's jobs entirely," he said. "I think we'll be looking back in a couple of years, reflecting on how this moment in time was a turning point in unleashing human creativity and collaboration."
Or as Phil Siegel, founder of CAPTRS, said, workers will improve their productivity by using AI tools as "angels on their shoulders."
Here's how some people have been using ChatGPT to make more money in their jobs.
Make Your Money Work Better for You
Joe Karasin: Monthly Revenue Increased by 75%
Joe Karasin, CMO and founder of Karasin PPC, said that since he started using ChatGPT he has had more time to prospect for clients and more time to allocate to his current clients. As a result, his monthly revenue has increased by 75%. He added that ChatGPT has helped him in many ways. For his SEO clients, it provides him with an efficient way to tackle the most time-consuming part of his job: researching blog post information.
"Prior to using ChatGPT, it could take 2-4 hours of research to gather all the necessary information," Karasin said. "Now, that research is done in minutes and has helped me in freeing up time for client acquisition and other tasks which earn me more money."
He added that he does not use it to write.
"I don't necessarily like the way it writes, as I find it better to write in my client's voice," he said. "Once I see some improvements in the linguistic attributes, I might use it for that. But between that and using other AI systems, it saves me enough time to build up my client roster."
Michael Collins Saved Six Figures 
Michael Collins, CFA, adjunct professor at Endicott College and founder of WinCap, said ChatGPT has helped him expand the marketing efforts of his investment advisory firm. Collins has used the tool for content topic ideas and to improve the writing of the marketing material and blogs.
Make Your Money Work Better for You
"I was fortunate to be included in an early beta for OpenAI's GPT, and we have been using it for over a year," he said. "It has provided us with cost savings compared to revenue. We believe it has given us the output of a six-figure marketing professional."
On another note, in his professorial role, Collins said he has used ChatGPT to craft custom homework assignments that cannot be completed by AI.
"My way of fighting fire with fire and improving student outcomes," he said.
Young Pham: 7% Increase in Revenue
Young Pham, a financial planner, co-founder and senior project manager at BizReport, benefits from ChatGPT by saving time in generating outlines for his blog posts.
"We basically come up with a general topic that we want to cover and ask the tool to draft an outline," he said. "Surprisingly, the outlines we get from the AI are so good we don't even change them that much. This has saved us time and a lot of money that we could have spent paying freelancers to generate these ideas for us."
The company also uses it to generate creative copies for its email marketing campaign, which frees up time for the core marketing team to focus more on client conversion and optimize the campaign. 
"This has, in turn, promoted better sales and increased our ROI in email marketing significantly," he said.
Make Your Money Work Better for You
The company started using ChatGPT three months ago for email marketing copies, and its conversion rate has moved to 2.3% from 2%, and it has seen a 7% jump in monthly revenue. 
Pham said, "We anticipate hitting double digits in the next quarter."
Luke Lintz Will Generate $2M This Year Thanks to ChatGPT
Finally, Luke Lintz, CEO of HighKey Agency, said he has implemented ChatGPT in every area of the company, which has helped improve revenue, thanks to the automatization of many aspects of the sales process.
"Minor admin tasks that sales reps hate, like creating summaries of their sales calls, can easily be [done] with ChatGPT when we give them an input of the call transcript," Lintz said.
He added that it's not about AI replacing team members; it's about maximizing their efficiency, which has since increased twofold.
"Overnight our team got their own personal assistant, an elite person to brainstorm with, and the technology improves every single day," Lintz said. "If I had to estimate, over the course of this year we are going to generate an additional $2 million in revenue and retain an additional $300,000 in profit because of the release of AI and the utilization in our business."
The company's social media team uses ChatGPT to create captions for social media posts and create scripts for filming.
"I wrote up a message to train ChatGPT about my entire brand and then asked it to come up with an entire social media strategy," Lintz said. "This is something that would have taken myself and a team of five a day or so to create; whereas, with AI, it was done in a matter of minutes."
Make Your Money Work Better for You
More From GOBankingRates