How To Make Money as a Local Tour Guide in Your City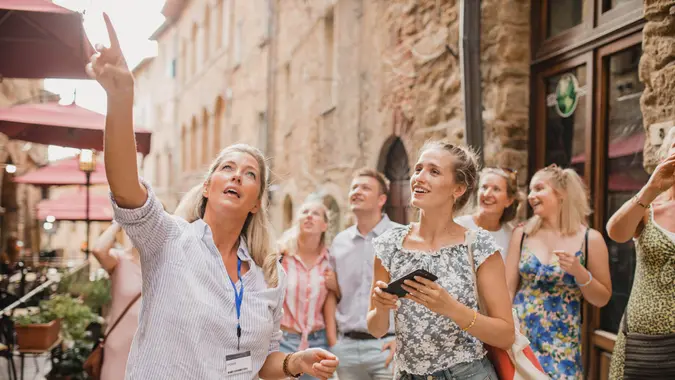 SolStock / Getty Images
While many unique new side hustles have popped up over the last few years, there's one traditional way of making money that you could try out: You could make money as a tour guide in your city by showing guests around and sharing your unique knowledge on a particular topic. Here's a look at how you can get started with this side hustle.
Step 1: Think of What Kind of Tour You Could Offer
The first step is determining what kind of tour you could offer in your city. The good news is that every city has space for various tours and activities. 
What Types of Tours Are Always Popular?
Walking tour. Tourists will always want to explore the popular landmarks when they visit a new place.
Food tour. Showing guests the best place for tacos or sharing where to find local cuisine is a tour that's needed in every destination.
History tour. You can share your knowledge with your tour guests if you know a bit about history. 
Photography tour. With a decent camera, you can take pictures of guests around popular locations in your hometown. 
Instagram walk. One concept that has become popular for tours is sharing the best spots for Instagram photos.
The options could go on, but these ideas should give you enough to think about for now. You could also combine ideas, like offering history lessons while sampling various dishes on a walk around town. 
Make Your Money Work Better for You
One of the best ways to determine what's popular is to check out the Airbnb app. Instead of searching for a room, search for things to do, and you'll be given a list of popular activities near you. This will show you what's working, and you may notice some gaps. You may notice that your town doesn't have enough food tours, or perhaps there are not enough customized local activities. Either way, you can find something to offer as a local tour.
What If You Can't Think of Anything?
If you don't think of anything creative, you can incorporate something you do in your everyday life. Tourists always want to learn about cool coffee shops or the best places to eat tacos. Your location will also determine what kind of tour is popular, as major cities will have more historical sites, while smaller towns could offer nature-related activities.
Step 2: Explore Your Options for Hosting This Tour
Once you've decided what kind of tour you'll host, you have to figure out where you'll be hosting this and how you'll collect money for tickets.
Here are some of the best options for hosting a tour:
Airbnb Experiences. These are all of the activities that fall under the "things to do" category on the Airbnb platform. While the app isn't accepting new experiences at this moment, it will be reopening soon.
Create a website or start a social media page. You can have your own website for the tour, start an Instagram page around it or use a combination of both tools.
Sell tickets through a third-party merchant. You have options like FareHarbor, Eventbrite or PayPal for collecting ticket sales.
Make Your Money Work Better for You
Step 3: Start Spreading the Word About Your Tour
Once you've decided what kind of tour you'll host and how you'll collect tickets, it's time to start spreading the word. Here's how you can promote your new tour:
Create social media channels. Most tourists will look up vacation ideas on platforms like YouTube or Instagram. You can create your social media channels where you make content based on your tour.
Contact local media. You can reach out to local travel hubs and popular pages to see if they would be willing to feature your tour. Most of these hubs are searching for creative ideas to share with readers. You can even try out dating websites, as they send users on date night ideas.
Utilize travel websites. You can get your experience set up on Trip Advisor and other travel websites. These platforms are always looking for activities to share with tourists, so if your tour is worth doing, you could reach many more people with this option.
Visit hostels and hotels. You want to share the news about your tour where you'll most likely meet tourists.
The goal is to inform potential guests about your tour so that you can start making ticket sales. From there, you can hopefully get enough guest reviews that the word will begin to spread organically.
Step 4: Offer Your Tour
Once you've set up your tour and are ready to show visitors around, it's time to launch. You're going to want to offer plenty of times so that people have options and so you can figure out which is the ideal time for guests.
It's important that you do a trial run alone or with a friend so that you're prepared for the first few tours.
Here are a few things to keep in mind before your first tour:
Work on an introduction script.
Think of stories that you can tell to fill the time.
Explain everything about logistics in the description.
Ensure that you deliver on your promise in the marketing material.
Make Your Money Work Better for You
Step 5: Tweak Your Tour Based on Feedback
After a few tours, the reviews should start coming in. Your goal should be to ask for feedback and to tweak the tour accordingly. You may find that a particular story didn't resonate or that certain aspects dragged on for too long. You should use this feedback to improve your tour to attract more guests.
You can turn this tour into a decent side hustle once you build a buzz on social media and through travel forums.
Closing Thoughts
Starting a local tour business can turn a passion into a profitable side hustle. Your love for finding interesting coffee shops or your biking hobby can lead to a side hustle that brings in decent money while you get to make friends from around the world. 
More From GOBankingRates