Mark Cuban's Tips for Building and Protecting Your Net Worth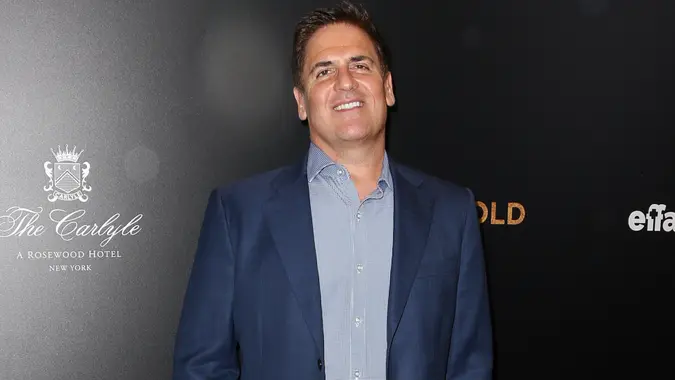 Debby Wong / Shutterstock.com
Mark Cuban is one of the most successful entrepreneurs, business owners and investors — and he's a member of the billionaire's club. His net worth stands at an estimated $5.1 billion today, according to Forbes.
Not only is he the owner of the NBA's Dallas Mavericks among many other ventures, but he most recently co-founded Cost Plus Drugs, a pharmaceutical company that aims to lower prescription drug prices. Cuban knows a lot about money, and here in particular are his tips over the years for making money, building your net worth, and keeping it safe.
Keep in Mind: Cash Is King
One of those unpleasant conundrums in the wealth-building arena is that in order to become wealthy, you have to have some money to begin with. Cuban once wrote on his blog, "The first step to getting rich is having cash available. You aren't saving for retirement. You are saving for the moment you need cash."
That may be a lot easier said than done, but he does offer more advice on making that cash.
Make Your Money Work Better for You
The Secret to Building Wealth: Save, Save, Save
Who doesn't want a magic formula to getting rich? While there are certainly investment strategies to grow your money, Cuban's answer to this is anything but magic.
"Save your money. Save as much money as you possibly can. Every penny you can. Instead of coffee, drink water. Instead of going to McDonald's, eat mac and cheese," he said. "Cut up your credit cards. If you use a credit card, you don't want to be rich. The first step to getting rich requires discipline. If you really want to be rich, you need to find the discipline."
Don't Be Stressed by Bills
Again, it may seem hypocritical for a billionaire to recommend cheaper living, but Cuban surely knows from where he speaks. On his blog he describes bills as "your biggest enemies," not just because they take your money, but because they can cause stress.
"The more you stress over bills, the more difficult it is to focus on your goals. More importantly, if you set your monthly income requirements too high, you eliminate a significant number of opportunities. The cheaper you can live, the greater your options. Remember that."
Make Your Money Work Better for You
Again, Save Money Wherever You Can
You wouldn't think that billionaires need to save money, and yet, how do you think they got where they are without a budget minded outlook? Cuban told Forbes, "I look at my annual budgets for everything and anything, and I look to see where I can save the most money on those items. Saving 30% to 50% buying in bulk — replenishable items from toothpaste to soup, or whatever I use a lot of — is the best-guaranteed return on investment you can get anywhere."
Then Invest It
Cuban has a strategy that will only work for people who truly are earning more than they're spending. According to CNBC, he recommends people save enough money to pay for a year's worth of expenses, and then, start investing that money in such things as low cost mutual funds or the S&P 500 Index.
However, you can invest your money even if you have significantly less than a year's worth of income saved, from 401(k) retirement accounts to learning how to buy and sell stocks on your own. Even a little bit of investing can go a long way.
Make Your Money Work Better for You
And Diversify It
As the old adage goes, you don't want to put all your eggs in one basket, and that is even more important when it comes to investing. Cuban is among a handful of wealthy people who didn't lose everything in the dot-com bubble burst of the 1990s, and later in the 2008 financial crisis, because he'd diversified his investments — meaning investing in multiple different kinds of products and markets.
According to the New York Times, Cuban described his strategy like this: "I keep a hedge on my assets so I can sleep at night."
No Shortcuts
What all these tips add up to is one important thing, which Cuban also wrote about in his blog. "There are no shortcuts. None. With all of this craziness in the stock and financial markets, there will be scams popping up left and right. The less money you have, the more likely someone will come at you with some scheme."
He reminds people that things like multi-level marketing or schemes that claim to be "backed by the U.S. government" are just that — schemes. "Always remember this. If a deal is a great deal, they aren't going to share it with you," he added.
Make Your Money Work Better for You
More From GOBankingRates