100 Passive Income Ideas To Help You Make Money After a Layoff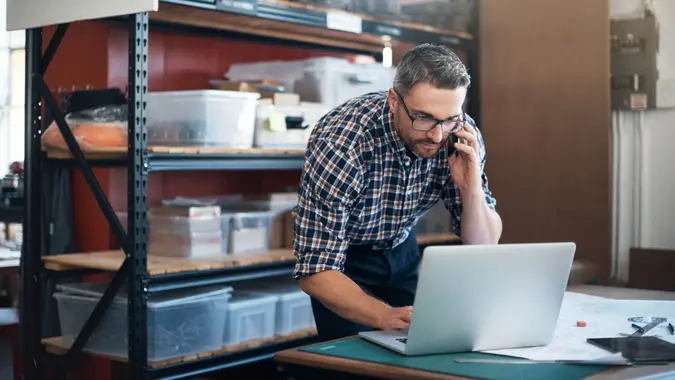 shapecharge / iStock.com
Job security seems to be a thing of the past. The sudden jolt of a layoff can derail even the most meticulously planned financial goals. During these challenging times it's critical to pivot and seek innovative avenues for income.
Passive income has become a lifeline for many, providing an opportunity to generate earnings with minimal effort. Whether you recently lost your job or you're simply looking to diversify your income streams, there are endless possibilities for boosting your wealth.
From blogging and affiliate marketing to real estate, there's something for everyone. Here are 100 passive income ideas that can help you bounce back after a layoff.
1. Dividend-Paying Stocks
Purchase shares in companies that return a portion of their profits to shareholders. As these companies earn, you receive a regular dividend payment.
2. Virtual Reality Property Tours
Design and offer VR tours for real estate agents or property sellers. By creating a platform or service where agents can upload property photos/videos and convert them into VR tours, you can charge for each conversion or maintain a subscription model for continuous use.
3. Real Estate Investment Trusts (REITs)
Invest in portfolios of real estate assets. They allow you to earn rental income and benefit from property appreciation without buying property yourself.
4. Rental Properties
Buy a property and rent it out. You'll earn rental income and might also benefit from property appreciation over time.
Make Your Money Work Better for You
5. Airbnb Hosting
Rent out a room or your entire home to guests for short stays. This often generates more income than traditional long-term renting.
6. Peer-To-Peer Lending
If you have savings to spare, use platforms like LendingClub to lend money to individuals, earning interest as they pay back their loans.
7. Create a Mobile App
If you have a great idea, develop an app. Monetize through ads, in-app purchases, or upfront fees.
8. Sell Digital Courses
Use your expertise to create educational courses and sell them on platforms like Udemy or Teachable.
9. Sell E-Books
Write and self-publish books online, making money from each sale or download.
10. Affiliate Marketing
Promote other people's products on your website or blog. Earn a commission for every sale made through your referral link.
11. Ad Revenue From Blogging
Create a blog around your passion. As it grows, monetize it through ad platforms like Google AdSense.
12. Create a YouTube Channel
Produce video content and earn from YouTube's ad revenue once you hit a certain number of views or subscribers.
13. Dropshipping
Start an e-commerce store without holding inventory. When a customer makes a purchase, buy the product from a third party, and have it shipped directly to the customer. Use tools to automate the dropshipping process, reducing the time you need to spend managing sales.
14. Vending Machines
Purchase vending machines and place them in strategic locations. Earn money every time someone buys a snack or drink.
Make Your Money Work Better for You
15. Photography Licensing
Take high-quality photos and license them on platforms like Shutterstock for others to purchase.
16. Music Royalties
If you're a musician, earn royalties whenever your music is purchased, used, or aired.
17. Sell Your Notes
If you have notes from school or a training program, make copies and sell them on Etsy or eBay.
18. House Sit
Get paid to watch someone's home while they're away.
19. Purchase ATMs
Buy an ATM, set it up in a location with high foot traffic, and earn a transaction fee from every withdrawal.
20. Franchise Your Business
If you have a successful business model, allow others to replicate it in various locations for a franchise fee.
21. Purchase a Laundromat
Invest in a coin-operated laundry facility. Customers pay to use your machines, providing steady passive income.
22. Storage Unit Rentals
If you own or can invest in property, convert it to storage units. Rent out these units for people needing storage space.
23. CD Ladders
Create a CD ladder by buying several certificates of deposit with different maturity dates. This ensures regular returns at staggered intervals.
24. High-Yield Savings Account
Keep your money in a savings account that offers a high-interest rate. Earn passive interest on your balance.
25. Buy an Existing Online Business
Acquire a profitable online business. Benefit from its established income streams.
26. Digital Art Sales
Create and sell digital art or graphics on platforms like DeviantArt or Etsy.
27. Sell Stock Videos
Shoot high-quality videos and license them on platforms like Storyblocks or Getty Images.
Make Your Money Work Better for You
28. Domain Flipping
Buy domain names with potential value and sell them at a higher price.
29. Use Cash-Back Apps
Make money during your grocery trips. An app such as Fetch Rewards can transform your receipts into gift cards. It collaborates with various brands to award points for each receipt you submit. These points can then be traded for gift cards from major retailers.
30. Sell Software
Create software solutions for specific industries or needs and sell them to interested parties.
31. Rent Your Tools
If you own tools, rent them out to those who need them occasionally.
32. Sell 3D Designs
Design 3D models and sell them on platforms like Shapeways.
33. Create a Subscription Box
Curate and send out monthly boxes for niche markets, like gourmet food or niche cosmetics.
34. Write a Play or Script
If your idea gets produced, you can earn royalties from every performance.
35. Design Apps for Businesses
Many businesses seek specific app functionalities but lack the expertise to create them.
36. Write Software Guides
If you're proficient in using specific software, write guides or manuals and sell them.
37. Rent Out Your Car
Platforms like Turo allow you to rent your vehicle when you're not using it.
38. Parking Space Rental
If you own a parking spot in a busy area, rent it out during hours you don't need it.
39. Referral Programs
Many services offer bonuses for referring new clients. Take advantage of these for passive bonuses.
40. Start an E-Commerce Store
Sell products online through your own e-commerce store or through platforms like Amazon or eBay.
Make Your Money Work Better for You
41. Invest in a Startup
Use platforms like AngelList to invest in startups. Earn returns if the startup succeeds.
42. Viral Video Content
Create videos with the potential to go viral, monetizing through ads or sponsorships.
43. Niche Subscription Services
Offer a unique product or curated content targeting a specific audience and charge a recurring subscription fee for continued access. 
44. Invest in Farmland
An option for land investment is crowdfunded land ownership. Platforms such as AcreTrader give you the ability to purchase shares in farmland. The company manages all administrative and property responsibilities. Earnings come from the lease of the farmland, with the rental fee paid upfront, mitigating potential losses from crop failures.
45. Design and Sell Templates
Whether you're selling website templates, resume templates, or business card designs, there's a market for high-quality templates.
46. License a Product Idea
If you have a product idea but don't want to manufacture it, license it to another company.
47. Purchase a Billboard
Rent out space to advertisers for a consistent income stream.
48. Online Webinars or Workshops
While they might require effort upfront, if automated and evergreen, they can generate income with minimal ongoing effort.
49. Automated Online Quizzes or Courses
Design them once, and users can pay to access them indefinitely.
50. Invest in Foreign Markets
Diversify your investment portfolio by investing in booming foreign industries.
51. Create a Paid Membership Community
Offer exclusive content or benefits to members of a niche community.
52. Develop a Niche Job Board
Charge companies to post jobs in specific industries or fields.
Make Your Money Work Better for You
53. Build a Mobile Advertising Platform
With the proliferation of mobile apps, a platform that displays ads can be lucrative.
54. Rent Out Ad Space on a Personal Blog or Website
If you have significant traffic, advertisers might be interested.
55. Set up an Amazon Shop
Let Amazon handle product shipments for you. With Fulfillment by Amazon, you send your products to Amazon's fulfillment centers. Amazon then stores, packs, and ships the products for you. The retailer also handles customer service and returns.  
56. Rent Your Clothing
If you have clothes sitting in your closet that you don't wear, consider renting them for cash.
57. License an Idea to Schools or Businesses
If you have an educational program or business strategy, many institutions might pay for its use.
58. Sell Data or Analytics
If you have access to unique or valuable data, companies might pay for insights.
59. Automated Digital Marketing Services
Set up digital marketing campaigns that run automatically for clients.
60. Sell Merchandise With Print on Demand
Create unique designs for apparel, mugs, posters, and more. Use print-on-demand services to produce and ship items only when customers order, minimizing upfront costs and inventory management.
61. Rental Property Management
If you don't want to deal with the day-to-day of renting properties, manage properties for others for a fee. 
62. Automated Social Media Management
Create a service that automates social media posting, analytics, or customer engagement for businesses.  
63. Design Niche Affiliate Websites
Set up sites catered to specific products or industries and earn from sales.
Make Your Money Work Better for You
64. Online Market Trading
Platforms allow you to invest in stocks, commodities, and currencies.
65. Share Your Opinion
Participate in surveys and get paid to share your opinion. Popular websites include Branded Surveys and Opinion Outpost.
66. Crowdfunded Investments
Pool money with other investors to fund startups or small businesses.
67. Solar Panel Leasing
If you live in a sunny area, lease your rooftop for solar panel installations.
68. Advertise With Your Car
Companies will pay for ad space on your vehicle.
69. Timberland Investing
This type of investing involves purchasing land with timber on it, allowing the trees to grow, and then generating income from harvesting and selling the timber. Over time, as trees mature and timber prices fluctuate, you can earn money either from the periodic sale of the lumber or from leasing the land for timber harvesting.
70. Create a Review Site
Sites like Yelp make money from businesses paying for better visibility.
71. Create an Online Directory
This is like a review site but broader. Businesses pay to be listed.
72. Develop a Browser Extension
Ad blockers or productivity tools can be monetized through ads or fees.
73. Online Travel Agent
Set up automated booking platforms where users can book trips and accommodations.
74. Design WordPress plugins
If you're technically inclined, design plugins for the popular platform and sell them.
75. Invest in Commodities
Gold, silver, and other commodities can be sound investments.
76. Rent Your Friendship
Accompany someone to an event or outing. Services such as Rent a Friend and Rent a Cyber Friend allow you to provide companionship in exchange for money.
77. Rent Your Electronics
If you have electronics that you don't use, consider renting them for cash.
78. Rent Out Specialty Gear
Camera gear, camping equipment, or drones can be rented out when you're not using them.
79. Rent Out Your Backyard
Charge a fee to use your backyard space for social gatherings.
80. Sell Board Games
Design a unique and fun board game and sell it online or in stores.
81. Online Tutoring Videos
Create educational content and sell it to students around the world.
82. Design Chatbots
Businesses pay for well-designed chatbots for customer service.
83. Invest in Bonds
Bonds are loans that pay you interest over their lifespan.
84. Develop Online Tools
Tools like calculators or conversion sites can be monetized with ads.
85. Invest in a Brewery
Craft beer is big, and breweries can be profitable investments.
86. Sell Your Junk Mail
If you have a pile of junk mail sitting on your coffee table, you can make some money. Small Business Knowledge Center, for example, will compensate you in exchange for your old mail.
87. Design and Sell Patterns
Whether for sewing, woodworking, or 3D printing, patterns can be sold online.
88. Create a Dating App
If you've got a unique idea, dating apps can be quite lucrative.
89. License Your Content
Whether it's a course, a book, or a video series, license your content to others.
90. Sell Custom Products
Using 3D printing or other on-demand production methods, sell custom products online.
91. Rent Your RV
When you're not using it, rent out your RV or camper.
92. Become a Silent Business Partner
Invest in a business but don't handle day-to-day operations.
93. Purchase Commercial Real Estate
Buy a property and lease it to businesses.
94. Sponsorship Revenue
If you have a platform (like a podcast or blog), sponsors might pay for mentions.
95. Design Virtual Reality Content
In addition to property tours, you can create other content on this platform. VR is booming, and there's a market for well-designed material.
96. Create a Review Blog
Review products and earn money through affiliate commissions or ads.
97. Offer Cloud Services
With the right setup, offer cloud storage or computing services.
98. Voice-Over Work
Record voice-overs and get paid each time they're used.
99. Design Apps for Smart Home Devices
As homes get smarter, they need well-designed apps to control them.
100. Participate in Studies
Sleep studies, for example, will allow you to make extra cash while you rest.
Editor's note: This article was produced via automated technology and then fine-tuned and verified for accuracy by a member of GOBankingRates' editorial team.
More From GOBankingRates