7 Best Dividend Trackers of 2021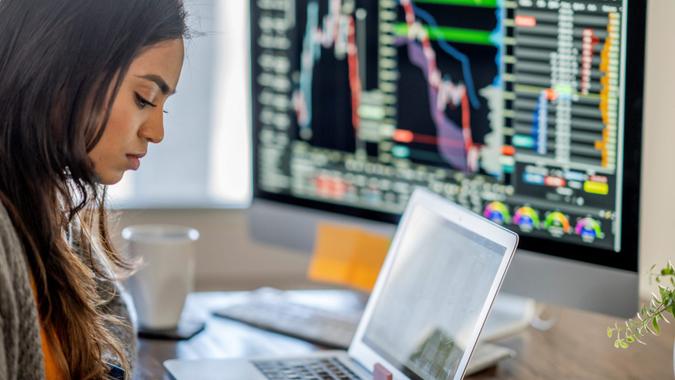 FatCamera / Getty Images/iStockphoto
If you're a dividend investor, you probably have a portfolio that consists of high-dividend-paying stocks. But it can be challenging to keep track of your dividend returns, especially if you have a huge portfolio. Fortunately, dozens of dividend trackers can assist you in tracking and managing your portfolio, so you can focus on other essential things.
This guide points out the best dividend trackers and their notable features. Each tracker offers a unique portfolio of services, and while the majority of them are premium, some are free. You can choose the platform that best suits your investing needs.
What Is a Dividend Tracker and Why Should You Use One?
A dividend tracker is an app or web-based platform that you can use to track and manage your portfolio of multiple dividend-paying stocks. As you grow your investment portfolio, it can be challenging to keep tabs on your returns from dividend stocks. You don't have to waste a lot of time calculating your returns manually. Instead, a dividend tracker can help you do exactly that.
Apart from tracking dividend returns, a good dividend tracker can also help you identify stocks that you can add to your portfolio and give you insights on companies poised to increase, decrease or eliminate dividend payments. Another reason you should use a dividend tracker is that it gives you the ability to reinvest discretionary income so you can benefit from compound interest.
7 Best Dividend Trackers
While there are plenty of options out there, here are seven of the best dividend trackers that can help position you for investment success.
1. Dividend.com
Dividend.com is all about dividends, making it the best dividend tracker. While many other financial tracking platforms focus on different investment tools, this one's purely geared toward dividend stocks.
You can link your brokerage account and take advantage of the wide variety of tools. This includes a dividend screener that allows you to search and compare different dividend picks against various factors.
Dividend.com has both free and premium versions. The free plan comes with several useful tools, but if you need more, you can upgrade to the premium plan for $149 per year.
2. Personal Capital
Personal Capital is one of the most popular investment tracking apps in the U.S., probably because it has a wide range of financial tools and it's free. You can't go wrong with this platform. For instance, you can get a quick estimate of your net worth using a net worth tool and assess your chances for retirement with a retirement planner. You can even keep tabs on hidden fees in your mutual funds, investing and retirement accounts using a fee analyzer.
Although Personal Capital doesn't provide a dedicated dividend tracker, you can connect your dividend income accounts to the platform, where you can track all your returns in one place. What's more, you can customize tracking for a certain period so it can report dividend earnings.
Personal Capital also offers an asset management service for portfolios with a minimum account balance of $100,000.
3. Sharesight
Sharesight is a stock portfolio tracker that you can use to track your dividends going back up to 20 years. You can view all of your dividends over any period, see the impact of your total returns and even track your reinvested dividends.
Where Sharesight outshines its peers is in its ability to provide tax information regardless of the country you live in. You can set your portfolio's base currency and track currency impacts for any foreign shares.
Sharesight has a free plan with one portfolio and 10 holdings. Depending on your investing needs, you can go for a $15 per month plan with up to 20 holdings and one portfolio, but with limited reporting. A $24 per month plan, which supports three portfolios, provides advanced reporting and unlimited holdings. With a $31 per month plan, you'll get full reporting and have up to five portfolios and unlimited holdings.
4. Finbox
Finbox is a "toolbox" designed to help you navigate every step of the investing process, but you can also use it to track your dividend payments. It provides current financial information for more than 100,000 stocks and more than 135 exchanges in the world.
The platform has a stock screener that supports more than 1,000 metrics, letting you identify promising companies. You can also find up to 10 years of historical financial data for companies and use your analysis to pre-build valuation models.
Finbox offers both free and premium versions. For as low as $10 per month, you can get access to a wide variety of features you can capitalize on with the Starter plan. The platform also offers the Starter Plus package for $25 per month and the Professional plan for $66 per month.
5. Track Your Dividends
Track Your Dividends is a free dividend tracker with various tools you can use to track your overall performance and see how diversified your dividend portfolio is. It automatically updates dividend payments, sends alerts and shows you future payments. Additionally, the platform offers a dividend calculator that you can use to calculate your returns.
While Track Your Dividends has a free-for-life plan, you can upgrade to the premium plan for $5.99 per month or $59.99 per year and get access to features like unlimited linked accounts, a dividend screener, dividend safety scores and a whole lot more.
6. Simply Safe Dividends
Simply Safe Dividends is perhaps the most comprehensive tracker you'll ever find. With a plethora of financial tools, you'll be able to monitor all your investments and dividend income in one place.
With Simply Safe Dividends, you can screen investment ideas that align with your goals. It also lets you import and track your watchlist and export them for further analysis. You can also review your dividend safety scores, which offer insight into how likely a company will cut dividends.
When it comes to cost, Simply Safe Dividends is quite pricey compared to other dividend trackers on the list. You'll need to pay $399 per year for access, but you can take advantage of a 14-day trial before your premium subscription begins.
7. Robinhood
One of the most popular stock trading platforms today, Robinhood also lets you track your dividends. The platform has a user-friendly interface that's so easy to use, even a newbie learning the ins and outs of stock buying can use it.
You get real-time progress on the stocks you're watching and get alerts every time you receive a dividend. Plus, you can view your dividend history and future payments. Robinhood also offers a dividend reinvestment plan that lets you automatically reinvest your dividend income from eligible stocks.
There are no commission fees at all on this platform, meaning you'll end up with a higher dividend balance. One more thing to consider: It's entirely free to sign up for Robinhood.
Takeaway

Investing in dividend stocks is a great way to build wealth over time. But if you don't have the right tools to position yourself for your investing success, it can be challenging to climb the ladder. A good dividend tracker is a must-have tool for dividend investors.