5 People Who Quit Their Jobs and Then Made Millions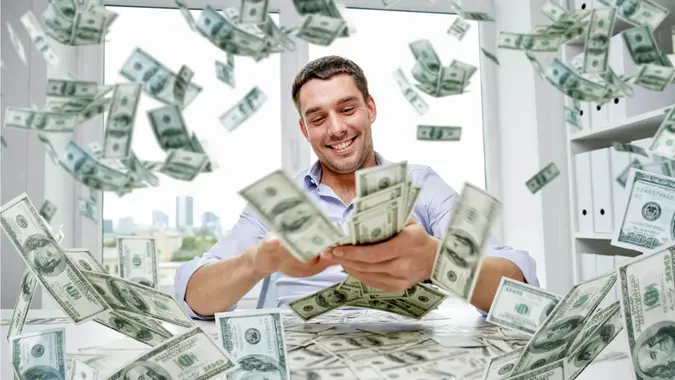 If you're lucky in work, you may go on to have more than just a job that pays bills, but a career that gives you purpose and meaning and allows room for financial and personal growth. While most people toil at the typical 9 to 5 job, some people figure out how to quit their stable jobs to launch successful businesses and go on to make millions.
Here are five people who left their jobs to do just that with great success.
Tori Gerbig, Pink Lily
In 2014, Tori Gerbig was working in insurance sales, earning around $35,000 per year. She and her husband Chris had been working at their own little side hustle, selling clothing on sites like eBay and Facebook marketplace. When their online community of customers went from a few hundred to 10,000 quickly, Gerbig told CNBC that she realized this might be something a lot bigger.
She left her job to focus on what would become the online fashion retail company Pink Lily full time. By 2021, it was making more than $141 million in sales. Gerbig is personally worth around $8 million today. She has said that really understanding who her customers are and what they want, coupled with a strong social media presence, has contributed to her success.
Leslie Anne Morris, Josh's Cabins & Invest in the Smoky Mountains
It's hard to imagine what could be so lucrative that it would possess someone to leave a well paying job as a commercial banker, but that's what Leslie Anne Morris did. She was earning $250,000 per year and held a senior vice president title, but she was interested in getting into real estate investing.
Make Your Money Work Better for You
"Right before and during COVID, I began buying cabins in the Smoky Mountains of Eastern Tennessee, and I earned an Executive Masters Degree from the University of Southern California," she told GOBankingRates.
She continued building her portfolio of cabins while still working in banking. "When I hit the point where I needed my time to scale my businesses and my income had greatly surpassed what I was being paid by my employer, I left the job in September 2022." She'd formed two new companies:  Invest in the Smoky Mountains and Josh's Cabins.  "They are two sister companies that essentially grew out of my real estate portfolio. Mostly, both necessity businesses."
Today, her portfolio is worth about $8 million, and she has 14 properties. "When I started in real estate, I didn't know much. I just had clients with their own real estate portfolio mentoring me when I was in my early 20s, but I couldn't afford to invest then." She emptied out a retirement account to purchase, renovate and flip cabins.
"I realized I was a millionaire about 18 months into the business, and I worked another 18 months before I left my job at the bank. Now, I have multiple income streams, and I am thinking up new businesses every day."
Kat Norton, Miss Excel
In the early days of the COVID-19 pandemic, 2020, 25-year-old Kat Norton had to move back home to make ends meet. One of her tasks at her consulting job was teaching Microsoft Excel, but she wanted to find a way to turn her skills into something more lucrative.
She decided to start posting mini Excel lessons on TikTok for free, and her fourth video — in which she explained Excel's new data-searching feature set to a DMX song — hit over 100,000 views. By her sixth video, the CEO of an IT company had reached out to her, asking her to create fun Excel training videos for his clients.
Make Your Money Work Better for You
Norton started her own company to work independently with him and other clients, while still working at her day job. By the time she'd grown her TikTok account to 300,000 followers, she knew it was time to start monetizing her courses, and she quit her job. She's now earning over $1 million through her Excel training courses.
Isaac Medeiros, Mini Katana
The pandemic had an entrepreneurial effect on many people — including 24-year-old Isaac Medeiros, who began selling miniature Japanese katanas, a type of sword, from his Los Angeles apartment in December 2020, just as a way to make side cash.
Apparently, there was just something about being trapped inside that inspired a wave of katana sales — his sales surged so well that he quit his day job in January 2021 because Mini Katana had made $2.5 million in sales with an expectation to double that in the following year.
The company heavily markets on social media channels primarily attempting to be "organic."
Since then, Medeiros moved into an office and warehouse space. He told CNBC, "Being able to own your own time and being able to place a value on your time, I don't think you can trade that for anything in the world."
Cam Moar, 6 Figure Drop Shipper
While you might expect most millionaires to be older, since getting to that stage of financial success can take many years and lots of experience, Australian entrepreneur Cam Moar proves that isn't always the case. He worked in a number of jobs to just get by, and at the tender age of 21 turned his attention to e-commerce, specifically drop shopping. He founded 6 Figure Drop Shipper in 2020, and the company has gone on to make millions.
Make Your Money Work Better for You
He goes further and tries to teach other young people how to become financially independent early on, claiming that the current way most people work is unsustainable. He told Forbes, "It's a trap and the system isn't really designed to allow us to escape it in a healthy or sustainable manner. No matter how much you earn from a 9-to-5 job, a salary can't make you financially free." Moar's net worth is around $1 million and counting.
More From GOBankingRates