7 Skills You Can Learn for Free To Raise Your Salary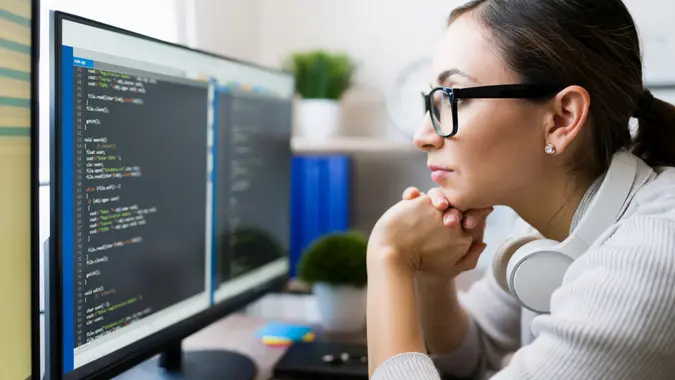 Antonio_Diaz / Getty Images/iStockphoto
So, you want to increase your income, but don't want to drop another $40,000 on college?
Don't worry. There are plenty of ways to grow your skills without spending a dime, and it can help you grow in your current position or even qualify for a promotion once you've practiced these new skills enough.
Make Money With AI and Chat GPT: How To Earn $1,000 a Month
Learn: How To Build Your Savings From Scratch
Whether you want to learn more about technology, learn to write better or simply gain a valuable skill for your job, there are great online platforms that offer free training to help you do just that.
Here are seven ways to level up your skills and increase your salary.
Learn To Code
Computer programming touches nearly every part of our lives. From cell phone apps, to internet services, to the vehicles we drive, programs run the world. And learning to code can be a fast way to level up your technology skills and your salary.
Several places offer free coding classes, including Code Academy, Code Camp and even Google. You can start at any skill level and work your way into more advanced coding classes.
Even if you never become a programmer, understanding how to code can make you a great program manager at a tech company or a sales engineer who can help bridge the gap between the management and engineering teams. These jobs pay quite a bit and could quickly boost your salary.
Make Your Money Work Better for You
Take Our Poll: What Are You Worth to Your Company?
Become Bilingual
Learning a second language has many benefits, and one of them could be the ability to manage teams that speak different languages. The ability to translate program requirements or instructions to teams that speak different languages can make you a very valuable asset at any company.
There are several free ways to learn a new language, with apps like Duolingo available directly on your mobile device. You can practice at your own pace and learn the language in a natural, conversational way. Plus, learning a second language may open you up to job opportunities that require speaking two languages, with less competition than a traditional job.
Learn Graphic Design
Marketing is becoming increasingly visual, and learning how to design beautiful marketing materials can help you increase your income quickly. While you used to need to know complicated design software, apps such as Canva make graphic design simple and quick.
With Canva, you can start with a template and quickly drag-and-drop elements to design brochures, advertisement visuals and more. If you work in marketing, learning graphic design can open up a world of opportunities to increase your salary and have fun designing new things for your company.
Learn To Write Better
Writing is a very valuable skill. Whether it's effective communication via email, writing marketing copy for an advertisement or creating a sales presentation, learning to write better can level up almost anyone's income. There are free ways to learn to write better online.
Make Your Money Work Better for You
Websites like Copyblogger offer a ton of free resources to learn all about copywriting, including email marketing, blogging, search engine optimization and more. For a more professional setting, LinkedIn has several free courses to learn about copywriting and even how to craft the perfect cover letter or resume. If you want to get noticed and increase your income, learning copywriting is a huge advantage.
Learn Social Media Management
Many companies now have specialized teams to manage their social media presence, which can consist of many tasks, including content creation, videos, copywriting and more. If you have a knack for posting on social media, you might already have a valuable skill that companies will pay very well for.
But if you want to level up your social media skills to earn more money, there are several free places to learn how to do this online. Hubspot has a free Social Media Certification course to give you a complete rundown of how to build a successful social media strategy. This valuable skill can propel your salary and land you some great marketing jobs in the future.
Get Better at Microsoft Excel
Microsoft Excel has been around for a long time, but this time-tested tool is still a great way to organize data and model financial information, along with thousands of other use cases. Excel is a cornerstone skill that can be used at almost any job and can increase your effectiveness as a worker and leader within your company. 
Make Your Money Work Better for You
Microsoft has several free Excel classes you can take online, and online course platforms such as Udemy and Coursera also have great free courses. Once you become an Excel wizard, you can show off your skills by building effective spreadsheets that help you make better project decisions and let you negotiate a higher salary for your newfound skill set.
Learn Project Management
Most large companies have hundreds of projects, and those teams have project and program managers to keep team members on task. Project management can help companies organize large teams, set deadlines, control schedules and translate business requirements from one team to another. In other words, project management is a highly valued skill that can help a company deliver products and services.
While there are paid-for project management courses and certifications online, there are also free classes that allow you to learn project management skills. The Project Management Institute offers free eLearning courses at a beginner level, and Google also offers a free course through the Coursera platform. Gaining project management skills can give you a great salary bump and accelerate your career.
Bottom Line
Once you're out of college and into your career, it doesn't mean you are done learning. Learning new skills should be expected as you level up your experience and look for ways to increase your income. While more college classes can certainly help, there are tons of free online resources that help you gain valuable skills that can increase your income right now.
Make Your Money Work Better for You
If you are wanting to grow your salary and your skill set, look no further than free online classes. Even better, doing some freelance work on the side can help you gain experience and boost your resume even further.
More From GOBankingRates