4 Times People Made Bank on Rare Coins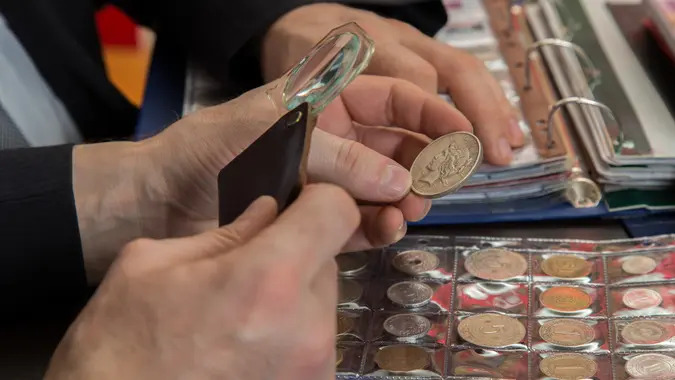 fakezzz / Shutterstock.com
There are two primary ways to make money in the rare coin market. The first is to be an investor, researching coins and trends and buying the specimens with the greatest potential appreciation. The second is to find rare coins and sell them for big money.
Those in this second camp, whether through a combination of luck or diligent searching, can make headlines when they turn up a rare trove of valuable coins. While that may not happen all the time, the truth is that there are still plenty of rare coins buried in fields, hidden in the attics of old houses or even in active circulation.
Here are some of the most recent stories of people who made bank on rare coins.
Renovation Brings Riches
Something as innocent as a home renovation can unearth untold riches, if you're in the right place at the right time. In 2019, a couple in England was digging up their floorboards during a renovation and they caught sight of something they thought was an electric cable. It turned out to be a gold disc, just one of hundreds that were eventually unearthed beneath their 18th-century home. The coins they found dated from 1610 to 1727 and ultimately sold at auction for over $852,000.
The family ended up selling the coins for even more than their pre-auction estimate due in part to the nature of the find and the story behind it. It was ultimately determined that the coins belonged to a Hull merchant family known as the Maisters, who lived in the area until about 1745.
Make Your Money Work Better for You
Take Our Poll: Who Has Given You the Best Money Advice You Have Ever Received?
Although this story highlights one of the places that rare coins are sometimes found, it doesn't mean you should necessarily go digging up your floorboards anticipating finding riches. But perhaps keep an eye out if you ever are doing any home renovation. 
Seek and Ye Shall Find
A more traditional method of finding valuable rare coins is to conduct a dedicated search for them. Megan Green, a woman from Texas, began buying rolls of pennies from her local bank in 2017, after being inspired by a YouTube video about a rare quarter that was worth $35,000. Green's plan was to continue buying $25 in face value of pennies each week, searching for something rare and valuable.
As you might expect, Green went months without hitting paydirt, finding common penny after common penny. However, her persistence ultimately paid off. In one of her common rolls of pennies, Green unearthed an extremely rare coin known as the "1969-S Double Die Obverse."
The "double die" description refers to an error made by the U.S. Mint, in which it overstruck a coin and made something of a mirror image on the front of the coin. Green's version was appraised at a whopping $24,000, although versions in better condition sell for $75,000 and up.
One Heck of a Dog Walk
Perhaps the largest example of "found riches" came in 2014, when a San Francisco couple out walking their dog stumbled upon a huge collection of rare gold coins at the edge of their property. The coins were somehow innocently buried in eight cans under a tree.
Make Your Money Work Better for You
Ultimately, the stash totaled about 1,400 coins, dated from 1847 to 1894, and the lot sold for an unbelievable $11 million. Analysts stated that there was no way to establish their provenance with certainty, but that they seemed to be from the Gold Rush era, due in part to their dates, composition and location.
Finding Things You Aren't Even Looking For
At an organized rally in a British field near Hambleden in 2019, seven men, expecting to find nothing more than thimbles or other small metallic objects, unearthed a rare collection of gold coins worth approximately $188,000. Their find was named the "Hambleden Hoard" and ultimately totaled 627 coins, including 12 rare gold nobles from the reign of Edward III. 
Like many other finds, however, this one comes with a word of caution for those looking to get rich off their discoveries. After an inquest, UK government officials dubbed the coins in the Hambleden Hoard a "treasure," meaning they would ultimately end up in the British Museum, not in the collectors' hands. However, reports indicated the museum was negotiating with the finders to reach some type of monetary agreement.
More From GOBankingRates