4 Ways To Use AI To Make Money Playing Video Games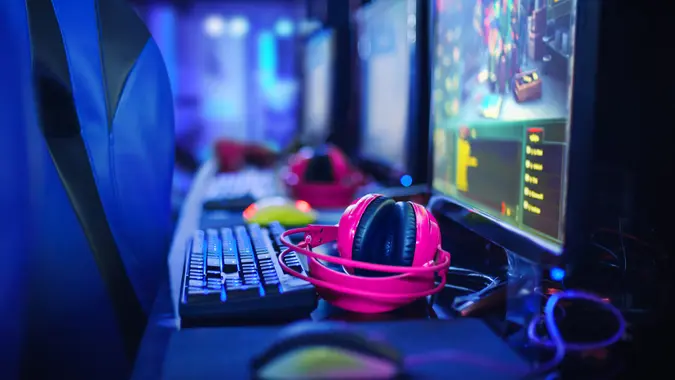 ©Shutterstock.com
There are over three billion gamers worldwide as of 2023, and that number is exponentially increasing. With a growing competitive gaming scene and many people able to make a living from gaming, there is no shortage of ways to make money playing games.
Gaming is a passionate hobby for many people around the world. Those who spend their free time gaming often wonder how they can use their dedication to it to turn a profit. Here are four suggestions to make money playing games using AI.
Game Item Trading
When asking ChatGPT about using its services for in-game trading, the AI chatbot will inform you of current trends in in-game markets.
Multiplayer games often have robust economies where in-game skins, items and virtual currency can be bought and sold. Gamers who are knowledgeable about these markets can make a significant profit.
ChatGPT can help you find out if your in-game items are worth money. For gamers who play multiplayer games, you may have a game that you do not play as much anymore. ChatGPT can be utilized in this situation by informing you of the items that are worth the most.
Sell Video Game Accounts
For those who are no longer playing a game, there are markets where accounts can be bought and sold. Though sometimes against community guidelines, AI can be used to "bot farm," or create low-level bots that other players can purchase.
Make Your Money Work Better for You
This route to making money using AI has the potential to ruin the integrity of a game and is more or less frowned upon by the gaming community. However, AI can definitely assist in the creation of a bot account that can be sold.
Become a Content Creator
If you are looking to get into streaming, ChatGPT can be a useful tool. As you build your channel, you can use ChatGPT to help you draft social media posts announcing upcoming streams. You can use ChatGPT to help network with other content creators on your platform, whether you are using Twitch, YouTube or TikTok.
Additionally, ChatGPT can be used to help you create a set schedule. Most streamers find the most success if they have a weekly schedule that is strictly followed. Using ChatGPT to create a schedule will allow viewers to tune in more consistently and help you generate more profit as a streamer.
Write Gaming Articles
Sites like Game Rant and CBR are usually hiring freelance writers to create video game-related content. Rates may depend on the publication.
If there is a game that you have extensive knowledge of, but feel you may be lacking in writing ability, you can use ChatGPT to help structure an article. ChatGPT will utilize the knowledge of the game that you gave it and will write you an article based on your topic.
As always, be specific in what you want with ChatGPT — include word count, tone and academic level — as that will help ChatGPT create the best story possible.
More From GOBankingRates
Make Your Money Work Better for You