From Lab to Bank Account: 9 Ways To Make Money as a Test Subject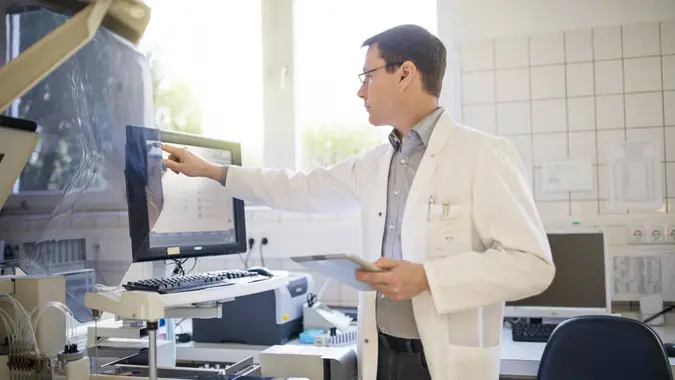 alvarez / Getty Images
Have you ever considered turning your body into a money-making machine? In the world of scientific research, being a test subject can present a unique avenue for earning extra income. From pharmaceutical trials to psychological experiments, the demand for human participants offers a fascinating and potentially lucrative opportunity to monetize your time and participation.
Whether you're a student looking to earn some pocket money or an adventurous soul seeking unconventional ways to make ends meet, get ready to embark on a journey of discovery. Here are some ways you can become a test subject and reap the financial rewards along the way.
Clinical Trials
Pharmaceutical companies frequently conduct clinical trials to assess the safety and efficacy of new drugs, and becoming a test subject not only allows you to earn money but also contribute to medical advancements.
As Mel Lewis, a participant in a recent clinical trial, shared, "Being part of a clinical trial was a unique experience. I loved actively playing a role in advancing medical research; the money was just the cherry on top." 
These trials encompass a wide range of activities, from testing new medications to evaluating potential side effects. By participating in these trials, individuals can play a big role in helping scientists and healthcare professionals develop innovative treatments for various health conditions.
Make Your Money Work Better for You
Medical Research Studies
Medical research studies are different from clinical trials in that they investigate various aspects of human health, while clinical trials are all about testing new medical treatments. By volunteering for tests, procedures or observations, participants can not only make a meaningful contribution to scientific advancements but also earn some decent money along the way. 
It's important to note that participating in medical research studies as a test subject should be approached with some caution. Always ensure you fully understand the study's requirements, potential risks and benefits before participating. Additionally, consult with healthcare professionals or research ethics boards to ensure your safety and well-being throughout the process.
Toy Testing 
If you're looking for exciting activities for your children while also getting involved in market research, why not consider participating in toy testing programs? Companies like Mattel and Hasbro offer opportunities for kids to test out toys and provide valuable feedback in exchange for rewards.
According to The Penny Hoarder, the Mattel Imagination Center in El Segundo, California, invites children between the ages of 3 and 13 to test toys and receive a toy or a gift card as compensation. Bonus: Parents also receive a gift card for their participation. Similarly, Hasbro's FunLab in Pawtucket, Rhode Island, conducts in-person and online toy testing programs.
To find out about these opportunities, follow the brands' social media — the competition can be fierce, so keep up to date on their feeds for a chance to play around with some new toys.
Make Your Money Work Better for You
Market Research
Participating in market research can be a decent and easy way to make some extra cash. Through surveys, focus groups or product testing, people like Katherine Stuart have found it to be a pretty fun way to spend your afternoon. Market research companies often compensate participants generously, Stuart told GOBankingRates.
"I'm always excited when I get a wad of cash for doing something so easy," she said.
With flexible hours and the ability to participate from the comfort of your home, market research offers a convenient way to earn money on the side without disrupting your regular routine. As the demand for consumer insights continues to grow, market research serves as a win-win opportunity for individuals to make money while shaping the future of products and services.
Cosmetics and Beauty Research
Participating in cosmetic and beauty studies not only allows you to explore new products and treatments but also provides an opportunity to make money. These studies often involve testing the effectiveness and safety of skincare products, makeup, hair care and other beauty-related innovations.
"The last time I tested mascara for a company, I got to leave with a free tube of it, plus some cash. Not bad!" Stuart said. 
By joining these studies, you can have access to cutting-edge products and treatments before they hit the market, allowing you to enhance your own beauty routine. Plus, compensation is typically offered for your time and involvement, making it a mutually beneficial situation where you can earn money while assisting in the advancement of the cosmetic and beauty industry.
Make Your Money Work Better for You
Behavioral and Psychological Studies
Ever wondered how researchers unravel the mysteries of human behavior and cognition? Well, universities and research institutions conduct all sorts of cool experiments that need people like you to take part. From answering surveys and questionnaires to getting involved in immersive studies, there's a chance to earn some money for your participation. You'll contribute to cutting-edge research while gaining insights about yourself and the world. 
Dietary and Nutrition Studies
Dietary and nutrition studies are a cool way to make some extra cash while doing something good for yourself and others. These studies are all about exploring the connection between what we eat and our health. You might get to try out new foods, supplements or diets and see how they affect things like weight, heart health or metabolism. This is important scientific research that helps shape healthier eating recommendations for everyone. And hey, they'll even pay you for your time and effort. 
Sleep Studies
Sleep studies offer a unique opportunity to contribute to the understanding of sleep disorders and promote better sleep quality while earning compensation for your participation. These studies often require spending a night or multiple nights in a specialized sleep laboratory, where experts monitor your sleep patterns and brain activity.
By participating in sleep studies, you not only gain valuable insights into your own sleep health but also contribute to scientific research aimed at developing effective treatments and interventions for sleep-related issues. The compensation provided acknowledges the time and inconvenience involved, making it a rewarding experience both personally and financially.
Surrogate Juror in Mock Trials
If you're looking for a fun and unique way to put your opinion to work and earn some extra cash, consider becoming a surrogate juror. Surrogate jurors are individuals who participate in mock trials and provide feedback to attorneys. 
Make Your Money Work Better for You
Companies like Sign Up Direct offer in-person mock trial opportunities, while websites like Online Verdict provide online options. Surrogate jurors are compensated for their time and expertise, often receiving better pay and even meals compared to actual jury duty. According to Penny Hoarder contributor Steve Gillman, who earned $150 for a day of participation, compensation can range from $20 to $60 per hour, depending on the complexity of the case.
If you're interested in getting paid for your valuable insights and contributing to the legal process, consider becoming a surrogate juror in mock trials. It's a unique way to earn extra money while engaging in interesting legal discussions.
More From GOBankingRates