3 Ways To Make Money With ChatGPT, According to YouTube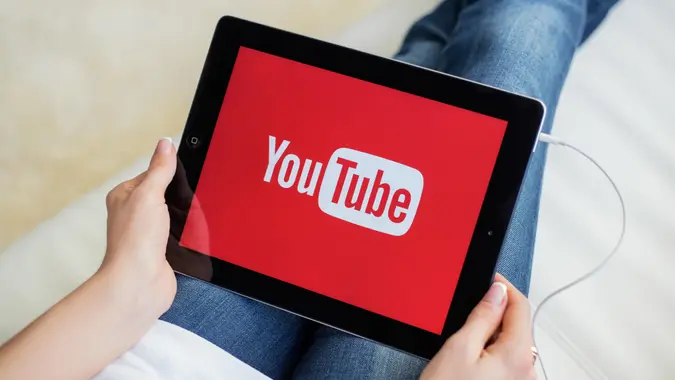 Kaspars Grinvalds / Shutterstock.com
ChatGPT continues to dominate headlines as the evidence of all it can do mounts. A new trend taking off is YouTube tutorials explaining how to make money using this astonishing AI tool. 
To understand exactly what some highly viewed YouTube tutorials on how to make money using ChatGPT explain, GOBankingRates talked with Stephen Fraga, who runs Prompt Yes!, a training company that offers classes in AI tools like ChatGPT. 
Let's look at three unique YouTube tutorials on how to make money using ChatGPT. Note that while all are compelling and instructive, each of these tutorials have some weaknesses, in Fraga's expert opinion.
Email Marketing Services
In this video, "I Found the EASIEST Way to Make Money with ChatGPT," creator Gillian Perkins discusses how to create compelling email marketing services using ChatGPT. Fraga laid out the key steps to doing this, as shared by Perkins in the video: 
Ask ChatGPT to "write a short, punch email pitching my email marketing services."
Get ChatGPT to create three versions of that email pitch, changing its wording so you can later find out which one performs best.
Ask ChatGPT to "generate a list of types of local businesses."
Use Google to find actual local businesses in your city in each category: e.g., "hair salons in Seattle."
Manually email 500 local businesses your sales pitch about doing their email marketing. Use ChatGPT to customize the emails based on the business name, recipient name and industry. Rotate through your three templates to see which one performs best.
Now get ChatGPT to create a set of questions specific to each industry to include in the emails, to get clients to tell you about their business — e.g., their email marketing budget and email list size. Put these questions into a Google form.
For any responses to your initial email, send them a link to the Google form to "tell you more about their business."
For any finalists, get ChatGPT to write an email suggesting a quote for about $100/email, with eight emails per month.
Ask ChatGPT to write the contract for your services corresponding to the quote.
When you close the client, have ChatGPT write their marketing emails.
Make Your Money Work Better for You
In this video, Perkins claims you can make upwards of $10,000 a month by performing these steps, but Fraga suggests this isn't necessarily the best tutorial to show you how to be so successful. 
I'm a Financial Planning Expert: Here Are 3 Ways ChatGPT Can Save You Money
"It was a little bit 'meta' in that ChatGPT is used to promote your email marketing services to other companies who then email their clients," Fraga said. "The 'email marketing' definition wasn't clarified — whether the emails to be sent were going to the local business's prospective customers (unsolicited) or to existing clients (newsletter) or to prospects (sale emails). 
"The examples used — hair salons, floral delivery, etc. — probably don't have lists of prospects, only a database of existing customers who aren't necessarily interested in emails about a service they're already buying," Fraga continued. "My guess is that those businesses would need to learn how to buy a list of local prospects (which wasn't covered), not how to write the marketing email to send them."
Publish Illustrated Book Summaries on Medium
In the YouTube video "Easiest ChatGPT Side Hustle Nobody Talks About! (Make Money Online 2023)," these are the recommended steps:
Ask ChatGPT to list the top 10 books in any category: history, business, romance, etc.
Go to Audible.com to see which of those books are available.
For your favorite of the available books, get ChatGPT to create a 2,000-word summary of it.
Isolate one phrase in each paragraph of the summary from which to generate an illustration for that paragraph.
Go to kittl.com and register for a free account to use its text-to-image generative tool
Feed the individual phrases you've identified (e.g., "a 19th century decorated school room"), feed them to kittl's generate AI tool to create a representative image.
Go to Medium.com and create a new article titled "Summary of [the book you chose]." Paste the 2,000-word summary text from ChatGPT and, underneath each paragraph, paste in the representative image.
Register as an affiliate for Audible.com. After each block of text and images in your Medium.com summary, paste in a link to get the full book free from Audible, and add your affiliate link.
Receive $5 for each free trial sign-up at Audible.com.
Repeat the process 8-10 times per day with different books.
Make Your Money Work Better for You
This video strikes Fraga as a bit weak because it does not make clear how, or if, anyone would find the articles on Medium.com.
Create a Chrome Extension 
In "4 GENIUS Ways To Make Money with ChatGPT (Must See)," Liam James Kay explains how to create a Chrome extension with the goal of monetizing it. Here are the steps: 
Identify a need that you have as you surf the web. (The author uses the example of converting a recipe on a web page to a vegan equivalent by replacing ingredients.)
Get ChatGPT to write the code for the browser extension.
Get ChatGPT to tell you how to incorporate the extension.
Sell the extension on the Chrome Web Store.
Alternatively, offer the extension for free in exchange for a user's email, and then build a list of those customers. 
With that list, make money from affiliate commissions by selling them, for example, vegan nutritional supplements.
This video has some great tips, and it details a cool concept, but does it offer a realistic way to make money? 
"It seems pretty rare that anyone pays money for a browser extension," Fraga said. 
More From GOBankingRates