53% of Americans Want To Use AI To Generate Passive Income: Here Are 5 Ways To Do It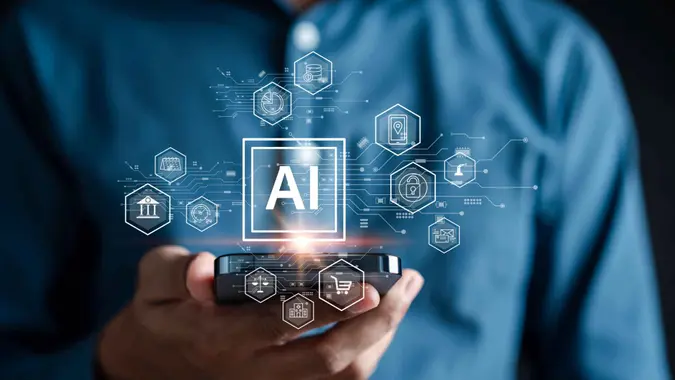 Kwanchanok Taen-on / Getty Images
Artificial intelligence — AI, for short — has changed the way many businesses and industries function. And maybe it can benefit you, too, especially when it comes to helping you to bring in passive income.
One of the prime benefits of AI is that you can use it to multiply your own capabilities. AI can save you time, provide you with an "extra set of hands" to get more accomplished and even help you generate passive income.
A recent GOBankingRates survey that asked respondents their views on a variety of financial issues and posed the question, "Have you or would you use artificial intelligence (AI) to earn a passive income?" And the responses were favorable, with 45% of participants agreeing they would like to use AI to earn a passive income and an additional 8% saying they already had.
Just under 20% said they would not employ AI to bring in passive income, and another 28% said they had no opinion.
While some ways of earning income with AI require some technical expertise on your part, others are fairly straightforward and accessible to nearly anyone. Here are some of the most common ways that you can use AI to generate passive income, whether you run your own business or are simply looking to earn some income on the side.
Write a Blog
Writing a blog is a fairly easy way to generate passive income. While the generation of content for your blog is an active endeavor, once it's in place, you could generate income without having to do anything else.
Make Your Money Work Better for You
For example, you might insert links or ads on your blogs that generate income for you when your readers click them, or you can sell your own products, such as e-books or physical goods, right on your blog page.
AI has gotten to the point that it can actually generate content for your blog, freeing you to either actively market your blog or simply sit back and see what tumbles in. While it's true that AI programs such as ChatGPT are not yet at the point where they can supplant talented writers, if you're just looking to get easy-to-read, well-organized text on your blog — possibly supplemented by your own personal work — AI is a way to accomplish this.
Analyze and Interpret Customer Patterns
If you're running a business, AI can be a huge help in improving your efficiency and generating additional passive income. As AI runs on data, the more you can assemble on your customers as a business owner, the better.
The more information you have about your customers, for example, the better an AI program can analyze and interpret customer patterns. From that data, AI can make predictions about how your customers will act in the future, such as which ones are likely to spend more on your products or services.
In this scenario, your job is to gather customers and collect their data, and the AI's job is to analyze and interpret this data to generate additional income for you.
Make Your Money Work Better for You
Create Tailored Advertisements
Advertising is one of the best ways to generate passive income. You can profit from advertising either through clicks on the links within the ad or from new customers coming aboard based on the content of your ad. AI can help with both of these by generating interesting advertising copy or by targeting specific areas based on data analysis.
AI also can help you create tailored advertisements that you can send to your existing customers based on their past shopping tendencies or based on how they browse certain areas of your website. These are data points that can be hard to determine without the help of AI. Numerous online software programs are available to help you optimize your advertising strategy with the help of AI.
Sell Your Data
One of the easiest ways to earn income by using AI is to sell your data. Technically, you aren't "using" AI to generate income; you are simply offering the data that a third-party company can use to earn profits.
Social media companies, for example, are notorious for freely mining customer data. But other companies will actually pay you to hand over your personal data. However, you should be careful when searching out which companies will provide you with passive income for your data. Some may not have adequate data protection systems in place, and others might have lax privacy protocols.
Build an App
If you've got some technological know-how, building an app could potentially generate a large amount of passive income with the assistance of AI. Depending on how you design your app, you can profit from initial sales on Google Play or the App Store, or you can benefit from in-app purchases or advertising clicks within the program. A subscription-based app also can provide you with an ongoing stream of passive income.
Make Your Money Work Better for You
To create an app, you'll need to work with a software program and online app builders. Generally speaking, you'll need to assemble a team that includes a product manager, a marketer, a quality assurance analyst, a developer and a designer.
While this isn't a way that the average person can go, if you've got the skills — or if you have a great idea and can team up with a developer — you can score big with a popular app.
Jami Farkas contributed to the reporting for this article.
More From GOBankingRates