Bush, Trump and More: The Wealthiest Presidential Families
mark reinstein / Shutterstock.com
When elected president, the entire family of the commander-in-chief is thrust into the spotlight. Consequently, first kids become famous in their own right, with the world eager to see the most powerful person in the world in dad mode.
Some of the richest presidential children have belonged to George H.W. Bush and his wife Barbara Bush — who both passed away in 2018 — and Donald Trump and his wife Melania Trump.
Click through to find out which first kids of past and present are the richest.
Last Updated: Aug 28th, 2019
1/18
AJ Guel / Wikimedia Commons
George H.W. Bush
Barbara Bush, who passed away on April 18, 2018, had a net worth of $25 million, according to Celebrity Net Worth. Where that money will go as her will is honored is not yet clear, but it might go to her children whom she shared with husband George H.W. Bush.
In 1988, George H.W. Bush was elected president, making him the first sitting vice president to be elected to the role of president since Martin van Buren in 1836. Already very familiar with the White House, he had been serving as Ronald Reagan's vice president since 1980.
Known for his traditional American values, his time as commander-in-chief was motivated by a desire to make the U.S. "a kinder and gentler nation." Some of his most notable actions included signing the Americans with Disabilities Act and the Immigration Act of 1990 — the largest revision to immigration law in more than 50 years. He also led troops to the Persian Gulf War, otherwise known as Operation Desert Storm.
Tragically, George H.W. Bush and his wife Barbara lost their 3-year-old daughter Robin to leukemia in 1953. The couple has five other children:
George W. Bush
Jeb Bush
Dorothy Bush Koch
Neil Bush
Marvin Bush
2/18
Christopher Halloran / Shutterstock.com
Richest Kid: George W. Bush
Net worth information is only available for George H.W. Bush's two children who followed him into major political roles — George W. and Jeb. A net worth of $40 million puts George W. Bush in the lead, while Jeb Bush's net worth is $40 million.
George W. Bush has since retired to a quiet life in Texas with his wife Laura. Jeb Bush was the Governor of Florida from 1999 to 2007. Continuing the family tradition, he ran for president in 2016, but lost his party's bid to Donald Trump.
3/18
Christopher Halloran / Shutterstock.com
President Donald Trump
Sworn into office on Jan. 20, 2017, Donald Trump is the 45th president of the U.S. America's first billionaire president is still in his first 100 days in office, so his legacy is currently in the works.
A successful real estate developer, the president is the founder of The Trump Organization. His portfolio spans the globe, consisting of hotels, office buildings, golf courses, residences and even a winery.
Considering his entrepreneurial roots, it's not surprising that President Trump's children have followed in his footsteps and earned millions of dollars of their own. The current set of first kids include:
Donald Trump Jr.
Ivanka Trump
Eric Trump
Tiffany Trump
Barron Trump
4/18
JStone / Shutterstock.com
Richest Kid: Ivanka Trump
She faced some pretty tough competition, but Ivanka Trump's net worth is $300 million, according to CelebrityNetWorth, making her the richest of all the presidential children. Currently, her husband Jared Kushner who has a net worth of $800 million — serves as White House Innovations Director. Her frequent presence in the West Wing has been noted, before her father took office, Ivanka took a leave of absence from both her fashion line and her job as executive vice president of the Trump Organization.
Ivanka's siblings aren't hurting for cash, either. Both Donald Trump Jr. and Eric Trump also have net worths of $300 million. Since their father become president, the brothers have taken the reins at the Trump Organization, so their net worths could still reach new heights.
A 2016 University of Pennsylvania graduate, Tiffany Trump has a net worth of $10 million. Next up, she reportedly plans to attend law school. And at just 10 years old, Barron Trump is the president's only minor child, so he doesn't yet have a fortune of his own.
5/18
dominika zarzycka / Shutterstock.com
Barack Obama
The 44th president of the U.S., Barack Obama served two consecutive terms, from 2009 to 2016. America's first African-American president signed the Affordable Care Act into law to help make healthcare coverage more accessible and affordable.
Obama also struck down the Defense of Marriage Act to allow the marriage of same-sex couples to be federally recognized, and he served as a leader on the 2015 Paris Agreement — a commitment by 197 nations to combat climate change. He ordered the special forces raid in which Al Qaeda leader Osama bin Laden was killed. He also signed the Dodd-Frank Wall Street Reform and Consumer Protection Act in 2010, among many other actions.
A doting dad, Obama and his wife Michelle raised two daughters during their stay in the White House:
6/18
The White House from Washington, DC / Wikimedia Commons
Richest Kid: Too Soon to Tell
Both teenagers, Malia and Sasha Obama are too young to have fortunes of their own just yet. However, Obama's net worth is an estimated $70 million, so he has them covered until they're on their own.
Obama's eldest daughter, 21-year-old Malia, graduated high school in 2016 is now attending Harvard University. She might be pondering a future in Hollywood, as she's currently interning at film studio the Weinstein Company and previously completed a summer internship on the set of the HBO hit series "Girls."
Youngest daughter Sasha is an 18-year-old high school graduate. The bought an $8.1 million 8,200-square-foot home in Washington D.C.'s Kalorama neighborhood.
7/18
The U.S. National Archives / Flickr.com
George W. Bush
In office from 2001 to 2009, George W. Bush is the 43rd president of the U.S. Son of former President George H.W. Bush, he made history as only the second of all presidential children to hold court in the Oval Office himself.
The Sept. 11, 2001, terrorist attacks took place during his first year in office, immediately transforming him into a wartime president. Consequently, he waged a global war on terror, uniting more than 90 nations to take down terrorist networks. Some of the other hallmarks of his administration included the passage of the No Child Left Behind Act — holding schools accountable for ensuring every student learns to read and do math at grade level — and the implementation of the strictest air quality standards in history.
While running the country, George W. Bush was also doing double duty as a dad to twin girls:
Jenna Bush Hager
Barbara Bush
8/18
Debby Wong / Shutterstock.com
Richest Kid: Jenna Bush Hager
The Bush twins were 19 years old when their family moved into the White House. Both college students at the time, Barbara graduated from Yale University and Jenna is a University of Texas at Austin alum.
Now all grown up, Jenna Bush Hager appears to be the richest twin, with a net worth of $10 million. A married mother of three, she's the host of the Today show with Hoda Kotb. Her annual salary is $4 million, according to CelebrityNetWorth.
Her twin Barbara Bush has a net worth of $5 million dollars. Named after her famous grandmother, Barbara is the CEO and co-founder of Global Health Corps, a nonprofit focused on global health equity.
9/18
JStone / Shutterstock.com
Bill Clinton
William Jefferson — Bill — Clinton is the 42nd president of the U.S., serving from 1993 to 2001. Previously the governor of Arkansas, he stepped into office at the end of the Cold War.
While in office, Clinton led the country to a record-breaking 115 months of economic expansion. More than 22 million new jobs were created during his tenure, the U.S. achieved a then-record high homeownership rate of 67.7 percent and the unemployment rate dropped to 4 percent in November 2000, at the end of his presidency. He also signed the Family and Medical Leave Act, allowing Americans to take unpaid leave to care for a newborn or sick family member.
Also a dad, his daughter was 12 years old when he took office:
10/18
mistydawnphoto / Shutterstock.com
Richest Kid: Chelsea Clinton
As an only child, Chelsea Clinton's net worth of $15 million makes her Clinton's richest offspring by default. Now all grown up, she's vice-chair of the Clinton Foundation but does not take a salary from the nonprofit organization.
Previously, she was an NBC News special correspondent, where she earned a salary of $600,000 per year, according to Politico. Chelsea has been married to banker Marc Mezvinsky since 2010. The couple resides in a $10 million New York City apartment with their three children.
11/18
Joseph Sohm / Shutterstock.com
Ronald Reagan
Ronald Reagan took office as the 40th president of the U.S. in 1981 and served two terms. Formerly a Golden Globe-winning actor, he was governor of California from 1967 to 1975.
Shot just 69 days into his presidency, he quickly recovered and got back to work. Some of his most prominent moves included appointing the first woman to the Supreme Court — Sandra Day O'Connor– and signing the Intermediate-range Nuclear Forces treaty with Soviet leader Mikhail Gorbachev to remove 4 percent of the superpowers' nuclear weapons.
On the financial front, he established "Reaganomics" to control inflation, reduce business regulation, lower government spending and encourage economic growth. Additionally, he designated Martin Luther King Jr. Day a national holiday. Reagan died on June 5, 2004.
During his lifetime, he fathered a total of five children. But, tragically, his daughter Christine was born prematurely and died shortly after birth. His four other children include:
Ron Reagan
Patti Davis
Michael Reagan
Maureen Reagan
12/18
Paul Schultz / Flickr.com
Richest Kid: Ron Reagan
Of Reagan's first kids, net worth information is only available for Reagan's namesake. Ron Reagan's net worth is $12 million.
Once a professional ballet dancer, he has also worked as a radio host, television political commentator and author. He has written several books, including "My Father at 100" and "If You Had Five Minutes with the President."
13/18
David Hume Kennerly / Wikimedia Commons
Gerald Ford
A non-traditional ascent to office, Gerald Ford became Richard Nixon's vice president after Spiro Agnew resigned. Less than a year later, Nixon was impeached, and Gerald Ford was sworn in as the 38th president of the U.S.
One of his most high-profile moves as president included signing the Education for All Handicapped Children Act of 1975, which created special education programs throughout the country. In a controversial move, he also pardoned Nixon for his involvement in the Watergate scandal.
Ford passed away on Dec. 26, 2006. He had four children:
Susan Ford
Steven Ford
John Gardner Ford
Michael Gerald Ford
14/18
William Fitz-Patrick / Wikimedia Commons
Richest Kid: Unknown
One of the richest U.S. presidents in history, Gerald Ford's net worth was $7 million at the time of his death. Net worth information for his children is not publicly available.
Mike Ford is the associate director of the Pro Humanitate Institute at Wake Forest University, where he has worked for 35 years. His brother Steve Ford is an actor, whose credits include "The Young and the Restless" and "When Harry Met Sally." Susan Ford was honored for her work with the Betty Ford Foundation — named after their mother — in 2016.
15/18
Yoichi Okamoto / Wikimedia Commons
Lyndon B. Johnson
Immediately following the Nov. 22, 1963, assassination of John F. Kennedy, his vice president Lyndon B. Johnson was sworn into office. Eventually elected in his own right, he served as the 36th president of the U.S., from 1963 to 1969.
As president, one of his most notable achievements was signing Medicare into law, granting reliable healthcare coverage to millions of senior citizens. He also signed the Civil Rights Acts of 1964 and 1968, making most forms of racial segregation illegal and offering equal housing to all people, despite race, creed or national origin.
Additionally, Johnson appointed Thurgood Marshall to the Supreme Court — the first African-American justice to serve. The former president passed away on Jan. 22, 1973.
Johnson had two daughters:
Luci Baines Johnson
Lynda Bird Johnson
16/18
LBJ Library / Wikimedia Commons
Richest Kid: Unknown
At the time of his death, Lyndon B. Johnson had a net worth of $98 million. Financial information for his two daughters is not available.
Lynda Johnson is married to Charles S. Robb, a former Virginia senator and governor. Luci Johnson's husband Ian Turpin is president of LBJ Family Wealth Advisors, Ltd. He supervises the holdings of the former president.
John F. Kennedy
At the age of 43, John F. Kennedy is still the youngest man ever elected commander-in-chief. The 35th president of the U.S. was also the most popular, as his average approval rating of 70 percent is the highest since Gallup starting tracking this stat.
Sworn into office in 1961, he was still serving his first term when he was assassinated in Dallas on Nov. 22, 1963. A dedicated leader, his inaugural speech famously encouraged Americans to "ask not what your country can do for you, ask what you can do for your country."
Some of his most notorious acts as president include abolishing the federal death penalty and asking Congress to create the Peace Corps. He also signed off on the Bay of Pigs Invasion and endorsed the "New Frontier" program as a way to get the country out of recession.
JFK left two children behind:
Caroline Kennedy
John F. Kennedy Jr.
18/18
U.S. Department of State from United States / Wikimedia Commons
Richest Kid: Caroline Kennedy
Tragically, John Jr., his wife and her sister died in July 1999, when the small plane he was flying crashed off the coast of Martha's Vineyard. He was just 38 years old at the time of his death.
As the sole surviving child of JFK, Caroline Kennedy is the richest kid in the family, with a net worth of $250 million, according to CelebrityNetWorth. A trained lawyer and author, she served as the U.S. Ambassador to Japan for three years, until stepping down in January 2017.
Caroline has been married to Edwin Schlossberg since 1986. The couple has three children.
Last Updated: Aug 28th, 2019
More From GOBankingRates
About the Author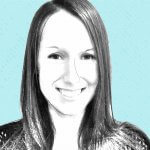 Laura is a writer with nearly 10 years of experience in marketing and personal finance. She is a Los Angeles-based writer specializing in personal finance, higher education, legal matters and marketing. She holds a Bachelor of Arts in Communications from the University of Pittsburgh and an MBA from Robert Morris University.