8 Early-Morning Side Gigs You Can Do Before Work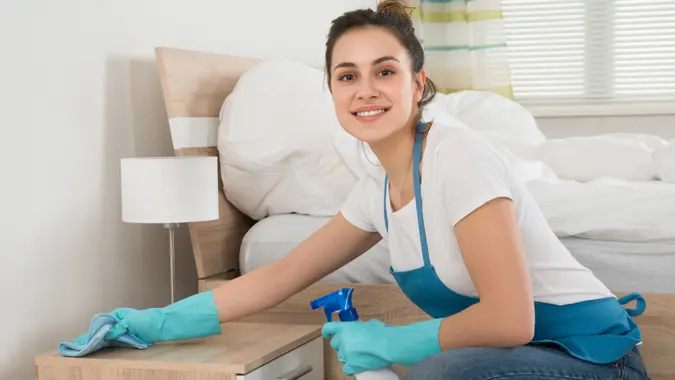 AndreyPopov / Getty Images/iStockphoto
If you work full-time and want to bring in extra cash, an early-morning side gig is the perfect solution. According to a study from Zippia, Americans spend an average of 13 hours per week on their side hustles, which would be 2.6 hours per morning. If you also devote weekend mornings to your side hustle, it's even less time commitment per day. 
According to the study, the average side hustle brings in $483 per month. And while the majority of side hustlers in the study — approximately 56% — earned less than $500 per month, 15% earned $1,500 or more each month. How much you can earn will depend on the work you choose to do. 
To inspire your search, here are eight early-morning side gigs you can do before work. 
Use Your Expertise To Write or Review Website Content
If you have the credentials, you can become a website subject matter expert. Dr. Cara Dobbertin, a physical therapist and founder of Practitionr, said that a great side hustle for healthcare workers, medical professionals or any skilled professional is writing or reviewing content or being a subject matter expert for websites specific to your industry. 
"These sites always seek expertise and content contributors," Dobbertin shared. "My company, Practitionr, finds and pays healthcare workers on sites like UpWork. We contract them to contribute content, provide insights and share their expertise. Each professional spends about 30 minutes to an hour per project, and they can do it on their own time." 
Make Your Money Work Better for You
Cleaning 
Depending on when your workday starts, you can clean for at least one client daily in the early morning. Lina DaSilva, the owner of Toronto Shine Cleaning, said, "Back in the day, before my business picked up, I was juggling a full-time job and trying to make ends meet. Cleaning houses was my go-to gig in the early mornings and weekends. It was straightforward — no overhead costs, and it was something I was good at and could do efficiently."
If you are still looking for clients who will allow you to clean their homes in the early-morning hours, consider contacting small businesses.
Answer Questions Online
Andrea Toch, founder and principal of Colter Communications, suggested applying to answer questions on JustAnswer if you have a professional background. "The expert-on-demand platform allows skilled professionals to respond to users' questions on their schedule, earning money for each response provided," she said. "The site has over 700 categories, including vets, lawyers, therapists and mechanics. It can be as easy as just answering questions while eating breakfast or sipping coffee before heading off to work."
JustAnswer states you can earn an average of $2,000-$7,000 per month answering questions online. You get to set your hours and work online.
Start a Bookkeeping Business
Kelan Kline, personal finance expert with The Savvy Couple, said, "Early risers with a way with numbers could start a bookkeeping business. Busy small businesses would welcome some help keeping their books in order. The best part is that it can be done from home and wrapped up before the regular job starts."
There are plenty of bookkeeping courses online to help you get started.
Become an Online Fitness Coach
"Becoming an online fitness coach is a solid choice for those who love to exercise in the early morning," suggested Kline. "A lot of people like to get their workout in before heading to work, and a virtual platform makes it easy to lead those early-morning workouts."
Make Your Money Work Better for You
If you want to avoid leading a fitness class online, you can also do one-on-one fitness coaching, where you coach your clients over a video call while they work out.
Write Resumes
"Resume writing is a real moneymaker," Kline shared. "Plenty of job seekers need a little help making their resumes pop. It's a gig that can easily be done from home in the early morning, making it perfect for the early birds."
You can sign up with a resume writing service or find your clients through Fiverr or Facebook. 
Bake and Deliver To Businesses You Contract With
Michael Ryan, a retired financial planner now a financial coach and the owner of Michael Ryan Money, said, "One client turned her passion for baking into a pre-dawn side hustle. She would wake up at 4 a.m., bake muffins and scones, and deliver them to coffee shops on her way to the office. It started small but grew into a nice little catering business."
Before you start a side gig like this one, check into your state's cottage food regulations to find out if it's legal.
Find Good Used Items Online To Resell
"Another client had a knack for finding great deals on used items and reselling them for a profit," shared Ryan. "He'd spend an hour or so each morning scouring sites like Craigslist before work and then sell his finds on eBay. He focused mainly on niche collectibles and was able to build up a solid customer base."
More From GOBankingRates
Make Your Money Work Better for You