How Much Do Americans Make From Side Gigs in 2023?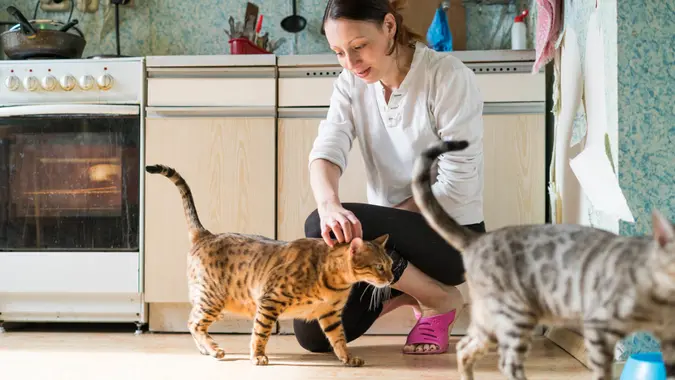 Krakozawr / iStock.com
Side hustles might not pay as much as you think. The gig economy makes it easier than ever to earn extra cash in your free time, but most people aren't getting rich.
Specifically, two-thirds — 67% — of people with side jobs earn $400 or less per month, according to a recent GOBankingRates survey. Furthermore, 52% bring in under $300 from their side job on a monthly basis.
Overall, just 5% of people with a side gig earn more than $1,000 per month. This might seem surprising, but the numbers don't lie.
Of course, gaining an additional $400 in monthly income is nothing to sneeze at. In fact, over the course of a year, that's nearly $5,000.
That's definitely enough to put a dent in — or completely cover — many financial goals, so even a modest monthly side gig income clearly adds up fast.
Taking Control of Your Finances With a Side Gig
People have many different reasons for seeking out side gigs. For example, they might want to use the extra money to pay down debt, save for a down payment on a home, pay for their wedding or to fund a vacation.
No matter what the reason, having the option to earn extra money on their own time can be a game-changer.
"Many people are beginning to consider their options when it comes to available side gigs to supplement their main source of income," said Starr Douglas, founder and CEO at FrontHouz, an on-demand solution for front of house restaurant staffing. "Starting a side gig allows people to catch up on their bills, pay off debt, establish personal savings or even just have more financial freedom."
Make Your Money Work Better for You
While some people have turned side gigs into their main role, she said this often isn't the case.
"Many people start their side gigs in addition to already working full-time, so oftentimes, they do not have a ton of extra time," she said. "The key to retaining employees who are working as their side gig is to ensure they are making a substantial amount of earnings per hour."
While she said earning an extra $400 per month doesn't hurt, she thinks most people would prefer to earn more, if they had the option to do so.
"As more lucrative side opportunities become available for Americans, I believe more will be willing to tap into the gig economy to generate substantial extra income," she said. "Workers at FrontHouz often make anywhere from $500-$1,500 per week through the platform."
10 Popular Side Gigs and Their Average Pay
Thinking about taking on a side hustle? Here's a look at several common options, along with their average pay.
Rideshare driver: Lyft drivers earn an average of $26 per hour, while Uber drivers average $24 per hour.
Food delivery driver: DoorDash, Uber and Grubhub drivers all average $20 per hour.
Grocery shopper: Store shoppers at Whole Foods Market, Amazon and HEB earn an average of $15 per hour, while Instacart shoppers bring in approximately $17 per hour.
Renting a room on Airbnb: Private room stays on Airbnb average $67 per night — before taxes and fees are deducted — according to 2022 data from the company.
Babysitter: Those using Care average $21 per hour, while babysitters on Sittercity earn around $16 per hour.
Pet sitter: Taking care of clients' pets will earn you an average of $18 per hour with Rover.com and $22 per hour with Care.
Taskrabbit: Pay varies greatly by specialty on Taskrabbit, including $19-$31 per hour for taskers, $20-$31 per hour for handymen, $17-$24 per hour for furniture assemblers and $76-$123 per hour for software engineers.
Package delivery driver: Amazon Flex drivers earn approximately $21 per hour.
Bookkeeper: Professionals working with SelfEmployed.com earn an average of $22 per hour.
House sitter: Watching over a client's home while they're away will earn you an average of $17.29 per hour, according to Care.
Make Your Money Work Better for You
Clearly, there's no shortage of side gigs to choose from. If you're thinking about taking one — or more — on, focus on options that play to your strengths, that you also enjoy.
It's also wise to have a target amount in mind that you'd like to earn each month. This can help you choose a gig that supports your financial goals, as well as determining how much you need to work each month to achieve it.
While the average gig worker earns $400 per month or less, the amount you earn is largely up to you. If you have the time, energy and dedication to really rack up the hours, you can likely achieve an above-average monthly payday.
Unless otherwise noted, pay estimates were sourced from Glassdoor.
Methodology: GOBankingRates surveyed 1,021 Americans aged 18 and older from across the country between Oct. 12 and Oct. 16, 2023, asking twenty-three different questions: (1) How much did you spend on your pet in the last year?; (2) How much have you spent/are you planning to spend on Halloween this year?; (3) How much money do you spend on kid-related activities in a year?; (4) How much do you spend on average on your monthly utility bills (electric, heat/gas, water)?; (5) What spending/saving habits have you had to change in the last year due to inflation/rising prices? (select all that apply); (6) What was the biggest unexpected expense you had this year?; (7) How much do you currently spend on monthly car payments?; (8) Do you live in a single-income or dual-income household?; (9) In the past year, did you have to take on a side gig because of rising prices/inflation?; (10) How much do you bring home from your side job(s) each month?; (11) How much have your overall expenses gone up in the past year?; (12) What is your top financial priorities to end 2023?; (13) What is the top way you've earned your money/gained wealth?; (14) Have you started financially preparing for 2024?; (15) How much have you spent on home upgrades in 2023?; (16) How will the resumption of student loan repayments affect your budget?; (17) How much do you currently owe in student loans?; (18) How much do you spend on yourself (not including housing, food, etc.) out of each paycheck?; (19) How much do you spend on online purchases per month?; (20) Where do you shop for groceries most often?; (21) Do you shop around for groceries to get better deals?; (22) What are you currently invested in? (Select all that apply); and (23) What is the current value of your stock investments?. GOBankingRates used PureSpectrum's survey platform to conduct the poll.
Make Your Money Work Better for You
More From GOBankingRates