How To Make $500 a Week With DoorDash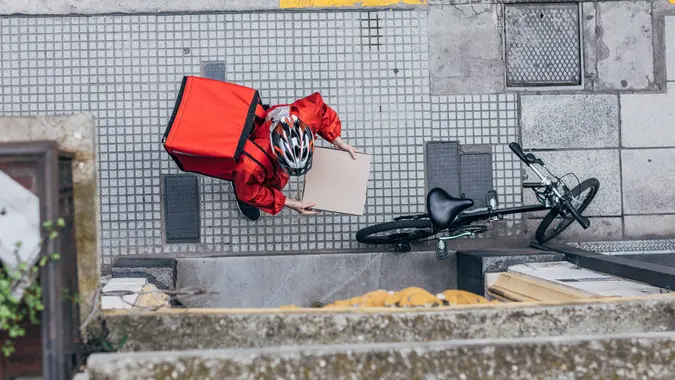 South_agency / Getty Images
There is a lot of money to be made when giving people the gift of not having to get off their couches. The point of any side hustle is earning money while being efficient with your time. When what you make is not only a base pay but also relies on customer tips, you need to strategize your services to best build your bank account.
See: 3 Ways to Recession Proof Your Retirement
4 Tips To Make $500 a Week With DoorDash
DoorDash drivers are essentially independent contractors that work by delivering food or other products from the company to the customer through the DoorDash app. Depending on factors such as the number of deliveries, acceptance rate and completion rate you fulfill, you can easily make money with DoorDash.
While $500 a week might sound like a lofty goal, it breaks down to just $100 a day if you work five days per week — or just over $83 a day if you work six days. Here are the top four tips to make $500 a week driving for DoorDash:
Frequent busy areas during peak hours
Use multiple apps
Treat it like a business
Build a delivery strategy
Make Your Money Work Better for You
1. Frequent Busy Areas During Peak Hours 
In order to reach peak pay, make sure you work during busy times like mealtimes or weekends. Accepting orders during any kind of rush can not only add value to your delivery but also increase the number of delivery requests you receive. Denser and more populated areas shorten both time and distance between orders, so you can get more bang for your buck.
2. Use Multiple Apps
Multi-app is the new multitasking. Though DoorDash offers a solid revenue stream, doubling or even tripling up the delivery apps available in your market will substantially help pad your wallet. Just balance your deliveries carefully, so you don't end up taking on too much and losing out on tips for slow service.
Common examples of apps you can be the delivery driver for simultaneously include DoorDash, Grubhub, Seamless, Favor and Uber Eats.
3. Treat It Like a Business 
Think of dashing like any other small business venture and plan accordingly, as any independent contractor would. When running your small business, for each DoorDash delivery you accept, ask yourself the following questions:
Will this order be profitable?
How long will this order take to complete, and is it worth the time?
Is the amount of money paid for this order worth the distance traveled?
Make Your Money Work Better for You
4. Build a Delivery Strategy
It's easy to just say yes to any order that comes in, as you want to stay busy and make money. When the goal is to make $500 per week with DoorDash, you do have to stay active. However, if you strategize just a bit with what orders you accept — and when — you could maximize your earning potential and reach $500 per week, or more, quite easily.
Here are a few ways in which you can build your delivery strategy.
Delivery Time
Knowing where the order is going and how long it will take you to get there and back is a key factor in maximizing your time, effort and earning potential. Try to only accept orders that keep you in the busy part of the city and delivery area. This not only keeps you from going too far out of your way but also allows you to accept more orders more quickly.
Make Your Money Work Better for You
Order Payment
Each order has to be worth the time you spend on it. Even if an order is large and pays a lot, if it takes too long to complete, it may not be worth it. A smaller order worth less that you can complete quickly could be ideal, as that will allow you to take another order more quickly.
Set your standards for how much profit you should make per order per unit of time and stick with it.
Experience With the Restaurant
If you have dealt with a restaurant previously that is not great at completing orders on time, or even has a high rate of order error, it may be better for you to skip accepting deliveries for that restaurant, as their mistakes tend to affect your tips.
On the other hand, if you've had great experience with a restaurant, pick up all the orders you can with them, as that will be a reliable source of income.
Is DoorDash Worth It?
According to DoorDash, dashers typically make about $25 per hour, including tips. This means if you work 20 hours a week you would earn $500 before tax, which makes it a decent side hustle, especially when you follow the outlined tips and strategies of this article.
As this is just an estimated average, do the research on estimated pay in your delivery area before you decide if this is the right venture for you. Job sites like Indeed and Glassdoor report average earnings for DoorDash drivers at $15-$16 an hour, so you might find that you need to work closer to 30-35 hours a week to net that $500.
FAQ
Is it hard to make $500 a week with DoorDash?

Though what you make as a DoorDash driver depends on what hours you work and how busy your delivery area is, DoorDash reports that drivers typically make $25 per hour. If you work 20 hours a week, you would earn $500 before tax.

How do you make $1,000 a week on DoorDash?

To make $1,000 on DoorDash per week, you would have to work a lot of hours, preferably peak hours, in densely busy areas. You would also have to strategize which orders you take and when, and formulate a system that best utilizes your time, as well as how much you can make each delivery.
If you work 40 hours a week, which is considered full-time, you could earn $1,000 before tax

–

if you make the average $25 per hour that DoorDash reports. That means if you worked some overtime, you could net $1,000 or more.

Can you make $800 a week on DoorDash?

Yes, it is possible to make $800 a week on DoorDash. As the national hourly wage average for dashers is projected to be $25, to earn $800 per week before taxes, you would have to work around 32 hours a week.

How much can you realistically make with DoorDash in a week?

DoorDash reports that average drivers make $25 an hour. This means if you work 40 hours a week, which is considered full-time, you would earn $1,000 before tax. If you're just dashing as a side gig and not as your full time job, you could expect something like $250 a week for 10 hours of work

–

if you're in a busy enough area.
Editorial Note: This content is not provided by any entity covered in this article. Any opinions, analyses, reviews, ratings or recommendations expressed in this article are those of the author alone and have not been reviewed, approved or otherwise endorsed by any entity named in this article.
Make Your Money Work Better for You