How To Make $500 a Week With DoorDash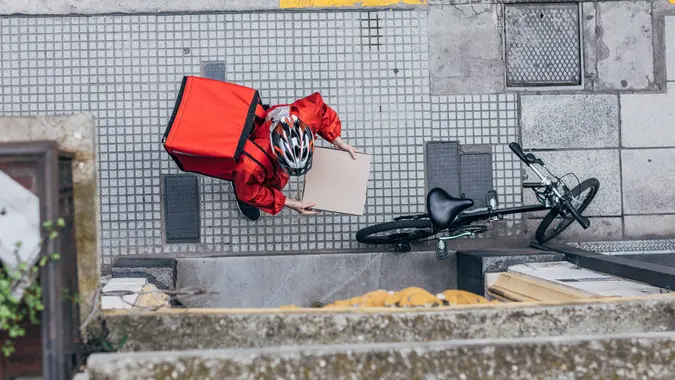 South_agency / Getty Images
The gig economy has transformed how people spend — and earn — money. Plenty of people are happy to pay a little extra to have food, groceries, or convenience store items delivered directly to their homes. That's where you come in if you have a little free time and the desire to work a side hustle.
With the increased popularity of food delivery apps like DoorDash, earning a fairly substantial income in your spare time is a more achievable goal than ever before. If you have a little more drive (or more free time), you could easily make as much as $500 a week while enjoying one of the most flexible ways to earn income.
See: What To Do if You Owe Back Taxes to the IRS
Keep reading for a look at seven key strategies for how to make $500 a week with DoorDash. Whether you're already a dasher aiming to increase your earnings or someone thinking about making deliveries for DoorDash for the first time, the valuable insights below will help you maximize your efforts and your profits. From understanding peak delivery times to learning how to develop strategic delivery practices, we'll explore the various aspects that go into making the most out of driving for DoorDash. 
7 Tips To Make $500 a Week With DoorDash
If you've always wanted to be self-employed, here's your chance. Signing up to claim delivery orders on the DoorDash app doesn't mean you're working for DoorDash — you're working for yourself as an independent contractor. One of the greatest benefits is that how much you work is entirely up to you.
Make Your Money Work Better for You
While aiming for $500 a week might seem like a pretty lofty goal at first, it's within reach when you look at the variables. If you're approaching driving for DoorDash as a part-time job, working 20 hours a week is a good start. That means you would have to earn $25 or more every hour to make $500 in a single week.
Your earnings with DoorDash can vary, and they largely depend on the number of deliveries you complete, along with your rate of acceptance and completion. Here are seven great strategies you can use to increase your odds of making $500 a week with DoorDash.
Frequent busy areas during peak hours
Use multiple apps
Accept multiple orders
Provide excellent service
Treat it like a business
Keep track of expenses
Build a delivery strategy
1. Frequent Busy Areas During Peak Hours 
In order to reach peak pay, make sure you work during busy times like mealtimes or weekends. Accepting orders during any kind of rush can not only add value to your delivery but also increase the number of delivery requests you receive. Denser and more populated areas shorten both the time and distance between orders, so you can get more bang for your buck.
2. Use Multiple Apps
Multi-app is the new multitasking. Though DoorDash offers a solid revenue stream, doubling or even tripling up the delivery apps available in your market will substantially help pad your wallet. Just balance your deliveries carefully, so you don't end up taking on too much and losing out on tips for slow service.
Make Your Money Work Better for You
Common examples of apps you can be the delivery driver for simultaneously include DoorDash, Grubhub, Seamless, Favor and Uber Eats.
3. Accept Multiple Orders
Batched orders, as they're called on the DoorDash app, are multiple delivery orders picked up from the same restaurant or restaurants close to each other and delivered to customers along the same route. DoorDash's system is set up to recognize the opportunity for batched orders and will offer them to drivers in a bundled form on the app's interface. 
These deliveries can be a great method of maximizing your earning potential by getting paid for two or more deliveries while investing the same amount of time, effort and gas as you would for a single order.
Carefully examine the details of batched orders before claiming them to make sure they're doable within a reasonable amount of time. An ideal situation would be one where orders are going from one restaurant to addresses close to each other on the same street. Handling multiple deliveries can give you an incredible head start toward reaching your weekly earning goals by enabling you to make the most out of each trip.
4. Provide Excellent Service
It may sound like a no-brainer, but you might be surprised how often this aspect of gig economy driving is overlooked. Providing seamless, trouble-free delivery to your customers not only ensures good customer ratings but can directly impact how much you're making. Though DoorDash drivers earn a base pay rate for each order, most of their money is made in tips.
Make Your Money Work Better for You
A friendly disposition, timely delivery and meticulous attention to order details are all elements that can improve your customer's experience dramatically. Going the extra mile by ensuring a customer's order is correct and complete and that there are napkins, utensils, sauces and anything else that might make a delivery memorable can inspire larger tips.
5. Treat It Like a Business 
Think of dashing like any other small business venture and plan accordingly, as any independent contractor would. When running your small business, for each DoorDash delivery you accept, ask yourself the following questions:
Will this order be profitable?
How long will this order take to complete, and is it worth the time?
Is the amount of money paid for this order worth the distance traveled?
6. Build a Delivery Strategy
It's easy to just say yes to any order that comes in, as you want to stay busy and make money. When the goal is to make $500 per week with DoorDash, you do have to stay active. However, if you strategize just a bit with what orders you accept — and when — you could maximize your earning potential and reach $500 per week, or more, quite easily.
Here are a few ways in which you can build your delivery strategy.
Delivery Time
Knowing where the order is going and how long it will take you to get there and back is a key factor in maximizing your time, effort and earning potential. Try to only accept orders that keep you in the busy part of the city and delivery area. This not only keeps you from going too far out of your way but also allows you to accept more orders more quickly.
Make Your Money Work Better for You
Order Payment
Each order has to be worth the time you spend on it. Even if an order is large and pays a lot, if it takes too long to complete, it may not be worth it. A smaller order worth less that you can complete quickly could be ideal, as that will allow you to take another order more quickly.
Set your standards for how much profit you should make per order per unit of time and stick with it.
Experience With the Restaurant
If you have dealt with a restaurant previously that is not great at completing orders on time, or even has a high rate of order error, it may be better for you to skip accepting deliveries for that restaurant, as their mistakes tend to affect your tips.
On the other hand, if you've had a great experience with a restaurant, pick up all the orders you can with them, as that will be a reliable source of income.
7. Keep Track of Expenses
Being a DoorDash driver means you're an independent contractor, which brings significant benefits in terms of flexibility in setting your own hours. It also brings its share of responsibilities, like proactively managing your expenses. Keeping track of costs like vehicle maintenance, fuel and anything else that goes into your time driving for DoorDash is essential.
These costs aren't reimbursed by DoorDash and come out of your pocket. By diligently documenting your operating expenses, you're getting a clearer picture of how much you're actually earning. Also, be sure to save all of your receipts. You might qualify for tax deductions that help you get back some of the money you spent on business expenses. 
Make Your Money Work Better for You
Is Driving For DoorDash Worth It?
Whether you find driving for DoorDash a good use of your time largely depends on various factors, including your needs, financial goals, the amount of time you have available to work and your preferences. It can also depend on whether you live in an area with plenty of restaurants offering delivery via DoorDash, a good number of DoorDash customers and (as with anything) a little luck.
DoorDash drivers have the potential to earn $25 per hour or more, especially during peak hours and in busy areas with a large number of available orders. The best part? It doesn't require any special skills or experience; all you need is a car, a smartphone, a valid driver's license, a clean driving record and car insurance.
However, there are some downsides, and driving for DoorDash comes with its own set of advantages and disadvantages. The freedom of being your own boss means you get to manage your schedule and choose which days and times you'll work and for how many hours. You're also free to only accept orders that are convenient for you.
However, DoorDash drivers aren't eligible for employee benefits like health insurance and paid leave. Your earnings can be unpredictable and may vary considerably based on different factors, such as the time of day and day of the week you choose to work, your location and even the changing weather conditions.
And don't forget your expenses. The costs of gas and vehicle maintenance are your responsibility, and the more you drive, the more wear and tear you place on your car. Don't forget to factor in the cost of your auto insurance. DoorDash requires you to have insurance, and frequent driving also comes with an increased risk of accidents.
Make Your Money Work Better for You
If you're trying to determine whether driving for DoorDash is worth it to you, consider the critical factors. Your financial goals, the time you have available to work, your comfort with frequent driving and your risk tolerance should all be taken into account. If you're not quite sure, one of the best things about this side gig is that you have the option to test the waters and start at your own pace. Try driving for DoorDash for a couple of weeks and see how well it suits you.
Calculations: How Much Can You Realistically Make With DoorDash in a Week?
Your potential earnings with DoorDash can vary quite a bit depending on your working hours, your location and the level of demand during your shifts. DoorDash drivers can earn $25 or more per hour, most of it in tips. Doing everything you can to increase your odds of making customers happy will increase your chances of making more.
If you commit to a full-time schedule of 40 hours per week, you could realistically anticipate earnings between $600 and $1,000 weekly. Part-timers working about 20 hours a week may expect something more in the ballpark of $300 to $500. 
It's worth noting that your income can fluctuate depending on the specific day and time. For instance, weekends and peak meal hours, like lunch and dinner, typically see higher order volumes, which translates into more opportunities to earn. 
Caitlyn Moorhead contributed to the reporting for this article.