14 Ideas on How To Make Money on Discord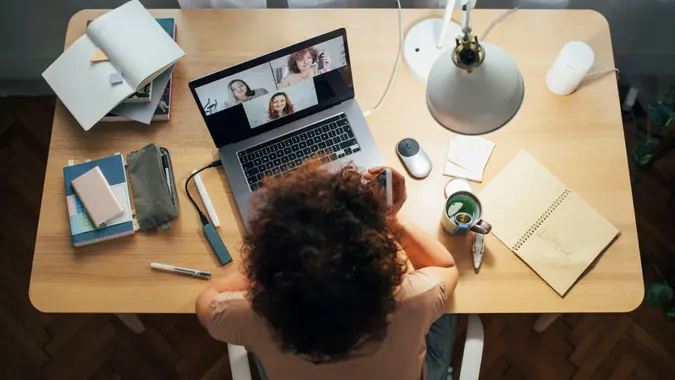 FreshSplash / Getty Images
Discord is one of the more popular chat apps available today, with more than 140 million active users across 6.7 million active servers in 2021. This shows a 40% increase from the prior year.
Read: With a Recession Looming, Make These 3 Retirement Moves To Stay on Track
What Is Discord?
Released in 2015, Discord was originally a text and audio chat service designed primarily for gamers. Players could join a server to talk about and play popular video games. When the service added video calling and screen sharing in 2017 and added integrations with Twitch, Spotify, and Xbox Live, it became a place for gamers to gather virtually and live stream their games.
In March 2020, just as people were looking for ways to connect virtually and strengthen the bonds within online communities, the company changed its tagline from "Chat for Gamers" to "Chat for Communities and Friends."
That year, BusinessofApps.com reports, Discord made $130 million, a revenue increase of 188%. But the company founders aren't the only ones who can rake in the bucks through the platform. You can make real money on Discord if you know how and are willing to put in the time.
Make Your Money Work Better for You
Here are the ideas you can try:
1. Sell Physical Products through an Online Store
The Discord platform makes it easy to promote and sell many things, from products or services to art. If you are an artist, you can put your designs on t-shirts, tote bags, coffee mugs and more through a service like RedBubble, TeePublic or Zazzle. Then you can promote your products and sell them on Discord.
Alternatively, you can set up an e-commerce shop through Shopify and sell your items there, which can include anything from clothing to jewelry, toys and more.
2. Sell Digital Art
If you are a digital creator, you can sell your digital art through Discord. Selling digital artwork means there's nothing to ship and you don't have to deal with a third-party website like Zazzle to put your art on merchandise.
You can also sell your artwork in the form of NFTs. To build your brand, you may want to establish your own Discord server exclusively for your NFT artwork.
Make Your Money Work Better for You
3. Sell Courses
Are you an expert in a certain area, such as personal productivity, buying and selling stocks or NFTs, health and fitness, writing, or even making money on Discord? If so, you can sell a course and teach others what you know.
4. Offer Consultations
If you have an area of expertise, you can offer one-on-one consultations or coaching for people who want to learn more. Many experts start by selling courses and then upsell students to private coaching or consulting services.
5. Sell Video Games or Apps
In December 2021, Discord closed the Discord Store, which allowed developers to sell games and apps on the platform. But you can still use Discord to market your games or apps and sell them on a third-party website, such as the App Store or the Google Play Store.
If you are a qualified user, you can also sell premium subscriptions to apps that include games, exclusive merchandise launches, and more. Best of all, creators get a 90% cut of the income.
Make Your Money Work Better for You
6. Sell Server Subscriptions
Discord also recently announced the ability to sell server subscriptions, where creators can offer subscribers premium content, including emojis, access to exclusive Voice or Text channels, or exclusive content. Prices for a subscription can range from $2.99 up to almost $200.
If your server is valuable enough, you might be able to charge people just to join. But most creators will want to provide a free server and then offer bonuses for subscribers at different tiers.
7. Sell Premium Perks
You don't have to sell subscriptions, although subscriptions are an easy way to create recurring revenue through Discord. You might choose to offer premium perks on a one-time basis for an added charge. These perks can include exclusive content, digital art and more.
8. Set up a Nitro Server
Nitro servers offer Discord users more capabilities, including the ability to upload larger files, stream in high definition, share longer messages and create custom profiles. You can charge more money for your server subscription with Nitro's added features.
9. Become an Affiliate
If you have an active Discord server, you can become an affiliate for the products or services you talk about. For instance, if you run a Discord server focused on personal finance, you might share links for people to sign up for money-saving apps, apply for a credit card, or open a bank account.
You can also become an affiliate for e-commerce websites, including Amazon, and earn money when people purchase products you recommend or review.
10. Solicit Sponsorships
If you have a high-visibility Discord server and frequently stream video, you might be able to get paid from some of your favorite brands. Contact brands that fit with your server topic and see if they will pay you for promoting their merchandise. Ideally, you want to choose brands you know and love. Be clear about what you are offering in exchange for promoting their brand. In addition to promoting the company on your Discord server, you can also make posts and videos on other social media channels.
11. Accept Donations
Many successful Discord influencers accept donations through Patreon for fans who want to thank them for their content. If you have a large enough audience, this is one of the easiest ways to make money on Discord without a lot of effort.
12. Use a Tip Bot
You can also set up your Discord account to accept tips through chat by installing a bot such as Tip.cc. This bot allows you to get paid in different types of cryptocurrency, just for running a server people love. Tipper Bot is another popular crypto tipping app, which allows users to accept tips in the form of Bitcoin Cash.
CryptoNews.com reported that Tippr users have received more than $100,000 in BCH, to date. If you hold onto your crypto tips, the coins might even appreciate in value, making soliciting crypto tips a very profitable venture.
13. Sell Your Discord Server
If you've built up a high-traffic server on a popular topic, you might want to sell your server. Of course, that means you'd lose any passive or recurring revenue the server is generating for you, but you'd receive a lump sum of cash. You can always create another server and build that one up to become equally profitable.
14. Become a Discord Moderator
If you find yourself spending a lot of time on your favorite Discord servers, you might want to consider becoming a Discord moderator. A Discord mod will monitor posts on the server, answer member questions, and keep the server host or admins apprised if there is a problem or a member is going against community standards.
Most Discord mods do not get paid; they do it as a labor of love for the server and maybe for some extra perks from the host and admin.
However, some larger brands or highly active and profitable servers do hire mods to help manage their servers. NFT servers often make a lot of money. Mods on these servers may earn between $1,000 and $3,000 per month, according to ebutemetaverse.com.
15. Work for Discord
Just like any tech company, Discord needs people to run its servers, update programming, create marketing campaigns and more. Currently, the company is running ads for software engineers, marketing experts, and finance experts.
Zippia reports that the average salary for Discord employees is more than $50 an hour, or $104,283 annually. Keep in mind, the lowest paying roles at Discord pay only $63,000 annually, while top engineers make more than $171,000 annually. Many of the roles are listee as remote positions.
Get Started Making Money on Discord Now
Is Discord your social media platform of choice and where you love to connect with people virtually? It may be time to start your own server and position yourself to make money off this growing platform.
Making Money on Discord FAQ
Here are the answers to some of the most frequently asked questions about the ways to make money on Discord.
How do you make real money on Discord?

There is no limit to the money you can make through subscriptions, sponsorships, tips, donations and product sales on Discord. If you have a server with 1,000 members and charge a fee of $5 per month for premium content, you'd make $5,000 per month.

Do Discord mods get paid?

Most Discord mods volunteer to help out their favorite servers with no payment expected. Some of the larger, more profitable servers in popular niches pay their Mods a salary.
Our in-house research team and on-site financial experts work together to create content that's accurate, impartial, and up to date. We fact-check every single statistic, quote and fact using trusted primary resources to make sure the information we provide is correct. You can learn more about GOBankingRates' processes and standards in our editorial policy.
Make Your Money Work Better for You