I Make 6 Figures a Year Reselling Sneakers Online: Here's How I Do It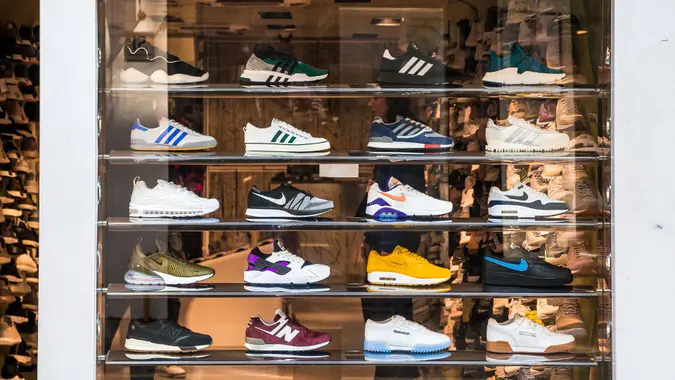 coldsnowstorm / Getty Images
Finance expert Jaspreet Singh, host of the Minority Mindset YouTube channel, often recommends a side hustle to earn extra money that you can use to invest. He advises against wearing your wealth or buying expensive bags or sneakers to showcase your salary until you have investments, rental properties, and a retirement account.
But that's not to say you shouldn't purchase fashion items — if you can turn around and sell them for a hefty profit.
JV Ortiz recently revealed his secret to making six figures selling sneakers on SideHustleNation.com. After two years in business, he quit his full-time job to rake in $10,000 per month buying and selling used Nikes, according to the website.
After losing money on the stock market (what he deemed "actually gambling"), he tried reselling merchandise. There was no need to build a brand of his own, as he could buy popular merchandise brands and resell them at a profit.
He started by scouring clearance racks and thrift shops and, ultimately, could sell t-shirts he purchased for $1 or $2 for $10 each. He said he sold about five items per week at a $10 profit or so.
"It's good that I was making some money on the side pretty consistently, but I became hungry for more and started to brainstorm ideas," he wrote.
He realized he needed to ramp it up because he could sell items costing 10X as much or more with the same amount of work. But it was challenging to resell luxury items.
Make Your Money Work Better for You
In 2015, he discovered a pair of Nike Air Jordan 2 Just Don sneakers. Many similar Nikes were selling for $1,000 when they retailed for roughly $350.
He continued reselling until he accrued the cash to buy a pair of $900 shoes and sold them for $1,200 after a few days. Then, he entered the realm of Adidas Yeezy's, and started purchasing the shoes at retail (roughly $220 to $585, according to SneakerNews.com) and reselling them for a $500 profit.
While Ortiz is making good money, some resellers have more than $2 million in gross revenue per year, according to Complex.com.
Nike Air Jordans and Yeezy's remain some of the most profitable brands, but it's important to follow the industry if you want to build a successful business.
Ortiz recommended following Hypebeast or High Snobiety for sneaker news, attending conventions, and following social media accounts focusing on sneakers.
When you are ready to buy a pair of sneakers to sell, check aftermarket prices on eBay and other resale sites.
Where to Sell Sneakers
Ortiz said he sells most frequently on eBay, but sites like GOAT and StockX are also options. He also enjoys personalized selling in Facebook groups, on Craiglist, or at conventions.
Where to Buy Sneakers
Regarding finding merchandise to resell, Ortiz recommended using a sneakerbot, which will automatically purchase hot sneakers for you. He wrote that you can also try your luck on the brand's website, notably Nike and Adidas, or try retailers like FootLockers to grab new kicks on the day they release.
Make Your Money Work Better for You
"By carefully and expertly hyping each new product launch, the manufacturers cater to loyal fans — and strategically never quite make enough to satisfy the demand fully. It's that constant shortfall on the supply side that fuels the resale market," according to SideHustleNation.com.
With that in mind, it may not be easy to secure the latest releases, but by keeping your finger on the pulse of sneaker news, it may be possible.
Just be sure to understand how to recognize counterfeit sneakers, or "reps" (replicas), so you don't pay a high price for a rep you can't resell.
Ortiz wrote that he avoids the hassle of inventory by choosing items that he believes will sell quickly. It allows him to earn cash to buy more inventory soon without worrying about storing sneakers safely.
Bottom Line
As with any six-figure business, flipping sneakers takes time, knowledge, and persistence. You'll also need a few hundred to invest to get started. But if you have a passion for fashion or just love your Nikes, it could be a fun business to run as a side gig or a full-time income.
More From GOBankingRates