Most Americans Don't Actually Need Their Side Gigs, According To Survey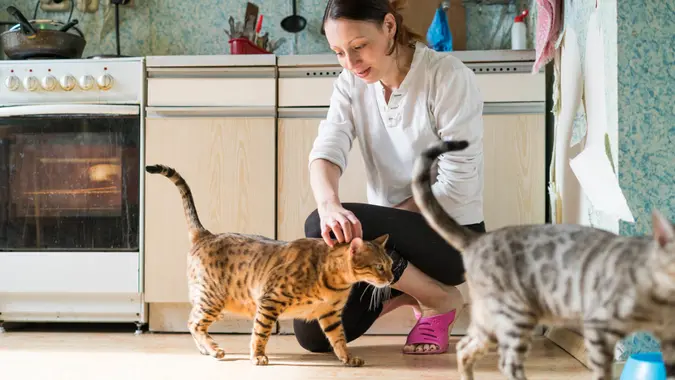 Krakozawr / iStock.com
As the gig economy continues to expand, more and more Americans are taking part — whether through side hustles or starting a new business. But while having a side job can help provide an extra source of income, it turns out that many Americans don't really need them.
A recent GOBankingRates.com survey found that 40% of Americans have taken on a side gig over the past year. Twenty-six percent did it because they wanted extra spending money, while only 14% did it because they needed money to pay bills.
Here's a closer look at side gigs, why they're so popular (even among people who don't need them) and potential drawbacks to taking one.
What Is a Side Gig?
If you're not familiar, a side gig, also called a side hustle, is a job you take on in addition to your primary job. Side gigs are usually done outside of your regular working hours. That means side gig work is often done at night or on the weekends.  
Ideas for a side gig could include driving for a rideshare company, making and selling crafts, babysitting or pet sitting, mowing lawns, starting a podcast or selling your art or photography. Many people choose their side gig because it's something they're passionate about, and there's a way to make money from that passion. 
"Many professionals, regardless of their financial standing, are inclined toward maintaining side hustles," said Edouard Thoumyre, managing partner at ACCUR Recruiting Services. "This trend is not merely a reflection of financial necessity but is indicative of an individual's ambition, resourcefulness and willingness to play the long game."
Make Your Money Work Better for You
Why People Decide To Start a Side Gig
Some people get a side gig because they want additional spending money or need to supplement their regular income to pay bills. Others take on a second job for different reasons. 
They may use the money to save for a specific financial goal or purchase. Others might want to create passive income streams or more financial stability by diversifying their income. 
"There are people who just like the hustle," said Kathy Kristof, founder and editor of SideHusl.com. "For instance, animal lovers who don't have the space or the ability to get their own pets might side hustle as a dog/cat sitter. I, myself, have rented out my house as a location for movie shoots. Why? It was fun."
Money is not the only motivator to start a side gig either. There are plenty of nonfinancial reasons as well. Here are just a few.
Develop a New Skill
Sometimes, it's challenging to get a new job if you don't already have experience with specific skills. If you're having trouble landing a specific job, you could start a side gig that uses those skills to gain the necessary experience. 
You might also want to develop a new skill to earn a promotion at your primary job. Whatever the reason, side gigs can be a great way to develop new skills on your terms.
"The motivation to engage in a side job often transcends monetary gains; it is anchored in a profound desire for personal and professional growth, skill enhancement and the exploration of entrepreneurial landscapes," said Thoumyre.
Make Your Money Work Better for You
Socializing
Some side gigs are more social than others. Things like bartending, babysitting, waitressing, driving for a rideshare or tutoring can be great social outlets. If you're more of an extrovert but don't interact with many people at your primary job, you may crave more social time. 
Creative Outlet
Similar to socializing, a side gig can serve as a creative outlet that may be otherwise missing in your life. Making and selling crafts, selling your photography or starting a podcast can all be side gigs that let you display your creativity.
"Artists and photographers who paint/create/snap for fun don't mind that a dozen side hustle platforms will help them sell that art as prints, T-shirts and iPhone cases," said Kristoff.
Test a Business Idea
If you have a business idea, starting it as a side gig could be more accessible and less risky than quitting your primary job and jumping right in. You could use this to test the idea and see if it's a scalable business before committing to it full time.
Reasons Not To Start a Side Gig
Even though side gigs have a lot of advantages, they may not be a good idea for everyone. Here are a few reasons why you may want to avoid side gigs.
The Side Gig Has Some Red Flags
Not all side gigs are going to be a great fit. It's probably a good idea to avoid getting involved in multi-level marketing (MLM) schemes. MLM companies try to convince you that they're a way to make easy money, but they can trap you in a cycle of financial dependence. Most MLM companies only provide good returns if you have a large team of downstream salespeople, which takes time and effort to build and maintain. 
Make Your Money Work Better for You
Side gigs that require expensive licensing or certifications might not be worth the hassle. If you have to spend several hundreds or thousands of dollars to start the side gig, you may find it difficult to recoup that investment. 
You Don't Have Much Spare Time
If you don't have much spare time already, adding a side gig may be too difficult to manage. Some side gigs can become passive, but they require a lot of work to get started. 
If you have minimal spare time, you could look for opportunities where you can choose how many hours you dedicate each week. Things like ride-sharing or dog walking would allow you to pick how much work you do. If you have a busy week, you choose not to take on opportunities. However, if you have extra time in other weeks, you can dedicate more to the side gig.
Your Side Gig Would Negatively Impact Your Main Job
If starting a side gig would negatively impact your primary job, it probably won't be worth it. This is especially true if your job is your family's primary source of income. 
The Bottom Line
Whether you need your side gig for the money or not, side gigs can fulfill many different needs or desires in your life. Side gigs can be whatever you want them to be. That is one of the reasons why so many Americans choose to pursue them.
More From GOBankingRates
Make Your Money Work Better for You