7 Passive Income Ideas That Don't Involve Doing More Work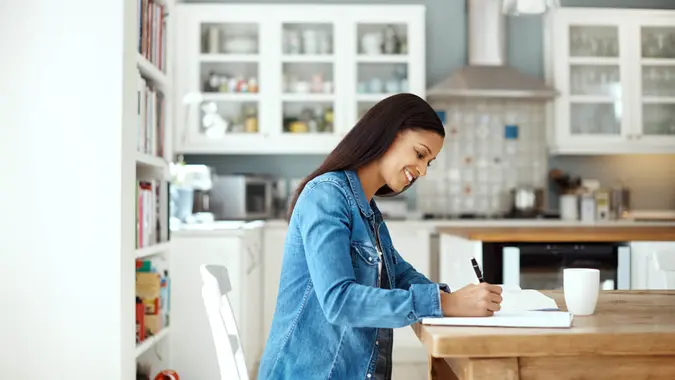 shapecharge / iStock.com
You want more money, but you don't want to work for it. If you think this is too good to be true, prepare to be enlightened.
No doubt, you've seen plenty of passive income strategies. However, many of these require a good amount of time and effort to get started.
Thankfully, there's also several strategies that require minimal effort on your part. Here's a look at seven ideas to get you started.
Use Cash Back Apps
One of the easiest possible passive income ideas, cash back apps like Ibotta and Rakuten allow you to earn money just for shopping at your favorite stores. This might sound too easy to be true, but it's not. Try following these steps:
Simply create an account on one or both of these sites.
Navigate through the platform to get to the store you plan to shop online at. You can also shop in-store and earn cash back with both sites.
You'll receive a certain amount of your purchase back.
Here's an example: The Gap typically offers 2% cash back on purchases with Rakuten and Ibotta currently offers 0.5% back on Ticketmaster purchases.
Even better, each site pays you for referrals. You'll get $30 per referral at Rakuten and $10 per referral at Ibotta.
Rakuten payments are made quarterly by check or PayPal. Ibotta allows you to withdraw your earnings via a bank transfer, PayPal or gift card when your account balance reaches a minimum of $20.
Invest in an REIT
Maybe you're interested in a real estate investment, but don't have the funds or desire to own a rental property. In this case, you might consider a real estate investment trust, which
Make Your Money Work Better for You
purchases and develops properties, with investors earning part of the income generated.
Some REITs are publicly traded and others are not. To invest in either type of REIT, you'll need to find a broker with this type of offering.
Additionally, you can opt to purchase shares in an REIT mutual fund or REIT exchange-traded fund.
Buy a Rental Property
If you can swing it, purchasing a rental property can provide you with extra cash for years to come. To ensure it doesn't cause you more work, you may want to hire a management company to oversee the property.
When searching for a property to buy, it's a good idea to follow the 1% rule — i.e., a home that can bring in 1% of the purchase price in rent each month. For example, if the property cost $200,000, you would want to collect $2,000 per month in rent.
In some markets, you can even follow a 2% rule — i.e., $4,000 per month in rent for a $200,000 property — so choose the price point that's most appropriate for your local area.
Rent Out a Parking Space
Perhaps you're interested in being somewhat of a landlord, but without much liability. Renting out a parking space is a great way to get started.
Make Your Money Work Better for You
Whether your place in the city has a coveted parking spot you don't need or your suburban home has a supersized driveway you're not fully utilizing, this is one of the easiest passive income ideas.
Open a High-Yield Savings Account or CD
The only thing better than having money in the bank is making those funds work for you. If you currently have your money in a standard savings account, you're missing an opportunity to maximize interest earnings.
As of Aug. 21, 2023, the national average savings account rate had an annual percentage yield of 0.43%, according to the FDIC — rising to 1.76% for a 12-month CD. In comparison, the American Express High Yield Savings Account from American Express National Bank, Member FDIC, had a APY, as of Sept. 4, 2023, along with CDs that can earn up to APY.
Shop around to find banks with the best high yield products for your needs.
Sell Stock Photography
Put your amateur photography skills to work by selling photos you've already taken. Sites like iStock, SmugMug and Shutterstock allow you to post your photos online for sale.
Make Your Money Work Better for You
Simply upload them to the site once, then collect cash every time a photo is purchased.
Rent Out Your Car
If your car spends a lot of time sitting in its parking space, put it to work. Peer-to-peer rental sites like Getaround and Turo allow you to lend your vehicle to others when you don't need it.
Both sites offer insurance through the platform, so you can feel confident your car is fully protected. The average annual income of one car on Turo is $10,516 per year — i.e., $876.33 per month — according to the company, which is a lot of money for doing nothing.
How Can You Make $1,000 a Month Passively?
There's a lot of things you can do with an extra $1,000 per month. For example, you might be able to pay rent, make a car payment, tackle debt or save for vacation.
As for the passive income ideas listed above, the amount you invest will likely determine how much you're able to earn each month. For example, you might earn around $875 per month renting your car out and earn another $125 per month on interest with a high-yield savings account.
Make Your Money Work Better for You
How To Earn $100 in Passive Income
Sometimes a little extra cash can go a long way. Earning an extra $100 per month can pay for a few meals out, a lot of coffee at your local café or simply put a dent in your utility bills.
Of the passive income ideas listed above, renting a parking space might be the most reliable option to earn $100 per month — or more, depending on where you live. As long as you're able to rent the space out steadily, you can be sure you'll receive the same amount each month.
As you can see, there are many different ways to earn passive income without having to do more work. Some options do require a bit of upfront effort, but after your venture is up and running, you can simply sit back and watch the money roll in.
Editorial Note: This content is not provided by any entity covered in this article. Any opinions, analyses, reviews, ratings or recommendations expressed in this article are those of the author alone and have not been reviewed, approved or otherwise endorsed by any entity named in this article.
Make Your Money Work Better for You
All information about American Express High Yield Savings has been collected independently by GOBankingRates. American Express High Yield Savings is not available through GOBankingRates.