The Only Side Hustles That Make You Over 6 Figures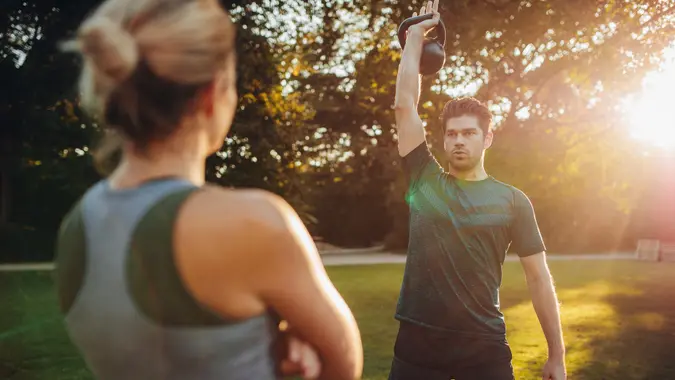 Jacob Ammentorp Lund / Getty Images/iStockphoto
In the era of the gig economy, the allure of side hustles is stronger than ever. But not all side gigs are created equal–some have the potential to catapult your earnings into the six-figure stratosphere.
For those ready to take on the challenge, here are the side hustles that can potentially yield over $100,000 a year.
High-End Freelance Consulting
Leveraging your professional expertise as a consultant can rake in high hourly rates. Specialized knowledge in fields such as cybersecurity, finance, or corporate strategy can command upwards of $100 to $300 an hour.
Real Estate Investment
With a strategic approach to buying, renting, or flipping properties, real estate can become a lucrative side hustle. Successful real estate investors often earn six figures after a few successful deals.
E-Commerce Entrepreneurship
Operating an e-commerce store on platforms like Shopify or Amazon FBA can turn into a full-blown business. Top sellers on these platforms can generate substantial profits, particularly if they have a niche product or a strong brand.
App Development
If you have a knack for coding, developing an app can be a golden ticket. Whether it's a unique tool or an addictive game, successful apps can generate immense revenue through sales, ads, or in-app purchases.
High-End Blogging or Vlogging
While the blogging world is crowded, those who carve out a niche and amass a following can make significant income through affiliate marketing, sponsorships, and advertising.
Professional Speaking
If you have the gift of the gab and expertise in a particular area, professional speaking can be very profitable. Speakers can earn between $5,000 to $20,000 per engagement, and sought-after voices can book well over a dozen gigs a year.
Make Your Money Work Better for You
Niche Online Courses
Developing and selling online courses on platforms like Udemy or Teachable can generate substantial income, especially for courses offering specialized skills or professional development.
Content Creation and Monetization
Talented content creators on platforms like YouTube or TikTok who hit it big with their audience can amass substantial earnings through ad revenue, partnerships, and merchandise sales.
Stock Photography
Professional photographers can earn passive income by selling stock photos on platforms like Shutterstock or Getty Images. High-quality, in-demand images can continue to sell for years.
Copywriting
Skilled writers can find high-paying gigs crafting sales copy for websites, email campaigns, and marketing materials. Successful freelance copywriters can earn six figures with a strong client base.
Software Sales
For those with a background in sales, selling high-ticket software or tech solutions on a commission basis can be highly profitable. It requires a strong sales track record and networking skills.
Dropshipping
Running a dropshipping business can be an excellent way to make money without holding inventory. Profits come from the difference between the wholesale and retail price.
Fitness Coaching
Certified fitness coaches with a significant online following can earn well into six figures through online coaching programs, personal training, and brand endorsements.
Tips for Success:
Build Expertise: Specialize in a high-demand niche where you can offer unique value.
Scale Your Time: Focus on side hustles that allow you to scale your time effectively, such as digital products.
Network: Use your connections to find high-paying opportunities.
Marketing: Master the art of self-promotion to stand out in a saturated market.
Continued Education: Keep learning and staying on top of trends to maintain a competitive edge.
Make Your Money Work Better for You
Earning six figures from a side hustle won't happen overnight–it takes dedication, expertise, and sometimes an initial investment. But for those willing to put in the work, these side hustles offer a potential path to significant financial reward.
Editor's note: This article was produced via automated technology and then fine-tuned and verified for accuracy by a member of GOBankingRates' editorial team.
More From GOBankingRates