7 Best Things To Sell To Make Money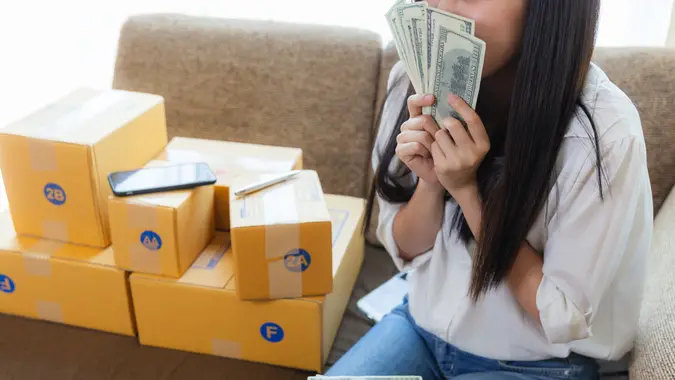 lucky-sky / Getty Images/iStockphoto
There are times when you need a side hustle to make some extra cash. Working from home would be ideal — especially if you already have a day job or have kids to raise. One of the best ways to make money from home is selling items. You can sell things — on your schedule — to bring in the extra funds you're hoping for. This guide gives you ideas of what things to sell to make money.
What Can I Sell That's Profitable?
The following ideas can inspire you to start your own business selling things. They don't require a big outlay of money but could be profitable.
When deciding on what things to sell to make money, it's important to do your research and make a commitment to make your business a success. A profitable business takes time and effort to make it work. Knowing who your competition is, what the best pricing could be and where to market your products are all essential.
Make Your Money Work Better for You
Depending on the items you're looking to sell, sites such as OfferUp, eBay, Craigslist, Facebook Marketplace, Swappa and Poshmark are good options. In most cases, all you need is to take some clear photos of the items you're looking to sell and list them.
1. Clothes
Selling clothes — old ones you don't wear anymore or thrift store finds — can be a good way to make money. Designer goods or infant/child fashions could be the most profitable, since they tend to be in high demand. You could search for additional clothing items to sell at thrift stores or discount retailers. Look for items on clearance that you could make a profit from if you resell them.
As far as where you could resell clothing, you could create your own website. Or you could list items, especially from better-known brands, on sites such as Poshmark or eBay.
2. Crafts
If you have a particular hobby, you could create your own business selling your handmade goods. There's a market for handmade things. Taking the time to research what kinds of items are the most popular on websites such as Amazon Handmade and Etsy could help you.
Etsy is a well-known source for millions of sellers who have unique items to offer. All you need to do is open an account and have products ready to go. The investment is low — items could be listed for up to four months at 20 cents per item. If the items sell, a commission of 6.5% for the transaction fee and 3% plus $0.25 for a payment processing fee will be due.
Make Your Money Work Better for You
3. Services
Depending on your know-how, you could offer your expertise as a product for sale. Some ways you could make money include:
Coaching
You could work as a life coach or advise others on a skill that you regularly use. Some ideas include reviewing or writing resumes, helping others set up a website and more.
Teaching a Language
There are websites such as VIPKid that connect you with international students who are interested in learning English. Classes are typically held online and typically involve video chatting or Zoom to connect with your language student.
Homework Helper or Tutor
Similar to teaching English or other languages, you could tutor students or help them complete their homework. Students of all ages are in search of help — all you need is to put your name out there as a tutoring candidate. You can list your services on websites such as Wyzant or TutorMe to find students.
Virtual Assistant
There are many busy individuals who need a virtual assistant to respond to emails, keep their schedules updated or keep their social media updated by posting on their behalf. Depending on the client's needs, you may have the flexibility to work on your own when it's convenient.
Make Your Money Work Better for You
4. Furniture
If you enjoy refurbishing furniture, you could create a home business selling it. You could pick up pieces at garage sales and thrift stores and paint them or update them with a fresh and modern look.
Depending on the size and weight of the furniture piece, you may prefer to sell locally and have interested buyers pick up the item. Facebook Marketplace is a good place to list your finds. 
5. Electronics
Electronics are often sought after by individuals in need of a cheaper phone, tablet or laptop. If you know a little about electronics, you may even be able to repair a screen or computer to resell it. Websites such as Decluttr or Gizmogo are a couple of options.
Or, depending on how much time and effort you're interested in investing, you could create your own website to showcase the used electronics you have available for sale.
6. Dishes
If friends and family love your baked goods, for example, you may be able to sell your homemade recipes. There are several ways to turn your cooking and baking skills into a profitable hustle. You could sell items at the local farmers' market, set up an Instagram page with photos of the items you make and can take orders for, or even cater small parties or events.
When considering a catering or home-cooking business, look into the local laws around selling homemade dishes. Many municipalities make it challenging, requiring home cooks to have licenses or certifications and safety clearances from the Health Department.
7. Clearance Items
Some individuals enjoy visiting their favorite local retailers in search of good deals. If you believe you have a great eye for finding bargains, you could become an Amazon Reseller. If you have less than 40 items per month to list, you could sell them for free. If you plan on selling more items, you'll need to pay $39.99 per month, plus transaction fees.
To sell items as an Amazon Reseller, scan the item from the mobile app and upload it to your Amazon account. If the item sells, you can ship it to an Amazon fulfillment center so Amazon can process and ship the order to the customer.
Takeaway
There are plenty of things to sell to make money. It all depends on your interests or skills and the level of commitment you're willing to make. This guide gives you ideas on how you can make money, although it's just a start. Be sure to do your research for the best chances of success.
Make Your Money Work Better for You