6 Ways You Didn't Know AI Can Help With Your Side Gig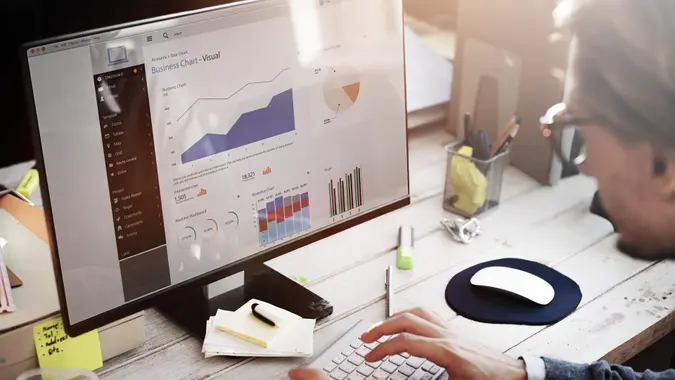 ©Shutterstock.com
As AI is gaining more popularity in the world of work, more people are concerned over the possibility of losing their jobs. The truth is that you can use AI to aid with side gigs. You can use AI to your advantage and grow your income, especially if you're gunning for side gigs that pay well. 
Shanal Aggarwal, chief commercial officer (CCO) at TechAhead, said the preferences you have for your side gig, the talents you have and the work you have done in the past can be analyzed by AI algorithms, which can then make personalized recommendations on possible clients, projects or opportunities that are in line with your knowledge and interests. 
Not only can this help you identify gigs that are a better match for your skills, it's also a great pointer to gigs that make you richer than a full-time job.
Implementing AI into your work process helps you to increase productivity,  provide more value to clients and make extra money. Remember that continuous learning and staying competitive are crucial for leveraging AI effectively and making money from it.
Here are some specific ways to utilize AI along with a side job.
Data Analytics
As a way to earn extra money, you can sell data-analysis services to businesses that need data-driven insight. You can use AI bots to analyze large sets of data, patterns and trends. Then use the insights to develop profitable business strategies.
Make Your Money Work Better for You
Zain Jafri, founder of TDL Analytics, said, "AI offers a lot of potential for doing your work more efficiently and effectively, which can be helpful for side jobs — especially when you don't have a lot of time. I often do contract-based data analytics work and use ChatGPT to help me code and work with data. I use it to suggest code based on a particular problem or for time-intensive tasks. I also use it to help interpret and summarize results. 
"I also help companies with their strategy and execution around AI, including building AI solutions and applying them to specific projects. I also use AI for my technical work, like data analysis and programming."
Make Money With AI and ChatGPT: How To Earn $1,000 a Month
Consulting and Training
Many businesses and individuals are still unsure of how to use AI effectively because it is still a relatively new technology. One option is to offer AI consulting services and training services, where you charge a fee for your expertise and earn money. To do this, you must have a solid grasp of both the client's business model and the AI system.
For example, you can offer consulting or training services to businesses that want to implement AI in their operations. Or offer AI training courses on a freelance basis to help individuals level up their AI skills.
Virtual Assistance
Joshua Bartlett, owner of I'll Just Fix It Myself, said, "As an entrepreneur, I'm eager to discuss concrete strategies for integrating AI into a part-time endeavor to supplement one's income. For me, ChatGPT stands out as a particularly potent AI tool. ChatGPT's AI-generated chatbots can help customers and answer their questions when I'm busy or unavailable. Because of this, I can assist whenever needed and bring in money even when I'm not around.
Make Your Money Work Better for You
"Moreover, Rekognition by Amazon Web Services is yet another helpful AI tool. I can now offer services like content moderation, object recognition and facial analysis thanks to Rekognition's ability to automate the analysis of images and videos. Customers need to upload their media, and Rekognition will do the rest, so I can save time and energy while still making money."
Affiliate Marketing
You can use AI to help you identify profitable products and services to promote as an affiliate marketer. By earning commission on sales made through your affiliate links, you can earn a percentage of the profits.
Ariav Cohen, VP of marketing and sales at Proprep, says affiliate marketing is a great side gig for those willing to put in the consistent efforts it takes to set it up. With AI on their side, even those with no prior knowledge or experience can do very well.
The role of AI in setting up an affiliate marketing side gig can begin as early as the initial research and exploration phase. Then, as things progress, you can use AI-generated content to set up your website, generate high-value and SEO-friendly product descriptions and insights, and line up product recommendations that promise significant returns.
Personalization is another aspect in which AI can use customer data and analyze behavior to recommend products. Even in the background, AI can continue working with inventory management and forecasting to ensure the new business is always moving in the right direction. 
AI-Powered Products
Azzam Sheikh, digital strategist at Carifex, said, "One more method for making money using artificial intelligence is to create and market products or services that are powered by AI. The creation of a software program, mobile application or web service that employs AI algorithms or machine-learning models to handle specific problems is one possible step in this direction. You could, for instance, build a chatbot, a recommendation system or a tool for predictive analytics that uses artificial intelligence." 
Make Your Money Work Better for You
As soon as your product is ready, you can begin marketing and selling it through a variety of channels, such as app stores, internet platforms or even your website. Depending on the type of business you run, you may be able to generate cash through the sale of licenses or subscriptions, or even through advertising.
Bot Trading
You can also use AI bots to analyze financial data and make investment decisions on your behalf. These trading bots provide algorithms that can analyze market trends, forecast stock values and execute transactions. You can earn profits by investing in the stock market, cryptocurrency or forex.
Simon Bacher, CEO of Ling App, says ChatGPT can be used to create specialized crypto trading bots. Use AI to write code for cryptocurrency trading bots that can automate the trading process depending on preset criteria. Then plug it in and watch it run.
More From GOBankingRates