5 Things You Should Never Buy At a Pawn Shop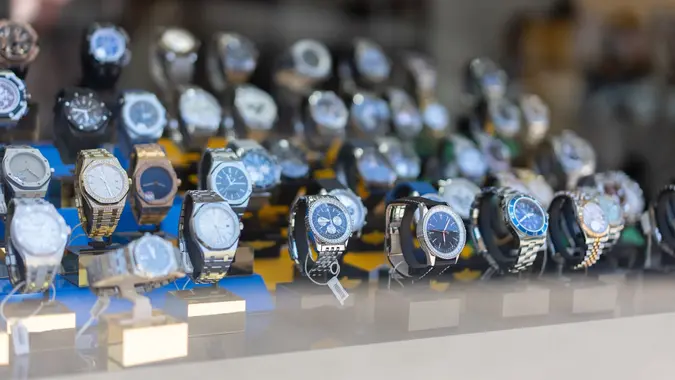 mgstudyo / iStock.com
Pawning your items for cash is a great way to make money fast. Similar to thrift stores, pawn shops can also help you save money by offering items at deeply discounted prices.
Read: How To Get Money Back on Your Everyday Purchases
However, not everything at a pawn shop is a steal– be sure to know what you're looking for, and what items to skip altogether, to avoid wasting your hard-earned money. Here is a list of the riskiest purchases at pawn shops: 
What Not To Buy From a Pawn Shop?
Here are five things you might want to hold off on buying from a pawn shop.
1. Jewelry
If you don't care about your items coming with a little wear and tear or being real gold or silver, this option is fine. A risk with buying jewelry secondhand is that it may not have been authenticated properly. If authenticity is important to you, make sure the appraiser is credible. Otherwise, it's a good idea to pass. 
2. Laptops and Computers
Pawn shops typically test laptops and computers before putting them up for purchase. However, the test may be little more than making sure the device turns on. There are many small electrical components that could be faulty and could get missed in the initial test.
It's also difficult to know if the item has been modified in the past, and how well it will perform. For example, that new MacBook may appear to be in good shape, but the battery may not hold a charge for more than an hour, or one of the keys gets stuck every time you type. Internal issues such as spyware or illegal deleted files may also be sticking around if the device wasn't properly wiped. 
Make Your Money Work Better for You
3. Vacuum Cleaners
Used vacuum cleaners can be, simply put, unsanitary. As with other suction cleaning machines such as carpet shampooers, dustbusters and wet vacs, there is no telling what the previous owner had cleaned with it, and chances are it's still lingering around in the hoses and filters.
Introducing someone else's allergens and dander to your home isn't a great idea to begin with. Best to buy new, or if you must buy second hand, buy from a friend or family member you really trust. 
4. Cell Phones
Cell phones are one of the most commonly stolen items on the market, and pawn shops happen to be a top choice for thieves to drop their items. To prevent this, most pawn shops work with law enforcement to prevent selling stolen goods and also require a government ID from anyone trying to sell. However, it's good to be aware of where that out-of-box iPhone could have come from. Similar to used computers, you also run the risk of having spyware, illegal files or just poor performance down the line. 
5. Video Game Systems
Much like other small electronic items, there may be different features or components in a game system that are worn or defective, which can affect the performance of the device. Game disks are less of a gamble, as long as they aren't too scratched. It may be better to buy a pre-owned console through a reputable second-hand game dealer, as they may be able to thoroughly test them. Gamestop, for example, sends all trade-in consoles to be refurbished before making them available for purchase.
Is It OK To Buy From a Pawn Shop?
Generally, it's OK to buy from a pawn shop, and it's a great way to save quite a bit. However, make sure you are knowledgeable about the items that you are buying, and inspect them first for wear or damage. Some shops may even allow you to test items in-store before purchase, so it's always a good idea to ask. 
Make Your Money Work Better for You
What Are the Disadvantages of a Pawn Shop?
One disadvantage of buying from a pawn shop is that you may end up with a lemon. Electronics and anything with a computer component are always a risk, as they may appear to be functioning well at first, but you may discover later why the original owner passed them on. 
There is also a possibility that the designer belt or iPhone 12 you bought is fake, or even stolen. Pawn shops have a legal obligation to avoid knowingly selling counterfeit or stolen items, but it's possible that some items can slip through the cracks. 
Final Takes To GO
Whenever you buy something from a pawn shop, make sure to use your best judgment. It's good to be aware that not every item may be what it appears, and it's helpful to know if your appraiser is credible. Pawn shops are a great option to save money, as long as you know what you're buying. 
FAQ
Here are the answers to some of the most frequently asked questions things to buy -- and not buy -- at a pawn shop.
What sells for $100 at a pawn shop?

According to Frugal Reality, these items can easily fetch $100 at a pawn shop:

-Jewelry with precious metals and gemstones
-Flat screen TV
-BOSE speakers
-GoPro camera
-YETI coolers
-Tools from brands like DeWalt, Bosch and Snap-On
-Air-conditioning units
-Fitness equipment, such as treadmills and recumbent bikes

What do pawn shops value the most?

High-ticket items such as gold, diamonds, designer handbags and sneakers are the most commonly accepted items at pawn shops. You can expect to earn anywhere between 25-60% of the resale value for these items.
Make Your Money Work Better for You
Our in-house research team and on-site financial experts work together to create content that's accurate, impartial, and up to date. We fact-check every single statistic, quote and fact using trusted primary resources to make sure the information we provide is correct. You can learn more about GOBankingRates' processes and standards in our editorial policy.